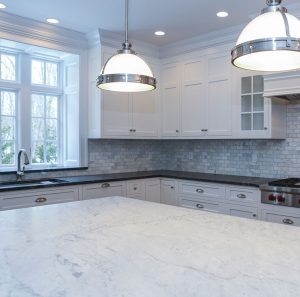 Marble's reputation precedes itself – elegantly beautiful, but higher maintenance than other natural stone surfaces. And while many people consider marble countertops for their home given it's striking impact, it's the maintenance consideration that often times deters them to select a seemingly more practical stone option. Specifically, it's the concern of marble etching on kitchen countertops that concerns homeowners, but knowing how etching occurs and how to care for marble countertops can make a difference in your final stone surface decision.
What exactly is etching?
You may have heard of etching when it comes to metalwork – it's the process of using strong acid to cut into parts of the metal surface to create a design. Cool, right? Not so much when it comes to marble.
Etching in marble countertops is caused by the same thing – acid. Because marble is a soft stone and made of calcium carbonate, it is very prone to marking and etching. When acid touches your marble surface and reacts with the calcium carbonate, a tiny bit of the surface is eaten away and dull spots (known as etches) are created.  Since etching can remove the polish or sealant from marble, the stone can become more vulnerable to scratching as well.