The Ultimate Guide for How to Match a Countertop to the Backsplash
Several design elements must come together to create a cohesive and appealing living space. And in many kitchens, cabinets, countertops, and backsplash materials are the most visible design elements.
The countertop might serve as the focal point of your kitchen, especially if you pick a bold marble, quartzite, or quartz. However, your kitchen's overall appeal also depends on the backsplash, and matching your countertop to your backsplash can be daunting.
What materials should you use for the backsplash? How do you select appropriate colors or patterns? What role do texture and shine play?
If you're looking for the best way to match your countertop and backsplash, learn these tips and tricks to ensure a gorgeous outcome that represents your personal style.
Slab Backsplash
One of the easiest ways to match your backsplash to your countertop is by using the same materials. Whether you lean toward soothing marble or practical and eye-catching quartz, extending the surface from the countertop to the wall amplifies the effect and reinforces the statement piece in your kitchen.
You don't necessarily need to book match a low-variation stone, such as Absolute Black granite. However, it's best to book match when dealing with a striking pattern, such as the heavily veined marble in this transitional New York kitchen.
Complementary Backsplash Color
Neutral backsplashes in varying hues of white, beige, gray, and black are always trending because they are unobtrusive, don't compete with counters and cabinets, and appeal to most mainstream buyers. But the popularity of low-key tones doesn't mean you can't play with color when choosing your backsplash.
One trick is to pick up on colors in your counter surface to ensure a cohesive design. Alternatively, for a relatively plain countertop, you could select a bold, complementary color to create a focal backsplash.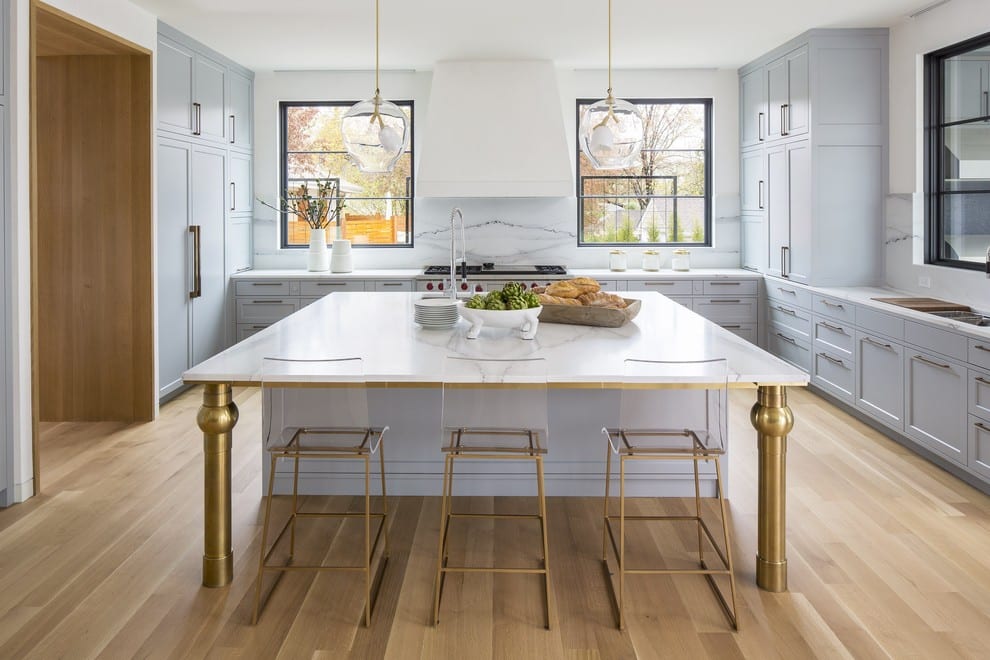 This New York mid-century kitchen is a great example, with vibrant green tile that adds visual appeal to an otherwise neutral palette featuring white counters and birch-hued cabinets.
Pattern Considerations
A patterned tile is a fun way to add depth and movement to your space, but you need to carefully choose a tile that works with your counters and overall design. If you have an expressive stone variety, pairing it with a busy tile pattern could be overwhelming and incongruous. A good rule of thumb is to choose one element to be the focus and tone down everything else.
This transitional kitchen, for example, features a largely neutral monochromatic palette, with white cabinets and what could be a white quartz countertop. This kitchen would look pretty sterile if not for the patterned black and white tile backsplash that grabs attention and adds loads of personality to the space.
Texture for Subtle Visual Interest
A modern New York City apartment renovation demonstrates the benefits of using textured tile for the backsplash.
Glazed, off-white tiles arranged in a grid might not seem like anything special, but the handmade Moroccan tile backsplash, featuring soft color variation and irregular edges, creates a subtle texture that draws the eye. When set against darker surfaces (gray cabinets, stainless appliances, and brassy accents), the backsplash really pops without feeling overbearing.
Adding Shine
If you want to maintain a monochromatic palette without it looking too dull, a great option is to incorporate shine. It's easy to add dimension and increase visual interest through reflective materials like metallic or glass tiles in relatively small doses.
Consider this white New York kitchen. Cabinets, countertops, and a custom hood vent in bright white could come across as somewhat featureless if not for the eye-catching backsplash. The shades of white and silver draw on hints of gray in the counter surface, which is likely marble, while the glossy shine of the tiles stands out.
Don't Forget to Factor in Other Design Elements
Because the backsplash abuts the countertop, it's important that the two surfaces mesh visually. However, you can't forget to factor in other components like cabinets, flooring, wall color, appliances, hardware, and fixtures when choosing your backsplash material.
All elements should work together to create a cohesive and pleasing whole that makes your kitchen feel attractive and inviting.
Consult with Professional Stone Fabricators
You likely know which colors, patterns, and design trends appeal to you. Unless you have a background in design, though, it can be difficult to figure out the perfect combination of elements to achieve your dream kitchen.
Your best bet is to consult with creative professionals who have the experience needed to help you choose the right pieces to complete your design. With your input, they can provide you with suitable options and guide you toward design elements that not only speak to you on a personal level but also work well together from a design perspective.
If you're ready to get your kitchen remodel underway, it's time to consult with the talented team at Academy Marble. Visit a showroom in Bethel, CT, or Rye, NY, to get started today.