White Marble: Elevating Interiors With a Touch of Luxury and Grace
White marble is always in style, with its uncanny ability to bring pristine luminescence to your living spaces. Perhaps its enduring popularity is due to the fact that it complements any home style, from classic and traditional interiors to modern minimalist and maximalist spaces.
While some classic design elements can make a home feel stuffy or outdated, white marble is luxurious and refined. Whether you're planning a timeless black and white kitchen, a breezy primary bath, or an entryway fit for royalty, you can't go wrong with an eye-catching Calacatta, a soothing Carrara, or even a variety that's a bit off the beaten path, such as Lilac marble, featuring daring violet veining.
There are plenty of ways to incorporate white marble into your home to add elegance and elevate your entire aesthetic. Here are just a few great options to consider.
Serene Scene
White marble has an ethereal quality that makes it a particular favorite of artists. Consider sculptural masterpieces like David, Pieta, and Aphrodite of Milos, among others. You can imbue your home with the same timeless beauty when you choose white marble for countertops, flooring, and other surfaces.
The marble countertops and backsplash in this transitional kitchen offer a perfect example, standing out subtly from pale gray cabinets and nude wood flooring. Brass hardware blends beautifully with wood tones, while glass fixtures add unobtrusive visual interest in the upper plane. The overall atmosphere is calm and serene, helping to create a relaxing space to enjoy quality time with loved ones.
Beachy Keen
White design elements are a staple of coastal design, so it's no surprise to find whitewashed walls and linen slipcovers in a beach house. It's much trickier to add elements of luxury while maintaining the chill vibes of this design style.
White marble offers an opportunity to create a delicate balance between an upscale and casual aesthetic, as seen in this historic Connecticut beach house. Light and dark elements are perfectly blended to create a space that feels comfortable yet sophisticated. A white marble counter sits atop a rich island base in mahogany tones, while perimeter counters in black offset white cabinetry.
Mid-tone wood flooring and a tile backsplash of Calacatta marble tie this look together with darker and lighter tones. This is how you elevate coastal design.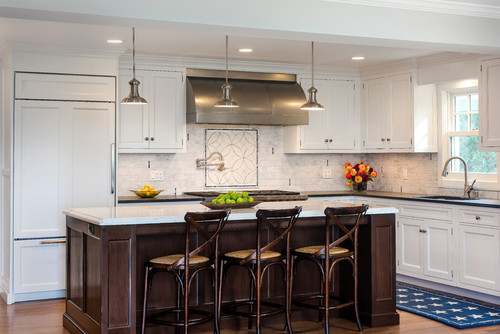 Rustic Revival
Rustic styles can easily look antiquated with an overabundance of wood paneling and antler art. To create a modern, rustic style, you need a balance of classic and contemporary elements.
This Fairfield County, CT kitchen strikes the perfect chord with a breezy ambiance grounded by natural wood elements. White walls, cabinets, and marble countertops enjoy subtle contrast from nude wood flooring and accents throughout, creating a warm, welcoming space that feels fresh and modern.
The Spa Experience
What makes a bathroom feel spa-like? You don't necessarily need a sauna or a rainfall shower. What you need is an atmosphere that feels pristine and smacks of luxury. White marble is an ideal surface material for this purpose.
Just look at how all the design elements in this transitional, black-and-white bathroom work together to create an elegant and inviting atmosphere. Black cabinets tie in with the honeycomb backsplash tile and shower accent tile in Nero Marquina marble.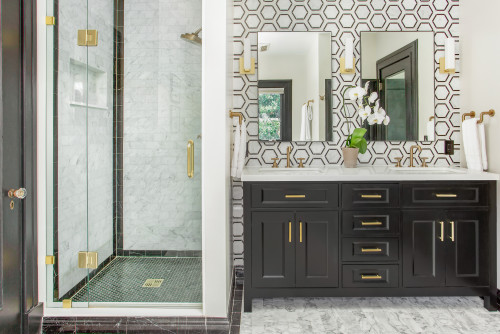 These elements contrast beautifully against the white and gray Carrara marble flooring and shower enclosure tile. Hardware and fixtures in gold add a pop of metallic shine that takes the entire design to another level of chic.
Something to Wine About
When you think of a wine cellar, you probably picture a dank, dusty cave somewhere in the bowels of a basement. Traditional wine cellars tend to fit this description because underground areas maintain a naturally cool temperature, ideal for preserving wine.
However, there are easier ways to store your collection of bottles, thanks to the advent of air conditioning. If you want a bright and modern take on wine storage, check out this beach-style New York wine cellar featuring mid-tone wood cabinets and wine racks. Calacatta Gold countertops that lighten the mood and add pure luxury.
Monolithic Majesty
Marble has long been a popular choice for fireplace surrounds. If you want to create a statement style, a floor-to-ceiling fireplace wall in marble makes for a showstopping design.
The focal fireplace in this transitional living room is a prime example, thanks to bookmatched slabs of Calacatta gold marble that have been butterflied to create a mirror effect. High ceilings add to the monolithic appeal, while heavy-grained wood flooring helps to ground the scene.
Experience the Beauty of White Marble for Yourself
If you love the look of white marble and you need help choosing the right variety for your next home upgrade, the experienced team at Academy Marble is here to help. Visit our Connecticut or New York showroom today to view samples and slabs.