Unearthing the Truth: Is Quartz a Natural Stone?
If you think back to primary or high school science classes, you might recall that there are several types of stone found in nature, such as igneous, metamorphic, and sedimentary rocks. Quartz, as it turns out, is actually a mineral that may be found in all of these types of stone. It occurs when mineral deposits develop in and around rock formations.
So, is quartz a natural stone? The simple answer is no. Quartz is a mineral. However, it is naturally occurring, and like many natural stone varieties, it can be used to make durable and beautiful counter surfaces. How does this work, and what can you expect when you choose quartz countertops?
Engineering Quartz Surfaces
Engineered quartz isn't quarried from the ground in slabs like marble or other natural stone varieties, but it is primarily composed of natural quartz. Ground minerals typically make up over 90% of the content of quartz countertops, which are paired with binding resins to create a strong, solid surface.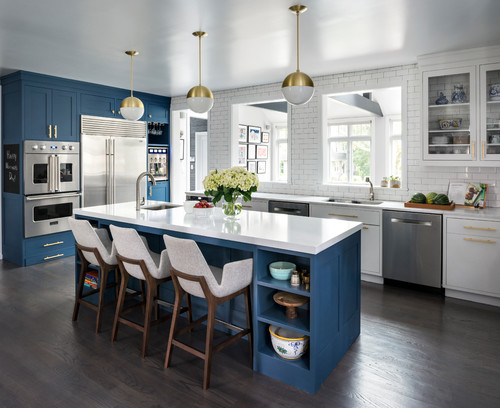 Also included are pigments that add color and pattern, creating a range of designs that may mimic the appearance of popular natural stone varieties or, alternately, look entirely unique. Take, for example, the solid white quartz used for the island countertop in this
transitional New York kitchen
.
The bright white creates a striking contrast to the blue island base, creating a clear focal point, and ties in nicely with the white cabinets and marble countertops around the perimeter of the space. The appeal of engineered quartz lies in getting the look you want, paired with desirable, practical benefits that modern homeowners love.
Outstanding Performance
Over the past several years, as quartz manufacturers have worked hard to innovate advances that set this countertop material apart from competitors, more homeowners and designers have begun to recognize the many appealing qualities inherent to engineered surfaces. 
One major benefit is that non-porous quartz offers an antimicrobial, food-safe area to prep meals, something plenty of homeowners are sure to appreciate. Quartz is also resistant to harm from scratching, etching, cracking, and chipping. It's particularly resistant to staining and fading. Hence, you never have to worry about the effects of food spills or splatter, and the non-porous surface also resists water absorption.
This is excellent news for all homeowners, particularly those who love bright spaces like this all-white New York kitchen. Just the thought of spilled red wine in this pristine space is enough to make your heart skip a beat, but when you choose quartz countertops, you can wipe up spills without worrying that they'll leave a lasting impression.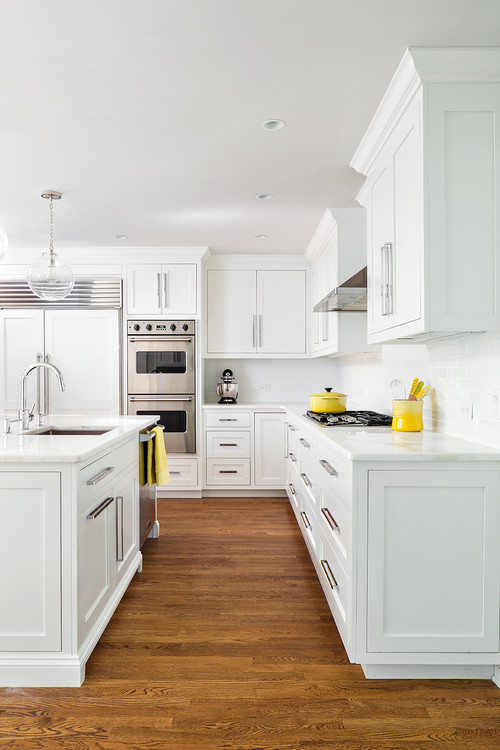 Attractive Designs
One of the major selling points of quartz, in addition to its many practical benefits, is that it comes in a range of versatile designs. Whether you want a counter surface or backsplash that looks just like your favorite marble or you prefer a unique color or pattern, you'll have no trouble finding the perfect selection for your personal style.
Even better, there's no rule saying you can't pair different designs or various materials to create a space that's uniquely yours. Consider this trendy transitional kitchen, complete with dark wood flooring, white perimeter cabinets, and an island base in pale powder blue. Already there's a lot going on, but the homeowners took it to the next level with three different materials for the counters and backsplash.
The island in Fantasy Macaubas quartzite is bordered by perimeter countertops in Mystic Gray quartz from MSI, which is, in turn, backed by a subway tile backsplash in Carrara marble. By selecting surfaces in light, dark, and mid-tone hues within a neutral family, this eclectic design maintains cohesive appeal.
Easy Care and Maintenance
Modern adults are a busy bunch. Whether you're working a full-time job, caring for kids, managing a household, or all of the above, you may not have tons of extra time to clean and maintain finicky counter surfaces. You'll be happy to learn that quartz is among the least demanding surfaces in terms of care.
Quartz never requires sealing, and it's easy to clean with a simple solution of soap and water. In most cases, you can simply wipe it down with a damp cloth or sponge daily. If you prefer the ease of an all-purpose spray for household cleaning tasks, you don't have to worry that it will harm quartz surfaces, like the perimeter countertops in this midcentury New York kitchen.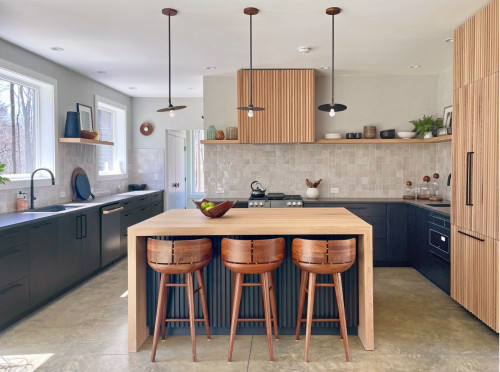 While engineered quartz countertops may not be found in nature, per se, they are composed almost entirely of natural components, and their unique construction delivers practical benefits every homeowner can get behind. 
Upgrade Your Design With Quartz
If you're ready to find your next counter surface in quartz, the knowledgeable professionals at Academy Marble are here to help, with two convenient locations in
Bethel, CT
, or
Rye, NY
.