5 Reasons Why Fairfield & Westchester County Homeowners Are Choosing Dekton Countertops
Connecticut features its fair share of traditional home styles, but there's no shortage of more contemporary residences. Like most homeowners, Connecticut residents are typically keen to choose design materials that exhibit both practical appeal and timeless beauty when they undertake home improvement projects.
Perhaps this is why so many renovations now feature modern surfaces, like Dekton countertops, that offer exceptional performance and versatility. Created by Spanish manufacturer Cosentino, also known for its Silestone line of quartz countertops, Dekton includes porcelain, glass, and quartz surfaces made from a blend of raw materials subjected to an intense sintering process.
This line was actually created as an exercise meant to improve the performance of modern quartz, and it appears to have succeeded. Why are so many Fairfield and Westchester County homeowners choosing Dekton, and what benefits will you enjoy when you follow suit?
1. Outstanding Durability and Resistance to Damage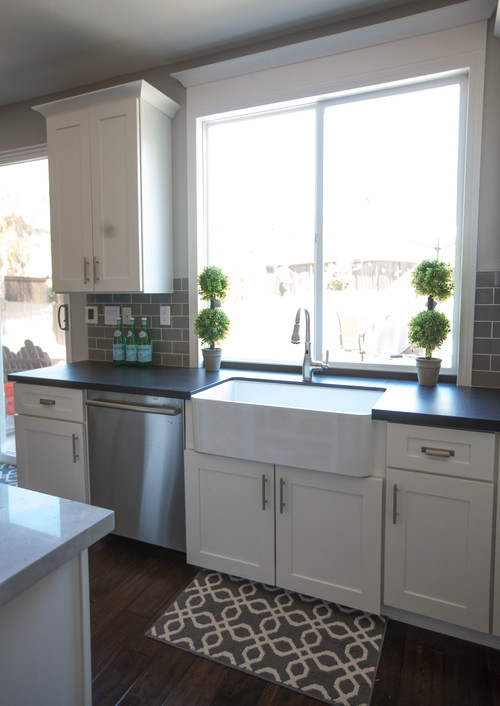 The unique process used to create Dekton countertops relies on a combination of intense heat and pressure that results in a solid surface. Raw materials like ground quartz are treated by compressors using up to 5,900 psi of force and ovens reaching temperatures of over 2,100 degrees Fahrenheit. This combination creates an ultra-compact, non-porous surface material that is incredibly dense, strong, and durable.
Counter surfaces like the Dekton Ananke featured on the perimeter of this modern Westchester kitchen offer the food-safe, non-porous surfaces homeowners are sure to appreciate. While a dark surface like this is adept at hiding stains, the material itself is resistant to staining and fading, whether you choose light or dark designs.
Dekton countertops are also resistant to heat and abrasions like scratching and etching, as well as cracking and chipping. Another thing you're sure to love is the warranty. Dekton surfaces are backed by a 25-year, certified warranty for your peace of mind.
2. Practical Features for Every Preference
Every homeowner has different preferences when it comes to their interior design, and you want materials that come with a range of features that allow you to tailor your experience. With Dekton, you can choose from slabs in a range of thicknesses, including 4, 8, 12, 20, and 30mm measurements.
You'll also enjoy large format slabs measuring up to approximately 126×57 inches. This means you can cover even large counter spaces, from expansive perimeters to peninsulas or islands, with minimal joining and seams, creating visual continuity.
While a waterfall island like the Dekton porcelain one in this airy, transitional kitchen will necessarily require seams at the corners, the large counter surface can remain unbroken.
3. Designs Inspired by Nature
Incorporating natural elements like wood and stone into your interior design is a great way to create a feeling of luxury, elegance, and a welcoming environment. With Dekton, you can get the look you love and the practical benefits you crave.
Dekton countertops are available in a range of stunning designs, including solid colors and options that mimic natural stone. If, for example, you love the look of white marble, you'll find designs like Vigil, Morpheus, and Daze that are practically indistinguishable from Calacatta marble slabs, while Rem mirrors the softer appeal of Carrara.
That said, you needn't limit yourself to the beauties of nature. Because it is an engineered surface, Dekton also comes in a range of styles and finishes that are uniquely unnatural but incredibly stunning.
4. Urban and Industrial Styles
Natural stone designs can complement a wide range of architectural and interior styles, especially considering the current trend of mixing and matching elements. That said, you may also be drawn to the simplicity and statement style of a solid color slab, particularly when you can choose from the elegance of polished surfaces or the casual, textured appeal of matte options.
If you're going for an urban or industrial look, Dekton offers opportunities to represent your personal style. If you like the pristine appeal of the concrete countertop in this transitional Redding kitchen, you might choose a design like Lunar from Dalton's Industrial Collection. You'll enjoy this reinterpretation of conventional cement and all the benefits inherent to solid, non-porous, engineered quartz.
5. Low-Maintenance Appeal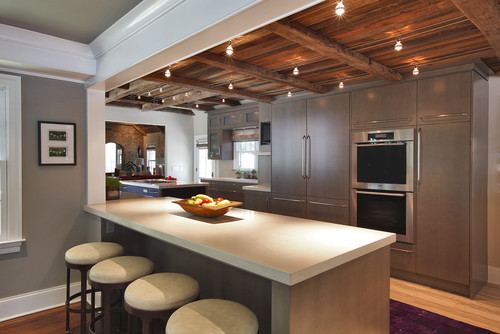 In addition to offering a wealth of design possibilities in an incredibly durable and resilient material, Dekton is a breeze when it comes to ongoing care. This surface is easy to clean and maintain with little more than soap and water.
That said, it also holds up to the chemicals in common household cleaners, such as all-purpose sprays if that's your preference. Dekton countertops never require sealing, and small chips can easily be filled, thanks to design technology that carries colors and patterns through the thickness of the slab.
Find the Perfect Dekton Countertops for Your Home
Are you ready to find the Dekton design perfectly suited to your home interior? Visit an Academy Marble showroom in Connecticut or New York today to speak with a knowledgeable team member and learn more.