Popular Alternatives to White Granite Countertops
When it comes to choosing natural stone countertops, there are plenty of options to explore, each offering different benefits. White granite countertops have been a popular choice in the past, but you might be interested in options that better suit your personal taste or budget.
If you're seeking alternatives to granite countertops, you'll want to consider other natural stone options, such as marble and quartzite. You might also look into engineered products like quartz and porcelain, which can be made to look like any number of stone varieties. Here are just a few samples that are sure to transform the look of your kitchen.
Marble Countertops
Marble has long been a popular material with a great variety of uses. It's applied to everything from sculptural masterpieces to flooring, fireplace surrounds, and counter surfaces throughout the home. Marble is a great alternative to white granite countertops due to its unique properties.
The milky surface of white marble brings a softness to your space that granite can't achieve, and it offers unmatched luminosity to make your living spaces practically glow. While there are tons of white marble varieties to choose from, two of the most popular are Carrara and Calacatta.
Carrara Marble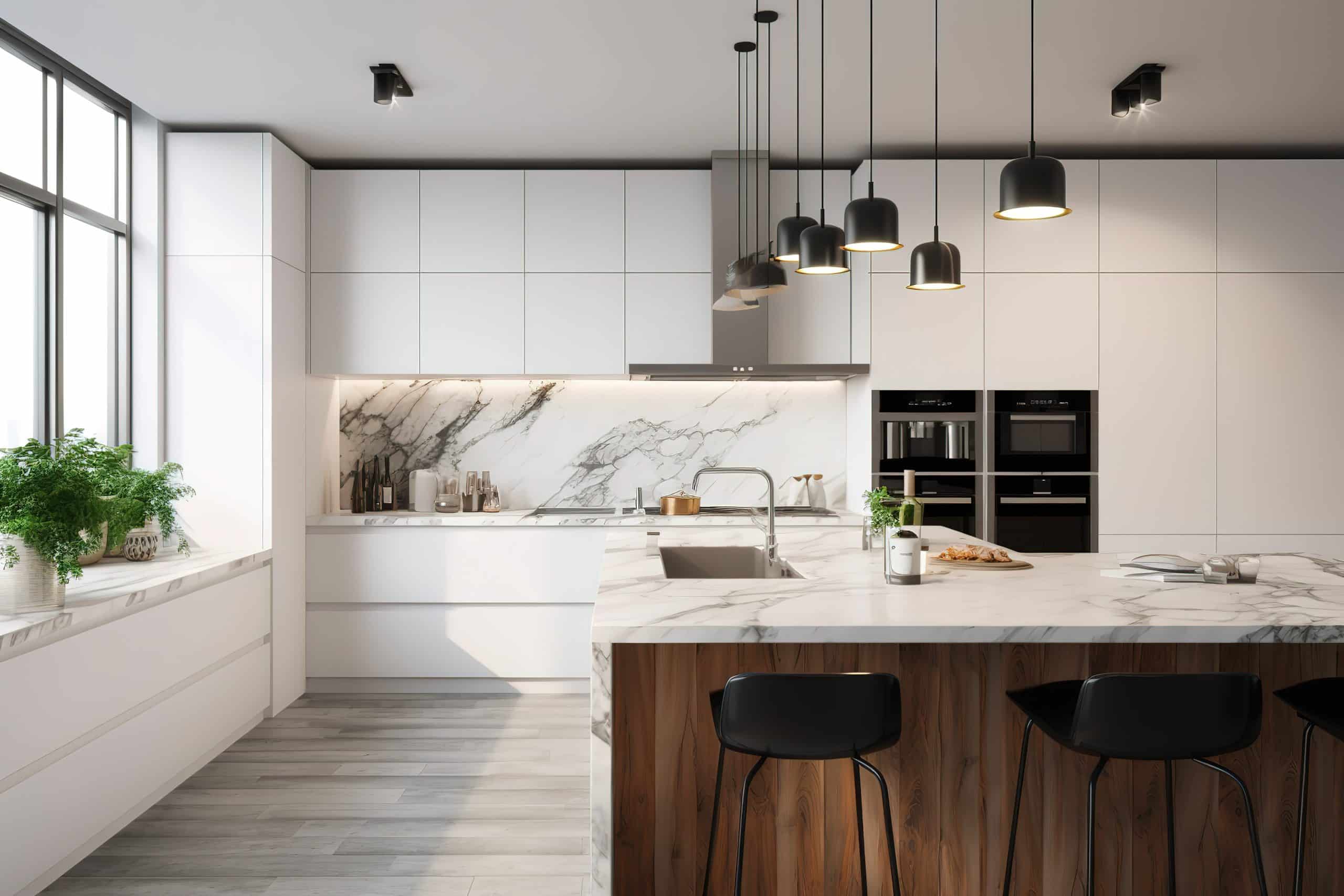 Soft and soothing, Carrara marble serves as a lovely counterpoint to busy, white granite countertops. If you're looking for a bright white countertop material to enhance your tonal kitchen space without overwhelming the design, Carrara delivers with a white background lightly brushed by pale gray wisps of veining.
This transitional New York kitchen offers a fine example, with traditional shaker cabinets in white paired with an island and perimeter countertops in Carrara marble. The marble still serves as the focal point as it continues up the wall into a backsplash. Silvery hardware draws on the grays in the stone, creating a cohesive interior, while rich wood flooring grounds the room.
Calacatta Marble
If you're looking for a happy medium between delicate Carrara marble and high-variation white granite countertops, you'll get just the right amount of pattern and visual interest with Calacatta marble. A white background is marked by gray veining that varies from delicate crackle to thick, ropy vines, creating a lot of movement and drama.
This white counter surface is absolutely striking when paired with dark elements, like the island base in this Greenwich, CT kitchen. With white perimeter countertops, the bold island serves as a centerpiece. But the prominence of the counter surface is reinforced by the matching backsplash slab.
Quartzite Countertops
If you like the strength and durability of granite but prefer the softer look of marble, you can eschew white granite countertops in favor of quartzite. Among the hardest natural stone options for countertops, quartzite is resistant to heat, UV fading, staining, cracking, chipping, and more. The patterns can also look very similar to marble.
The white quartzite in this modern New York kitchen is a great example of what you can expect from the stone, featuring characteristic linear striations. In this case, slender, dark gray veins run end to end across the white surface, creating a stunning island centerpiece atop a contrasting black cabinet base.
White Quartz Countertops
The look of natural stone, like white granite countertops, can create a perception of luxury in your home. However, you'll enjoy the same look with low maintenance and budget-friendly appeal when you choose an engineered material like quartz. Made from over 90% natural crushed quartz, this counter surface is incredibly strong, durable, and easy to care for, as it never needs to be sealed.
More importantly, it can be made to look like your favorite natural stone varieties or present an entirely unique appearance. Perhaps you prefer a bright white surface not found in nature, such as the PentalQuartz Super White counter in this antique colonial revival kitchen in New York. The crisp, white surface stands out shockingly against denim-blue cabinets and dark wood flooring, creating a pristine focal point.
Porcelain Countertops
Porcelain is another great alternative to white granite countertops that has started to gain popularity for its incredible strength, nonporous nature, and easy maintenance. While it can be made to mimic natural stone varieties, it can also offer a range of unique designs, just like quartz.
The waterfall island, perimeter counters, and backsplash in this contemporary Brooklyn kitchen present a great example of how porcelain can look like a nonspecific stone. In doing so, it brings the neutral appeal of natural rock into your design without necessarily committing to a certain type or variety.
Straying From White Granite Countertops
Granite has long been a popular choice for countertops, but trends are changing. As a result, there are several alternatives to explore, including engineered products that continue to improve. Visit an Academy Marble showroom in Bethel, CT, or Rye, NY, today to find the perfect white countertop for your upcoming remodel.