Contrasting Kitchen Island Countertop Options for You to Consider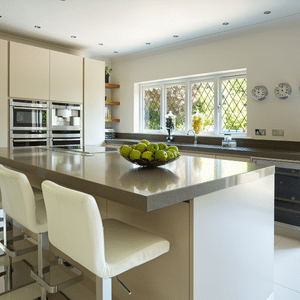 A full kitchen renovation can be daunting for any homeowner, with weeks or months of living in a construction zone and the many design decisions you have to make. Even selecting new countertops for a cosmetic update can seem overwhelming because of the wide range of materials, colors, patterns, finishes, and edge designs to choose from.
The good news is that you don't necessarily have to settle on just one counter surface. If you have an island, in addition to perimeter counters, you could opt for a contrast between the two, creating a richer, more complex and sophisticated design in the process.
There are several ways to create this stylish contrast.
Light and Dark Kitchen Countertop Options
Perhaps the most popular way to enjoy high contrast in your kitchen design is by pairing white and black counter surfaces, as in this New York transitional kitchen. A classic black-and-white design remains mostly breezy with white cabinets and a subway tile backsplash, with dark wood flooring to ground the scene.
However, black perimeter countertops add a pop of stark contrast that contributes to a stratified appearance.
While many homeowners prefer the island to pop, this is one case where the soft, Calacatta-like island countertop blends with the cabinetry. The blend allows the perimeter countertops and dark elements, like the hood vent and lighting fixtures, to draw your attention.
This traditional Staten Island kitchen shows how you can accomplish the opposite effect, with contrasting countertop surfaces that appear to be granite.
The warm, beige material used for the perimeter countertop and backsplash nearly matches the antiqued cabinets and hood vent, while the darker hue of the kitchen island creates a centralized focal point for the room.
High- and Low-Variation Patterns
When people think of contrast, they often think of color first. Black and white, red and green, blue and orange — these opposites really stand out when paired. However, you don't necessarily have to use color to enjoy the contrast in your kitchen when it comes to countertops. With natural stone, you'll also see a lot of variation in patterning.
This contemporary New York kitchen offers a great example, with perimeter countertops in a zero-variation black quartz and the waterfall island in a Calacatta-style quartz.
The effect is compounded by the addition of a quartz backsplash in the same variety used for the island, carrying the impact of the island up onto the wall behind dark perimeter cabinetry and counter surfaces. While there is a contrast in color here, it's enhanced by the difference in pattern from one surface to the next.
Alternately, this New York contemporary kitchen features a dark island countertop in what appears to be marble, with perimeter counters in white. Because the island features shades of black, gray, and white, the contrast with perimeter countertops is softer but still striking.
Other elements like a dark wood island base, mid-tone wood perimeter cabinets, and a dark green subway tile backsplash help to create a transitional appeal between light and dark aspects of the design.
Different Countertop Stone Types
If you never thought marble and granite countertops could go together in your kitchen, think again. Mix-and-match elements are incredibly popular in modern design, whether you're talking about dark lower and light upper cabinets or adding glass mosaic tile to the perimeter of your stone or wood flooring, for instance.
A great example of mixing stone types can be seen in this contemporary kitchen space, where dark, dynamic Cosmos Wave granite covers the perimeter, and softly veined Calacatta Miele marble makes for a contrasting island.
Gray cabinets create a lovely transition between lighter and darker surfaces, and as you can see, different stone types can be paired to stunning effect.
Polished and Matte
Whether you use the same stone throughout your kitchen or select different perimeter and island materials, you can create additional contrast by polishing one surface and selecting a matte countertop finish like leathered, honed, or antiqued for the other.
If you're looking for a subtle contrast, this will fit the bill, although you can certainly up the ante by choosing other variations between the island and perimeter counters.
Different Countertop Materials
There's no rule that says you have to use stone for all the counter surfaces in your home, although this natural material does offer benefits like exceptional strength, durability, luxury, and value, in addition to a beautiful appearance.
With that being said, you could pair a countertop surface in marble, or quartz with one in wood or stainless steel, for example.
Just look at this traditional kitchen, where practical yet upscale perimeter counters in what appears to be white quartz are paired with a unique island surface in live edge wood.
Adding to the contrast are modern perimeter cabinets in a minimalist Shaker style, while the island base features newel post accents for a nod to more traditional styling.
If you need help choosing the perfect contrasting counters for your home renovation, the creative and experienced professionals at Academy Marble & Granite are ready to help. Visit us today at one of our showrooms in Bethel, CT, or Rye, NY.