Can You Replace a Kitchen Sink Without Replacing the Countertop?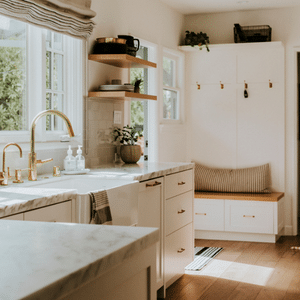 The first rule of kitchen design is that it must be functional. This not only includes the layout but the elements you use every day, from cabinets and kitchen countertops to the sink. If your sink is poorly sized for your needs or has suffered some damage, it might be time to think about replacement, which begs the question, "Can You Replace a Kitchen Sink Without Replacing the Countertop?"
It could also be that the color or material simply doesn't match your taste or fit with the aesthetics of the overall design. Either way, you might wonder if it's possible to replace the sink alone or if you have to update the kitchen countertops at the same time.
The simple answer is that you may or may not have to replace countertops, depending on a number of factors. Here's what you need to know before you pull the trigger on your home improvement project.
Size Matters
The most important consideration when replacing your sink is the size. If you're replacing your current model with something of the same size and shape, a simple swap could work. This is ideal if you're on a tight budget or you love your current countertops.
However, you may be replacing your existing sink because it's simply too small to meet your needs. If you want a larger sink, you'll have to create a suitably-sized opening in the countertop to account for it, keeping in mind that you may need space for a new faucet fixture as well.
You'll have to ensure your current counter (and possibly the cabinet beneath) is spacious enough to accommodate your preferred replacement size.
From there, it's a matter of finding a specialist capable of cutting the counters to match your new sink and then installing it. For example, you might have your heart set on upgrading to the utility of a massive apron sink, like the one featured in this New York vintage cottage kitchen, set in a Corian Coarse Carrara quartz countertop.
To accommodate it, you'd not only have to create a larger opening in the counter but also in the cabinet underneath. That said, solid surfaces like natural stone and quartz are ideal for upsizing, as they can be cut and polished around the edges to look brand-new.
If, on the other hand, you prefer a smaller sink, you're basically out of luck. You'll likely have to replace the counter to make this happen.
How Is It Mounted?
Even if you're replacing your sink with one of the same sizes, you need to consider the mounting situation. If you want to replace an under-mount or over-mount sink with the same style, you might be fine to proceed. If you have an under-mount and you prefer an overmount, it could still be okay.
However, if you have an overmount and want to switch to an under-mount, it's best to check in with a counter specialist, as this could require additional counter trimming or polishing to create the right appearance. In addition, an overmount sink may have marred the edges of the opening, which could impact your choices.
Can It Be Removed Without Damaging the Countertop
Sinks are secured to counter surfaces incredibly well, whether they're overmounted or under-mount styles, to ensure proper function and eliminate potential hazards like leaks.
Unfortunately, this could cause issues when you elect to replace your sink. If it can't be removed without damaging the countertop, your best option may be to replace the counters as well.
Is Your Kitchen Countertop Worth Saving?
With proper care, natural stone countertops and engineered surfaces like quartz can last a lifetime and beyond. However, that doesn't necessarily mean you want to keep them. If you're replacing your sink anyway, it might be time to consider whether a more extensive overhaul is worthwhile.
This isn't to say you should gut your kitchen because you want to upgrade your sink, but if you're having this work done anyway, consider the impact a countertop upgrade could have. Even with the same cabinets and other foundational elements in place, a new countertop could dramatically change the look of your kitchen.
It might be a good idea if your current countertops are damaged, dated, or simply not your style (i.e., they came with the house when you bought it). You might also want to upgrade if you're dealing with builder-grade materials like laminate or ceramic tile. Remember, investing in kitchen upgrades is a great way to boost home value.
Just look at the bright, white PentalQuartz counters used to update this transitional 1950s New York kitchen. The space maintains the character of its Colonial architecture but benefits from the use of modern design elements.
Is It Time to Replace Your Sink or Kitchen Countertop?
Whether you want a new kitchen counter or not, it's wise to seek guidance from the experienced team at Academy Marble if you're updating your kitchen sink. Visit one of our showrooms in Bethel, CT, or Rye, NY, to consult with a seasoned professional today.