How to Clean Caesarstone Quartz Countertops in 4 Steps
Quartz has recently become a popular surface in kitchens, bathrooms, laundry rooms, bars, and other areas — not only because of the many attractive designs available but also due to its slew of practical benefits.
Caesarstone has quickly emerged as a leader in the quartz countertop arena. Quartz from Caesarstone is composed of at least 90% pure quartz particles, paired with a blend of resins and pigments to bind the surface and add unique colors and patterns.
You can choose quartz countertops that look like popular natural stone varieties, such as marble and granite, or that feature totally unique designs. Either way, you'll find the luxury look you love with a range of practical benefits.
These solid surfaces are incredibly strong and durable. Engineered quartz falls at about 7 on the Mohs' hardness scale. For comparison, granite is rated at roughly 6 to 7. Quartz is especially resistant to staining but also resists damage from scratching, etching, chipping, cracking, household chemicals, and to an extent, heat.
Unlike natural stone countertops, quartz never requires sealing, and because it's a nonporous surface, it's hygienic and food safe. Quartz countertops are low-maintenance and easy to clean, making it an ideal choice for bustling, modern households.
Still, quartz will require some upkeep if you want it to look pristine for years to come. Here are a few steps for how to clean Caesarstone quartz countertops to keep the surface looking as good as new.
How to Clean Caesarstone Quartz Countertops: Daily Cleaning and Maintenance
Because engineered quartz is a solid, nonporous surface, you don't have to worry about grime, microbes, mold, mildew, or stains seeping in. This makes scrubbing almost entirely unnecessary as long as you keep up with daily cleaning.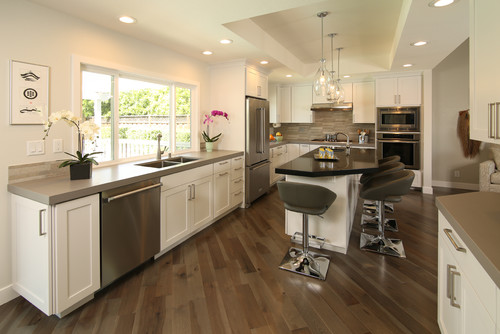 If your kitchen sees a lot of action, you might choose darker counter surfaces, like the Concrete Gray perimeter and Jet Black island counters featured in this contemporary kitchen remodel. Still, you'll want to clean countertops regularly to ensure surfaces are ready for food prep and cooking.
Cleaning your quartz countertop is as easy as using a damp rag or sponge to wipe surfaces daily or following meal preparation. To combat germs, add gentle dish soap to the mix. This will get rid of any recent spills, splatters, and fingerprints, helping to maintain a gleaming surface.
Built-Up Grime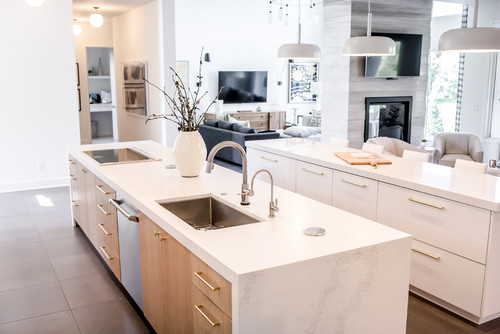 It's easy to get busy and forgo daily cleaning tasks in favor of getting a little extra sleep or spending some quality time with loved ones. This could lead to a buildup of grease, grime, and stuck-on food sullying your counter surface. The good news is that quartz is still very easy to clean, even if you opt for a white, marble-look design like the Calacatta Nuvo in this contemporary kitchen.
For messes like water spots, grease splatter, fingerprints, and food spills, you can clean counter surfaces with any basic all-in-one cleanser or make your own with a natural solution of equal parts vinegar and water. You might try a mildly abrasive liquid gel like Soft Scrub for particularly stubborn messes.
Stubborn Quartz Stains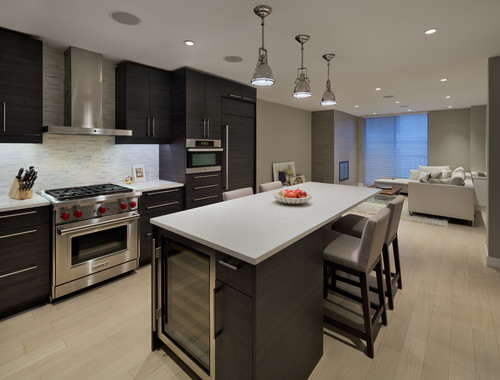 It's unlikely you'll have to deal with stains on quartz surfaces, even with bright white designs like the perimeter and island counters in this contemporary midtown kitchen. The non-porous material leaves no space for seepage. More likely, spills like coffee, wine, soy sauce, and pasta sauce will simply dry on the surface and require some elbow grease to remove.
If your regular household cleanser isn't doing the trick, try scraping crusty grime with a plastic putty knife or applying a mild degreaser for oily or sticky substances. For truly stubborn stains like permanent marker or nail polish, a small amount of non-acetone nail polish remover could work, but you should clean and dry the area immediately following application.
Things to Avoid
Although Caesarstone engineered quartz surfaces are known for strength and durability, they're not entirely immune to harm. When it comes to keeping these surfaces clean and well maintained, there are a few things you'll want to steer clear of, including abrasive substances, excessive heat, and sharp objects.
Abrasive Substances
Unlike natural stone, quartz holds up well to many household chemicals, including a range of cleaning solvents. You can use a typical spray-and-wipe cleanser with no fear of damage.
However, it's best to avoid harsh, caustic, and acidic substances like liquid bleach, abrasive scrubs (Comet, Ajax, etc.), polishing agents, and paint strippers. You'll also want to avoid using abrasive sponges and steel wool on your countertop.
Excessive Heat
While natural stone can handle extreme temperatures, engineered quartz is a bonded surface, and the resins holding it together aren't designed to handle major temperature shifts. Still, Caesarstone does feature a level of heat resistance and can reasonably withstand temperatures of up to about 300 degrees Fahrenheit.
To protect counter surfaces from scorching, which could lead to discoloration, you should always use hot pads or trivets when placing hot pots or pans on the counter.
Sharp Objects
Quartz is resistant to scratching and chipping, but that doesn't mean it's a good idea to use a knife directly on the counter surface. While it's more likely you'll ruin the edge of your knife than the countertop, it's best to protect cutlery and counters alike by using a cutting board.
Need to Shop for Caesarstone Quartz Countertops?
Academy Marble offers a wide selection of Caesarstone quartz designs that bring beauty and function to your home with minimal cleaning and maintenance demands. Visit our showrooms in Bethel, CT, or Rye, NY, when you're ready to remodel.