Considering a Pink Marble Countertop? Barbie Moment or Classic Choice?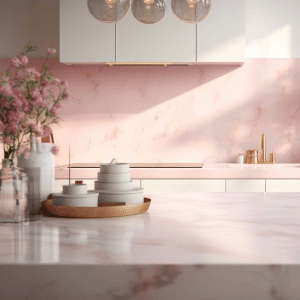 Pink has had its fair share of moments in recent memory — from the prevalence of millennial pink to the explosion of bright, bubblegum hues in the wake of the Barbie movie release. As a result, you may be considering a pink marble countertop as part of a planned kitchen remodel.
Lest you worry that it's a fleeting trend, you should know that pink marble has a long and storied tradition in upscale design. Pink Tennessee marble can be found in iconic American structures like the Lincoln Memorial in Washington, D.C., and Grand Central Station in New York City. The iconic lion statues outside the New York Public Library are also fashioned from this gorgeous natural stone.
In other words, you needn't fear the future of pink marble when adding it to your interior design plans. Of course, you want to lean toward timeless appeal, so what's the best way to add pink marble to your interior?
Add Subtle Color to an All-White Space
Pristine, white kitchens are always in style, but many homeowners are looking for ways to add a dose of personality to that aesthetic. If you want to bring a little color into the mix, the right pink marble countertops will do the trick.
Rosa Bellissimo marble is an ideal choice if you're going for understated appeal. This Turkish stone is actually considered to be white marble, but it's marked by soft, barely-there veining in hues of pale pink, beige, and gray.
Turn Tonal White Into Tonal Pink
Pink is typically associated with friendship, femininity, and feelings of comfort and compassion. It's also an incredibly versatile color that can lean warm or cool and pairs well with a range of neutrals and brights.
If you love pink and are looking for ways to incorporate it into your home design, you might want to go all out with a pink marble countertop that's part of a larger, tonal color scheme. But how would that work?
The best option would be to choose 2–3 pinks in different tones (e.g., light, mid-tone, and dark). You could start with an understated stone, like Rosa Egeo marble, featuring a pale pink background with veining in gray and slightly darker pink.
From there, you might add a bold, mid-tone pink for cabinets. Alternatively, if that's too much, you can opt for a neutral taupe that draws on both pink and gray shades in the stone. Finish the look with patterned wallpaper in a bubblegum or fuchsia hue that really pops.
Create an Island Centerpiece
Much like tiny, delicate tea roses, Rosa Tea marble delivers a somewhat modest charm in pink marble countertops. A uniform pink background in a pale, rosy, or salmon hue is marked by delicate veining, stippling, and shadows in red, gold, and gray that are sure to draw the eye.
Enchanting patterns make this Turkish marble variety an ideal choice for a statement centerpiece in your kitchen, such as a grand waterfall island. It's also a great option for a full-height backsplash, where the colors and patterns are on full display.
Embrace the Grandmillennial Trend
If the pandemic taught us nothing else, it showed us the value of a cozy home. Millennials embraced this in a big way with home decor that can best be described as belonging in Grannie's house. The style pairs homey, traditional elements like floral upholstery, drapes, and wallpaper with modern decor like minimalist wood furniture and metallic accessories.
For a kitchen or bathroom that screams grandmillennial, you can't go wrong with a pink marble countertop in Rosa del Garda. The nougaty surface in shades of pale to mid-tone pink is the perfect complement for white oak cabinets and floral wallpaper.
Complete a Maximalist Design
The minimalist, neutral palettes that have dominated in recent decades of design have given way to the rampant color, pattern, and personality of maximalism. If pink marble countertops are high on your list of elements for a maximalist design, you need a variety that can hold its own amid bold colors and patterns.
There are options here. You could opt for a low-variation pattern with added color, as with Italian Rosa Beta marble. It features a peppering of white, pink, gray, and black. Alternatively, you could choose the bold, bubblegum pink and chunky gray and black veining of Rosa Portogallo marble. The former acts almost like a neutral in a maximalist design, while the latter serves as the focal point on which to build a cohesive interior.
Find the Right Pink Marble Countertop
When it comes to selecting a colorful marble variety, you may need some guidance from experienced professionals. The talented team at Academy Marble is ready to help you pick the right slab for your needs. Visit a showroom in Bethel, CT, or Rye, NY, today to get started.