The 6 Top Quartz Countertop Colors that Look Like Marble in New York
Although countertops in marble, granite, and quartzite are always in style, there's no denying the growing popularity of engineered quartz, which can mimic many natural stone varieties. Emerging technologies create not only authentic-looking colors and patterns but also the depth, dimension, and luminosity of a range of stone types.
Quartz that Look Like Marble in New York
Several practical benefits are associated with quartz, which is non-porous, food-safe, eco-friendly, easy to clean, and resistant to damage like stains, scratches, cracks, and chips. The variety of quartz designs is the icing on the cake, and if you're drawn to the beauty of marble, you have plenty of options to choose from.
Which marble-look quartz countertop is right for your New York kitchen remodel? Here are several trending colors that will add style, sophistication, and utility to your modern home interior.
Unique Calacatta Black Quartz
The subtlety of the last decade is giving way to designs that feature bolder colors and designs, bringing more drama and personality to living spaces. One of the interesting results of being stuck at home during pandemic lockdowns is that many homeowners became more invested in creating living spaces that reflect their style and bring them joy.
Calacatta marble is among the most popular varieties, and you'll find no end of options to explore. If you like the traditional look of Calacatta marble but want to take it up a notch, consider Unique Calacatta Black quartz from Compac. This stone delivers incredible contrast with a bright white background and striking black veining in a range of thick, ropy strokes and delicate lines of spider silk.
Unique Calacatta Blue Quartz
Another design trend taking hold is the use of color throughout kitchen design. Bold, saturated cabinetry has been gaining a foothold over the last few years, but the concept is seeping into backsplashes and countertops as well.
Those who want to turn the traditional marble look on its head are sure to appreciate the distinctive appeal of Unique Calacatta Blue quartz. Another offering from Compac, this design observes the traditional pattern of Calacatta; however, instead of gray veining on a white background, it features thick, translucent veins with fine, opaque borders in a royal blue shade.
Arabetto Quartz
There's something soothing about the meandering lines of a Calacatta marble, but you might prefer a more dynamic pattern like the crackled appearance of Arabescato Corchia. Caesarstone gladly serves up a suitable counterpart in quartz with the Arabetto design.
The crisp, white surface is bombarded with veining in charcoal hues, creating a chaotic cacophony of patterns that cannot be ignored. If you're in search of a statement piece to define your kitchen aesthetic, you can't go wrong with this bold yet neutral design.
Empira Black Quartz
Luminous white marble makes for a breathtaking addition to any kitchen space and instills your home with tranquil vibes. If you want something a bit more intense, inky marble shades like Black Emperador can't be beaten.
How can you get this dramatic look in quartz? Caesarstone's Empira Black delivers with its deep, ebony background marked by fine, white veining spread like gauzy streaks across the surface. It offers stunning contrast against white cabinets, but it can also dress up the rich wood tones that are gaining popularity as homeowners look to add warmth and personality to kitchen spaces.
Eternal Calacatta Gold Quartz
Whether you prefer a traditional countertop aesthetic or want to keep it simple in this area so you can add flair elsewhere, Calacatta Gold marble offers a neutral palette, simple pattern, and warm touches that complement practically any kitchen design. Eternal Calacatta Gold from Silestone is the perfect quartz equivalent.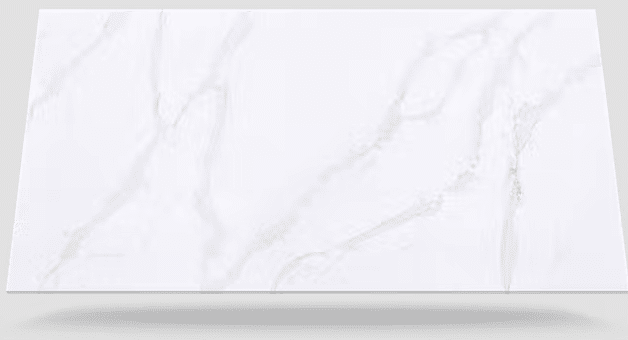 The white background is marked by sheer striations in pale gray, with delicate tracery in gold throughout, producing a countertop that works with both cool and warm design schemes. With many homeowners adding wood to warm up kitchen spaces, this tranquil countertop is a great choice.
Miami Vena Quartz
There are plenty of marble varieties characterized by bold veining, but there are also low-variation patterns for those seeking a more subdued counter surface. Carrara Venatino is one such marble, and if you like the barely there patterns of this variety, Silestone offers a similar aesthetic to Miami Vena quartz.
A background in soft white is lightly brushed with wisps of pale gray to create a seriously Zen moment in your hectic day. Whether you pair it with other neutrals, add colorful cabinets to the mix, or install a bold, geometric backsplash tile, this quartz is a team player in any kitchen design.
New York is the cutting edge of interior design, and while you want to take advantage of the latest trends, it's also important that your home represents your personal style. The talented professionals at Academy Marble are here to help you find that balance with the perfect quartz countertops for your remodel.
Stop by our convenient showroom in Bethel, CT, or Rye, NY, today to speak with an expert and browse slabs.