Our Favorite Kitchen Countertop Ideas for Families with Young Kids
Kids will be kids, and when it comes to your kitchen countertops, unfortunately, they can put them to the test, be it with glitter and glue, accidental spills or cleaning with the wrong products when trying to help out. However, living in a household with small children does not mean you have to skimp out on your design aesthetic to provide functionality and durability. 
Given all of today's countertop surface options to accommodate a range of styles and budgets, there's no reason you can't enjoy beautiful, natural stone countertops in marble, granite, quartzite or quartz just because you have kids. You simply have to choose the right options to weather the storm that is childhood. Here are a few of our favorite kitchen countertop ideas for families with kids.
Kid-Friendly Countertop #1:
Granite
Granite is one of the hardest natural stone countertop materials to choose from for your home, but that doesn't mean it will remain free of harm when your kids spill grape juice or host crafternoon in the kitchen.  But with proper care and maintenance, including professional sealing, there are benefits to choosing granite, namely the wildly variegated surfaces ideal for hiding flaws.
Even lighter variants like Alaska White and Bianco Antico are peppered with dark spots and striations that lend these natural stone surfaces a measure of aptitude for concealing minor damage. You can also choose dark surfaces like Absolute Black, Black Galaxy, and Jet Mist granite that are natural granite stone that can hide stain and etching well.
The Absolute Black granite countertops in this Connecticut kitchen show just how beautiful a darker strain can be when paired with white cabinets and dark wood flooring.
Kid-Friendly Countertop #2:
Quartzite
Of the four stone options listed here, quartzite is the hardest, with a Moh's rating of about 7. This means it's the most likely to resist cracks, chips and staining, especially when properly sealed and maintained. If you're interested in lighter colors for your kitchen countertops, quartzite comes in beautiful natural stone slabs to choose from.
Even so, you may want to shy away from the bright whites. Instead, consider creamy, golden Dolce Vita quartzite like in this inviting, modern kitchen design with touches of old-world charm. Kids don't necessarily prevent you from creating bright kitchen spaces, but you definitely have to think long and hard about how to do it right.
Kid-Friendly Countertop #3:
Quartz
Even when you know there are options in natural stone like marble and granite that could work in a household with children, you may still waiver on whether or not it makes sense to spend money on beautiful surfaces that could become damaged. If you're worried, there is a solution to put your mind at ease: quartz.
Although quartz is an engineered stone surface, it still contains over 90% natural stone, paired with resins and polymers that bind it together and pigments that can make it look like other stone surfaces, including marble and granite. This means you'll get the depth and dimension associated with natural stone in a non-porous countertop surface that never needs to be sealed.
Although quartz is not quite as hard as quartzite, the resins that bind it are slightly flexible, which helps to prevent issues like cracks and chips. Plus, the non-porous surface is resistant to staining and it keeps out bacteria and mold, making for a safe, clean workspace for your family to prep meals and enjoy daily life.
Want the look of marble?  You could go for something like the quartz island in this contemporary New York kitchen, which looks a lot like Calacatta marble. 
Or if you want a more uniform appearance unique to quartz surfaces, you might choose something more like the Caesarstone countertops in this New York galley-style kitchen.
Kid-Friendly Countertop #4:
Marble
While marble is not as durable as other natural stones, with some forethought, it can be successfully integrated in a home with young children. As natural stone countertops go, marble isn't as hard as other options, which could make it more susceptible to staining, scratching, chipping, and so on.
Of course, this can be counteracted to an extent with proper sealing, but still, you might be hesitant to install marble countertops in the kitchen.  The trick to preserving the beauty of this stone in a house that is prone to accidents is to choose darker colors or heavy veining.
You might love the stark appeal of Mont Blanc or Calacatta Gold, but these unforgiving surfaces may not be ideal. It all depends on the level of durability you need your countertops to withstand.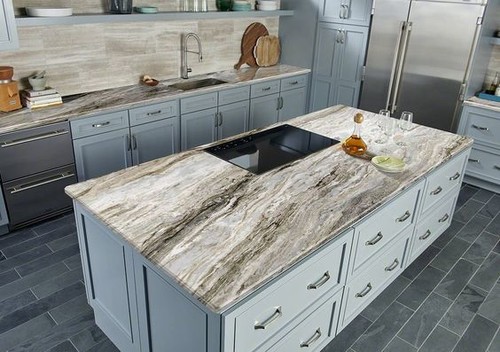 If etching and scratching are a concern, try opting for marble that will camouflage the scuffs and stains that may likely occur, like the Fantasy Brown marble countertops in this Orange County kitchen. The dark patterning can better conceal any damage children can leave behind.
The important thing to remember is that you can have the natural stone you prefer, even with young kids in the home. You simply have to choose the right products and learn how to maintain them to prevent damage as much as possible.
Need Help on Your Project?
We would love to help you pick the perfect kid-friendly countertop material for your next kitchen upgrade or addition. To request a complimentary consultation with one of our design experts, click here.