5 Veined Quartz Countertops that Mimic the Look of Natural Stone
Quartz stone countertops have recently exploded in popularity and are quickly becoming a favorite surface for use in kitchen and bath applications. And it's no wonder given the many benefits of selecting a quartz surface for your home, including low-maintenance, high durability and a large selection of stone colors and texture.
However, oftentimes homeowners and professionals can't resist the look of natural stone: the subtle veining, dazzling sheen and unique subtleties that are present in each slab. With that said, homeowners are happy to see engineered veined quartz surfaces that give the look and feel of natural stone, such as the following quartz varieties:
All About Quartz Countertops
What sets quartz apart from other "faux" stone products is the fact that is it made almost entirely from natural stone materials. Engineered quartz is made from 90% or more ground quartz, along with resins and polymers to bind the material together, which gives the surface its natural depth and luster like you would expect with any marble, granite, or quartzite countertop. The appearance will vary not only by the size of quartz particles but also additives like pigments used to create specific looks.
The beauty of choosing this material for a kitchen, bathroom, or other countertop surfaces in the home, aside from the attractive pricing, is that you can get any look you want. While some homeowners prefer bright colors or glitzy sparkle, many want to mimic the look of natural stone, and engineered quartz delivers just that.
Quartz Manufacturers
Several renowned quartz manufacturers feature collections designed to appear indistinguishable from the most popular marble or granite varieties, which means you can get the look you love for less. If you want to shop smart while adding the appeal of natural stone to your interior spaces, here are just a few options to consider to get you started with thinking about quartz:
1. Caesarstone Classico Collection
Caesarstone is one of the most recognizable names in quartz countertops, and when you get a look at their engineered quartz surfaces, it's not hard to see why. Their Classico collection, in particular, delivers surfaces with an appearance so similar to natural stone that it's practically impossible to tell the difference.
If you're interested in the flecked dappling of granite for your kitchen countertops, you'll love the earthy browns of Atlantic Salt. This kitchen featuring Atlantic Salt quartz with a polished finish requires minimal care and maintenance and boasts the natural flecks and stone variations that are present in granite.   
This kitchen featuring the pearlescent white of Ice Snow is another great option for the discerning homeowner.  Modern and chic, this surface gives a look of sophistication to any room.
Enjoy the glittering ebony look of Jet Black granite? You won't be disappointed by the dark striations cutting through Himalayan Moon. This quartz surface contains the veining of granite, making it nearly identical to a natural stone countertop.
2. Daltile Marble Look Collection
Perhaps you're more of a marble aficionado than a granite die-hard. If this is the case, you're sure to love the Marble Look collection offered by Daltile.
Is your heart set on stunning, white Calacatta marble with decisive, gray veining?  You'll find a startlingly similar look with Calacatta colored quartz from Daltile's ONE Quartz Surfaces collection in Nature Flecks. 
Perhaps you like the warm, creamy appearance of Crema-Marfil marble. You'll get the same appearance from Daltile's ONE Quartz Surface in Ash Grey.
If you think nothing but marble will do, think again. With the stunning Marble Look Collection from Daltile, you can have the striated appearance you prefer with the low-maintenance that quartz offers.
Click here to read "5 Benefits of Using Daltile Quartz Countertops for Your Kitchen and Bath"
3. MSI Q Premium Quartz Surfaces
MS International has long been known for its attractive and resilient quartz countertops, and you'll be astonished by the "marble" and "granite" look-alike varieties they offer. For example, they have an entire line of Calacatta doppelgängers, from heavily veined Calacatta Lago or Calacatta Naples to the softer, subtler striations of Calacatta Botanica. All told, there are well over a dozen versions of this popular marble variant to choose from.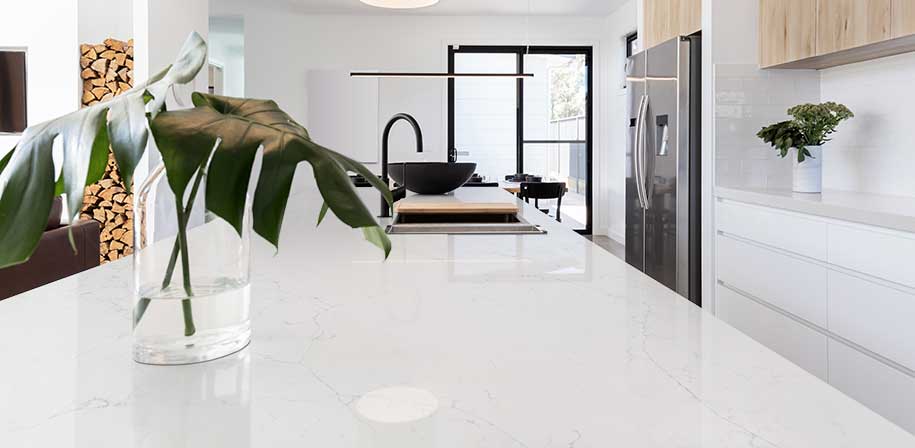 In addition to other marble copycats, MSI also offers a range of surfaces that mimic the natural beauty and dimension of granite. Eye-catching examples include Chantilly Taupe, which mimics the warm browns, beiges, and grays of marble.
Colonial-Gold granite, with plenty of golden-hued splashes thrown in, or Midnight Majesty, which features the black background and sparkling speckles Absolute Black granite is known for.
4. Quartz Master 2019 European Collection
Quartz Master may not be the household name that Caesarstone or Daltile are, but that doesn't mean they don't produce some truly remarkable countertops that mimic the look of natural stone. Case in point, their 2019 European Collection, featuring options like Chateau White, which closely resembles Mont Blanc marble, and Calcutta Cohiba, which displays the heavy, gray veining particular to Calacatta marble.
5. Silestone Eternal Collection
Whether you like the austerity of Calacatta, the warmth of Marfil, or the delicacy of Statuario marble, you'll find a suitable alternative that delivers the same appearance when you choose from the Eternal Collection offered by Silestone. 
The Classic Calacatta and Bianco Calacatta perfectly simulate the bright, white backdrop and thick, gray veining of Calacatta marble. Eternal Marfil displays the beigey tones and subtle veining of Crema-Marfil marble, and the pronounced, but spidery gray streaks of Eternal Statuario closely resemble authentic Statuario marble.
Regardless of the marble or granite varieties, you prefer, you'll find no shortage of suitable alternatives in engineered quartz surfaces from these leading quartz manufacturers.
Need help with your next project?

We would love to help you pick the perfect countertop material for your next kitchen upgrade or addition. To request a complimentary consultation with one of our design experts, click here.