Natural Stone and Quartz Alternatives to Concrete Kitchen Countertops (That Look Just Like the Real Thing!)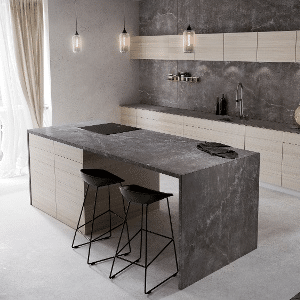 Concrete kitchen countertops are popular with fans of organic, modern and industrial designs. These stylish countertops pair well with natural woods, stainless steel appliances, and flush cabinetry and bring a rugged, masculine feel to kitchens and outdoor spaces. Concrete's color is a neutral soft gray but it can be stained to achieve different color variations and patterns.
The Downside of Concrete Countertops
While concrete countertops are reputed to be a more affordable and durable alternative to natural stone, this reputation can potentially come at a cost. Because each countertop is made under different conditions by people of varying skill levels, quality control can be an issue with concrete countertops. Without experienced professionals creating the concrete countertop, they are susceptible to developing flaws, such as cracks and chips, over time. 
Concrete is more porous than other natural stone and quartz options, meaning it can easily absorb liquids and even bacterial growth. Given the porous nature, concrete is prone to staining, and unlike other surface materials that can mask some light staining, the uniformity of concrete is not as successful at hiding stains.
Concrete countertops take 28 days to completely cure so it is a labor-intensive installation process. Also, concrete is just as it appears: heavy. This stone can weigh up to 25 pounds per square foot. This weight can cause increased pressure on your flooring and cabinetry, so it is recommended that a professional evaluate your kitchen or bath for reinforcement requirements before installation.
If you're apprehensive about choosing concrete for these reasons, but love its sleek aesthetic, there are alternatives that closely resemble the real thing and offer a multitude of additional benefits.
What are the look-alike alternatives to concrete kitchen countertops?
Academy Marble & Granite recommends selecting natural marble, granite, or manufactured quartz to achieve the look of concrete.
Natural Stone Alternatives to Concrete Countertops
Natural stone materials, like marble and granite, have the ability to deliver the look of concrete while boasting less maintenance and imperfections. Heat and pressure create marble and granite beneath the earth's surface, making the stone inherently more durable and resistant to damage from day-to-day use.
A sealant is recommended for both natural stone and concrete to create a non-porous surface that resists stains from foods, oils and other common household items. Unlike concrete that has to wait to cure, natural stone can be sealed immediately after installation so they are ready to enjoy sooner. Concrete is actually more porous than natural stone so it must be resealed more often, typically every 1-3 years.
Granite
Granite is an excellent natural stone alternative to concrete. It can deliver the raw, industrial look and comes in many patterns and colors, from the darkest black to off-whites and grays. It is also a highly-durable material that fairs well in busy kitchens that are prone to countertop scuffs and scratches.
Jett Mist Granite
Jet Mist Granite features a subtle dusting of slate-gray stretched throughout the slab that creates a unique pattern with a lot of movement. Much like concrete, the solid nature and dark hue of this slab can cause it to appear heavy. Pairing it with contrasting, white cabinetry can create a bold interior design look.
Absolute Black Granite
Marble
If you love the look of white or gray concrete countertops but do not love the imperfections they can come with, then marble is a great alternative. Oftentimes, concrete slabs come with flaws (ripping, slight cracks and color variations) and are considered to be a "perfectly imperfect stone." And, the lighter the stone, the more these imperfections can come through. Marble, on the other hand, displays natural beauty but still looks sophisticated and uniform.
Crema-Marfil Marble comes in a textured beige hue that contains soft veins in a darker, contrasting gold that mimics the modern look of light concrete. Like concrete, this natural stone is great for a modern home. Crema Marfil Marble pairs well with stainless steel accents and monochromatic design.
Manufactured Stone Alternatives to Concrete Countertops
Manufacturers create quartz countertops combining crushed quartz with resins to create a non-porous material that does not require sealing. Unlike concrete and natural stones, quartz materials can be extremely heat-resistant. Review each manufacturer's product specifications for more information, or ask an Academy consultant to review them with you.
Several quartz manufacturers design countertops to look like just like concrete.
Caesarstone©
Caesarstone's Rugged Concrete and Cloudburst Concrete are great examples of quartz alternatives to concrete kitchen countertops. These countertops come in your choice of polished, honed, concrete, and rough surfaces.
Cambria©
Quartz manufacturer Cambria also offers concrete looks. Their Greystone™ and Templeton™ countertops mimic concrete and come in high gloss and Cambria Matte™ finishes.
Alleanza ™ Quartz
Alleanza Quartz also carries a line of concrete-like manufactured countertops. The optional proprietary rolling-wave texture creates a unique look that's inspired by nature. Like concrete, these countertops are meant to look natural and unrefined.
Silestone©
Silestone has 80 different quartz styles to choose from, with a few giving the look of real concrete countertops. Textures offered include:
Polished: the classic and most popular finish that intensifies the color and sheen of any surface.

Suede: matte surface that appears 'soft' to the touch.

Volcano: looks like a natural stone worn away by wind and water.
This barn conversion features Silestone in Kensho. It has the look and feel of concrete with an important extra: a 25-year transferrable limited warranty. Note how the designer added texture to this very sleek room.
Concrete has a distinct look and design aesthetic that adds a modern feel to any space. If you're concerned with some of the drawbacks of installing concrete countertops, we'll be happy to assist you in finding a solution that works for your project, lifestyle and budget.
Academy Marble & Granite is excited to show you our large inventory of stone surfaces. Contact us or visit one of our locations in Bethel, CT or Rye, NY to learn more.