How to Design a Kitchen Island Featuring Natural Stone
If you'd like to increase the functionality or prep space (as well as endless entertaining opportunities) in your kitchen, adding a kitchen island is a great solution. A spacious kitchen island allows you to make the most of this bustling area of the household. And by adding natural stone countertops to the equation, you'll not only elevate the beauty and elegance of your space, but you'll also boost your home value.
How can you design the perfect kitchen island featuring natural stone in your home? Here are a few things you'll need to consider.
#1: Functionality
Some things are designed for aesthetic value alone, but when it comes to the kitchen, function is paramount. When you're installing an island, you'll probably be split between two functional concerns: Food and fun.
Your kitchen island should provide you with additional countertop space for food prep, but also extra storage underneath. Depending on your kitchen layout, you may want to move appliances and/or the sink to your island, either to preserve your kitchen triangle or to create a better flow throughout your kitchen.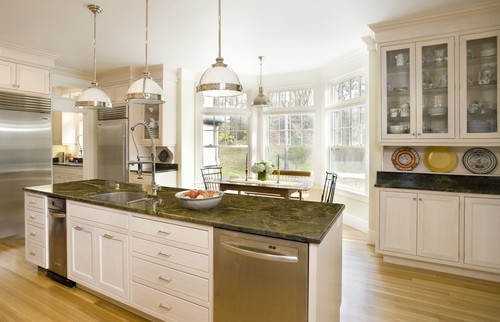 For example, his traditional kitchen island incorporates not only a dishwasher and trash compactor, but also a sink set into the striking Verde Karzai granite countertop.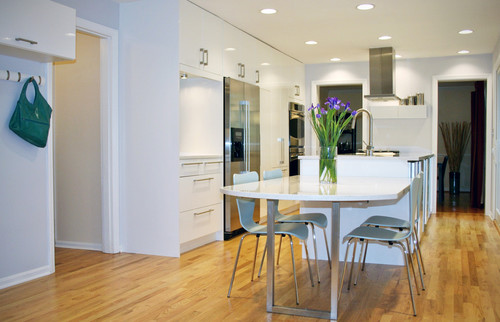 You'll also want to add some seating along at least one side of the island, although the configuration will depend on your kitchen layout. If you have a long, narrow kitchen that won't accommodate seating on the longest side of the island, you can simply add a table at one end or extend the counter surface, as in this
modern kitchen
featuring white quartz countertops.
#2: Measure Twice…You Know the Drill
Installing an island is an investment in your home. This means you have to take careful measurements to ensure your island will fit and function in your space as it should.
The general rule of thumb for installing a kitchen island is that you will need at least 42 to 48 inches (106.68 cm to 121.92 cm) of open space around the perimeter. It's important to note that if your kitchen is less than 13 feet wide, it may not be recommended to add an island to the space. Another rule to remember is that your kitchen island should take up no more than 10% of the total square footage of your kitchen.
The full-service fabrication company you partner with will take precise measurements for you, but there are a couple of things to think about, including orientation and clearance. The way that you align your island within the layout will determine where you can place appliances, seating, and so on. It will also affect the view you have during food prep, dining, and more.
Learn how to measure countertops in 4 easy steps
Lastly, you'll need to make sure there's adequate clearance all around the perimeter to sit, open cabinets and appliances, and pass by anyone who's working or seated at the countertop. This will ensure the function of your busy kitchen space.
#3: A Cadre of Configurations
A long, rectangular island may be the norm, but that doesn't mean you can't change it up to fit your kitchen. Creating an island that works could mean thinking outside the box with the configuration. There are several shapes to consider.
I-Shape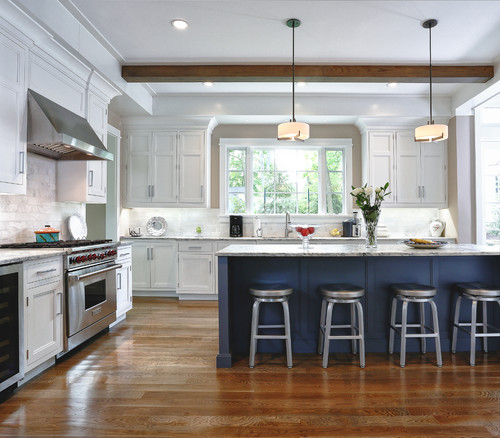 This common island shape can feature seating on a long side, as in this traditional Connecticut kitchen featuring White Arabesque quartz. It can also include a table tacked onto the end if that works better with your layout.
#4: L-Shape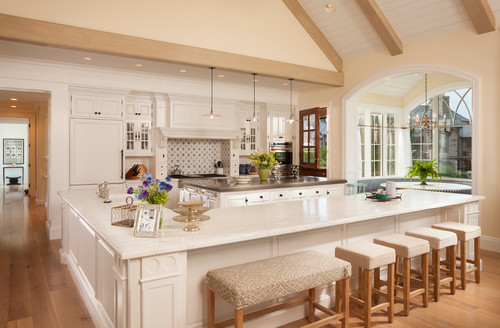 A spacious, open-concept indoor kitchen can benefit from the additional countertop and seating space that the L-shape provides, as seen in this traditional kitchen, which pairs a small, I-shaped island with a larger, L-shaped island. Both feature marble countertops, but in contrasting dark and light colors, respectively.
T-Shape Kitchen Island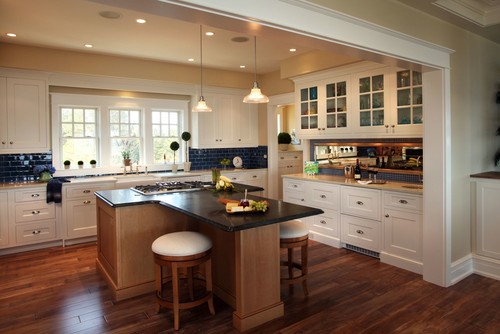 This
classic beach house kitchen
offsets lighter perimeter cabinetry and counters with a T-shaped island in dark wood and what appears to be dark marble, creating separate, but connected zones for food prep and seating.
Triangular Kitchen Island
For intimate appeal that leaves a lot of open space, a triangular island is ideal, like the one in this rustic kitchen, which pairs an abundance of nude wood with countertops in what looks like dark granite.
Curved Island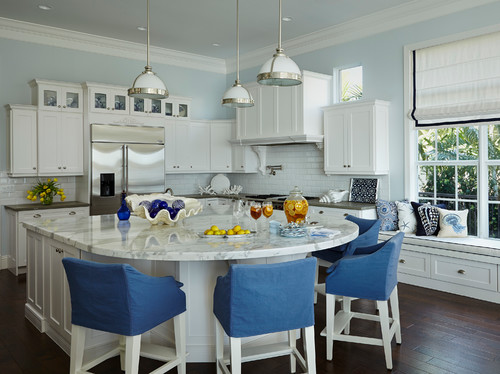 A curved counter space can maximize seating. Just look at the island in this beach-style kitchen, where a hemispherical marble countertop adds seating for four.
Multi-Tier Island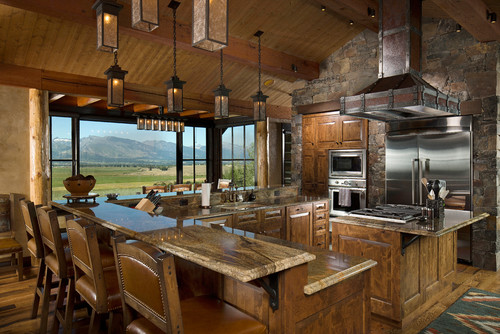 Single-level islands are nice, but if you like bar seating or you want a traditional table height (lower than the typical counter surface), multi-tier islands are the answer. Just look at this rustic, mountain home kitchen, where rich, Lapidus granite sits atop rustic wood cabinetry to create a multi-functional breakfast bar that seats eight, offering plenty of prep space along the interior.
#5: Thrilling Design Opportunities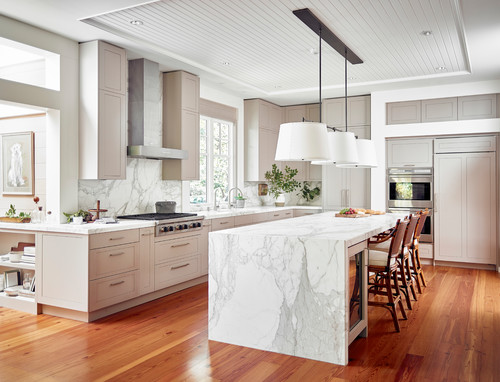 Once you've selected the ideal configuration, you can choose combinations of materials that will look stunning with natural stone. For example, you could make your stone the standout star with a waterfall design, like this island in Calacatta Gold marble, which beams brilliantly against golden, mid-tone wood flooring.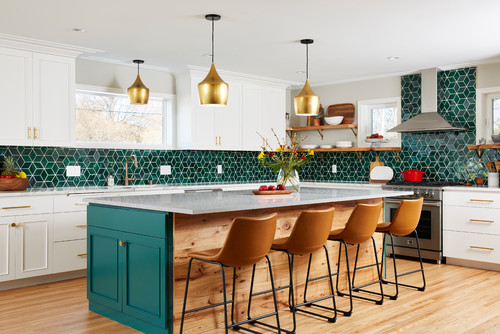 If you want to offset your countertops with color, consider adding a pop on the island base, as in this transitional kitchen, where a green end cap ties in with backsplash tile, elevating gray countertops, likely in quartz.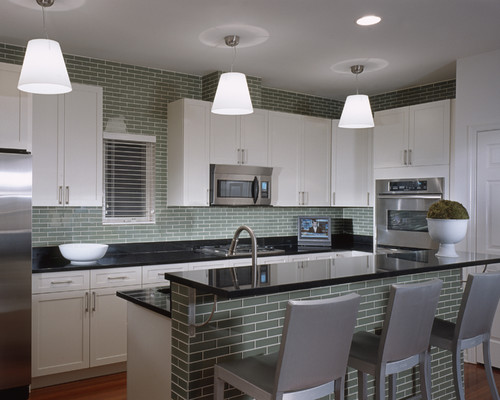 Want to make your island a modern statement piece? Try using tile underneath, like in this minimalist, modern kitchen, where the tile continues the visual line of the backsplash all the way to the floor.
The design possibilities are endless when you add a kitchen island featuring natural stone countertops. When you're ready to get started, the experts at Academy Marble & Granite are ready to help. Contact us today to request a complimentary consultation.