Multi-Level Kitchen Islands that Create Personality
Kitchen islands have become increasingly popular in kitchen design; adding a new workspace for food prep and central area for social gatherings, they also add a new dimension and another layer of design to your space. If you're looking for ways to make a visually flat kitchen design more appealing, adding a dose of personality with a multi-level kitchen island can do the trick. How can you make this element functionally and aesthetically pleasing? Here are a few examples to give you ideas for your own kitchen upgrade.
Raised Bar Kitchen Island
Even if you have a formal dining room and/or a breakfast nook, it seems that family and friends always want to cluster around food prep and cooking zones in the kitchen to chat with the chef. This is where an informal bar seating area can add a lot of use value, not to mention personality.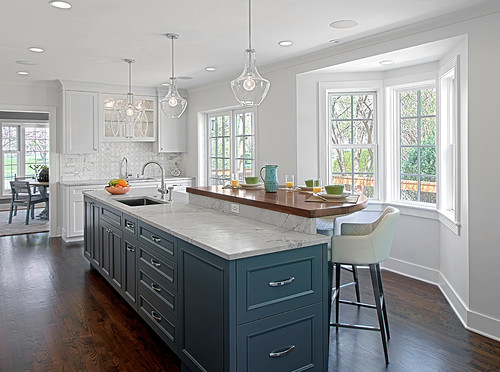 Consider this transitional kitchen, featuring a raised bar in dark wood over a multi-level island countertop and backsplash in what looks to be Carrara marble, or perhaps a quartz lookalike. The semicircular shape of the bar is designed to flow with the curve of the bay window behind it, beautifully making use of a tight space that might otherwise not be used.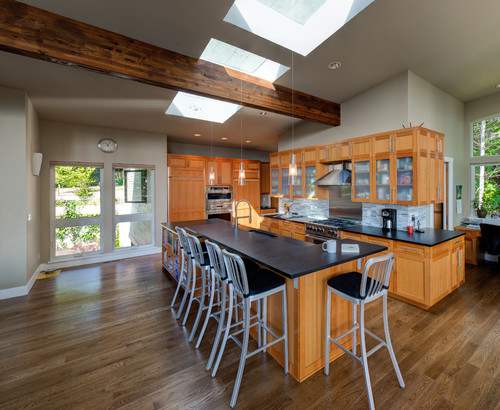 Then there's the raised bar in this expansive contemporary kitchen, which serves the opposite purpose. The design of this kitchen, featuring dark wood flooring and ceiling beams, ample golden-hued cabinetry, and granite countertops for the perimeter and island in Absolute Black, is meant to create a sense of warmth and coziness in a cavernous space. The raised bar contributes to this aesthetic goal by creating another level and filling up more space than a single-level island would.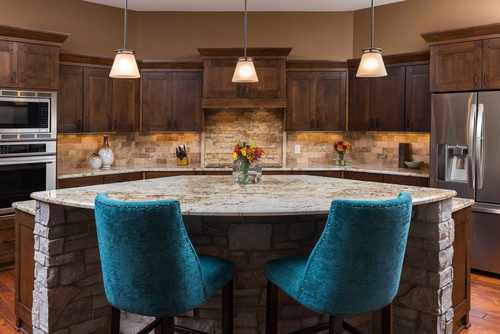 The unusual raised bar in this rustic kitchen is similar to the first example in that the rounded edges mimic the curvature of the room, and similar to the second example because it is meant to fill some space in a large, open-concept design. The granite, which could be Colonial Gold or something similarly warm, adds pattern and dimension that stand out amid the rich wood cabinets and flooring, as well as the textured stone elements.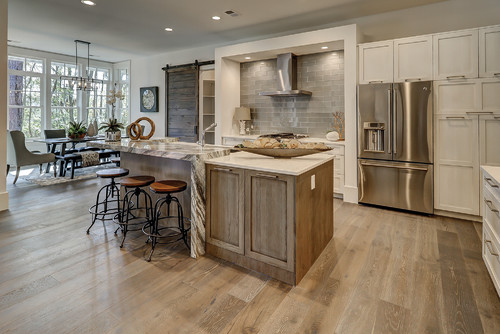 Finally, the smaller island in this monochromatic, transitional kitchen delights the senses by adding visual variety, not only with slightly more height for the bar/seating area, but with the intense and dynamic veining in the Fantasy Brown marble.
Lowered Bar Kitchen Island
Maybe you're not keen on the idea of tall stools or chairs at your bar. If you have kids or elderly family members in your household, a lowered bar may be a safer bet, and it can still add incredible personality to your kitchen.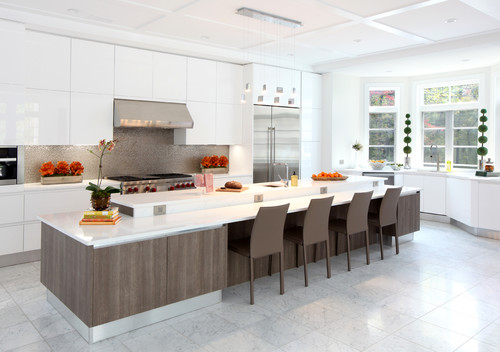 This spacious, modern kitchen offers a great example, with an island decked out in dark wood and white granite, featuring a standing sink and food prep area surrounded by a lowered surface on three sides. This not only makes the sink the focal point of the room, but allows for ample lounge and entertaining space to socialize and watch meal prep in progress.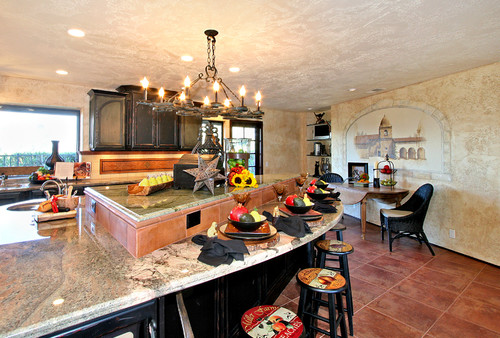 The lowered bar area in this traditional kitchen  sits at the same level as the sink area, while the raised platform in the center breaks up an otherwise massive island. This leaves an elevated area for seasonal displays, or perhaps a dedicated space to rest serving platters, leaving room on the bar for place settings. It also creates some separation from the busy food prep area, facilitating private conversation.
Multiple Levels
If two levels simply aren't enough to fulfill your need for visual variety or delineate space intended for different purposes, you'll be pleased to find that multi-level islands don't have to stop at two counter heights.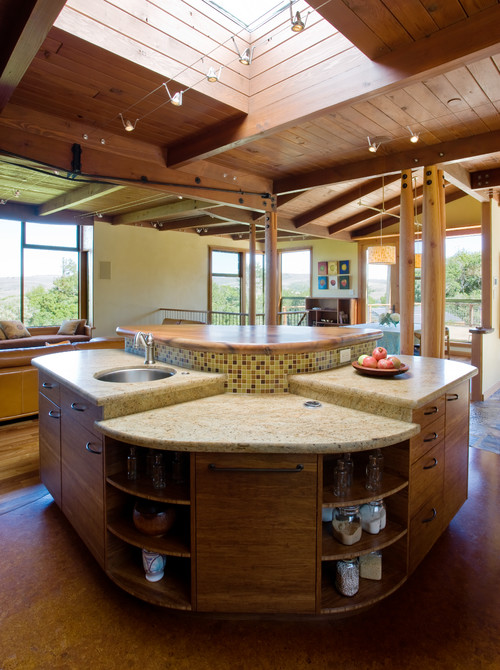 This unique, rustic kitchen offers a prime example. The shortest level of this curved, square island houses open shelving for glassware, delivering a space tailor-made for mixing drinks. It's flanked on either side by slightly taller cabinets and counters, ostensibly meant for food prep, considering one houses a sink and the other a flat, open surface.
The final corner consists of the tallest, bar-height level, complete with stools for seating. With so many countertop heights, the look could be jarring, but the multi-level island is made cohesive with the use of quartz countertops for the lower and middle levels, paired with a complementary, warm wood surface for the bar.
There are endless options to explore when you decide to take your island from a single surface level to two or more heights. You just have to think about what will best suit your available space, providing the function you need and the aesthetic variety you prefer.
Need Help on Your Project?
We would love to help you pick the perfect countertop material for your next kitchen upgrade or addition. To request a complimentary consultation with one of our design experts, click here.