Upgrade Your Space with These 6 T-Shaped Kitchen Island Countertops
The addition of a kitchen island is a great design element to make a kitchen's space more functional. Whether your kitchen is large or small, a kitchen island can increase prep space and storage and even add space for seating. If your family likes to gather during cooking, you love to entertain guests, or you simply don't have enough space for a breakfast nook or a traditional dining table, a kitchen island can be an ideal solution.
Islands come in all kinds of configurations, but one that's perfect for added seating and prep space is the T-shaped island, which includes a central projection that acts as a table, often flowing out from the island into adjacent space (a dining or living room area, for example).
What can you gain from adding a T-shaped island countertop to your kitchen? Here are a few examples that could inspire you.
A Breakfast Bar for Two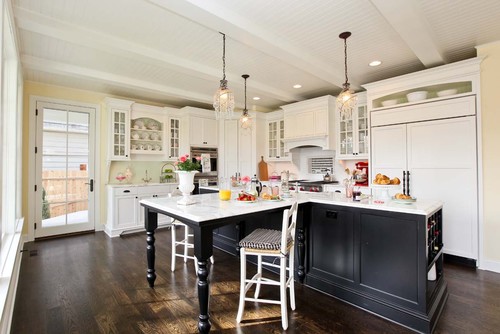 Island seating may range from bar stools for two or three people to a wraparound that seats a dozen. The T-shaped island in this traditional kitchen leans toward the smaller side, making good use of extra space in the kitchen without interrupting the path to the back door, as a larger table might.
The 36-inch high table blends perfectly with the island of the same height, and space for seating on three sides makes it ideal for sharing a cozy meal or a morning cup of coffee with one or two people. Calacatta marble is eye-catching atop black cabinetry, and pale gray striations create the perfect transition to white cabinets around the perimeter.
An Unobtrusive Dining Space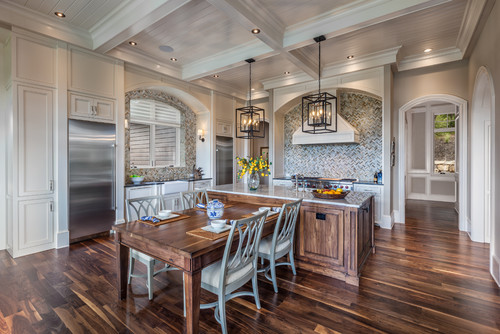 A dine-in kitchen offers a more intimate, everyday eating space than a formal dining room, as exemplified in this traditional chateau kitchen with rich, natural surface materials. The T-shaped table drops down from countertop height and extends out from the back of the island, but manages to maintain visual continuity, thanks to materials that match the variegated wood flooring and island cabinetry.
The effect is stunning, despite the fact that the table recedes into surrounding woodwork, becoming virtually invisible in the setting and contributing to an open, spacious feel. The kitchen island, on the other hand, stands out with pale, but lively granite countertops that pull in lighter hues from surrounding cabinetry and mosaic backsplash tile.
The Inverse T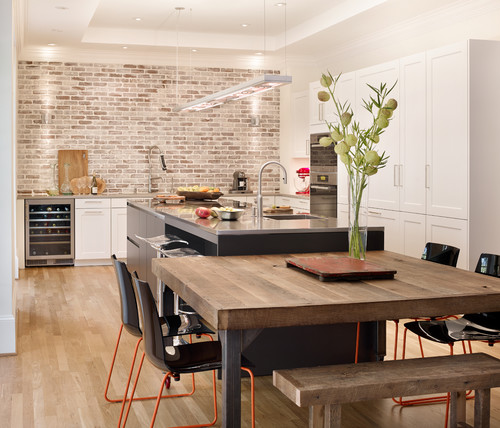 A typical T-shaped island consists of an expansive island space (the top arm of the T) intersected by a smaller seating area (the vertical bar of the T). However, depending on available space and desired seating, you can certainly flip this dynamic around, as in this contemporary kitchen.
The island itself contains bar seating for two, while the larger, drop-down table can comfortably seat six people on three sides. Modern flair meets traditional elements with diverse materials that include quartz perimeter countertops, a stainless steel island countertop, and a wooden dining table surface, paired with white and black cabinets, light wood flooring, and a brick backsplash for an industrial loft appeal.
Versatile Countertop Solutions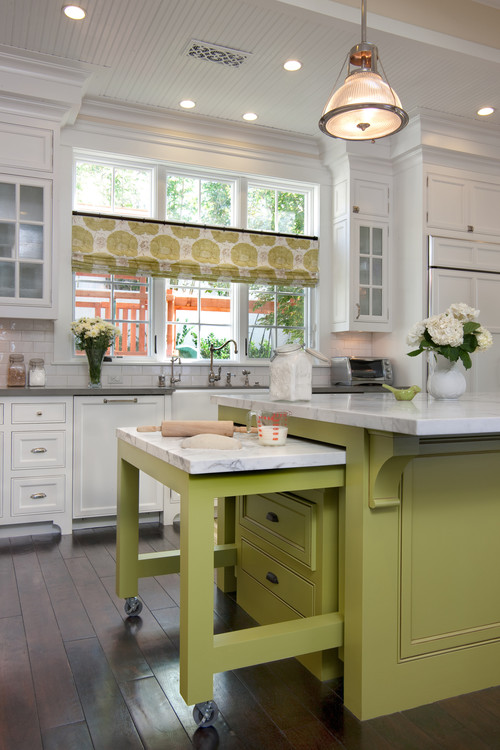 If you need more seating and/or prep space, but adding a kitchen island extension could make your kitchen feel cramped, you'll want to consider versatile options like the custom, pull-out counter extension in this Hamptons-style traditional kitchen. Featuring a lively shade of chartreuse for cabinets and topped with gorgeous Calacatta marble, this 12-foot island is already a showstopper.
However, it's the addition of the pull-out "kneading table" that really wows. It can be used for additional food prep space or complemented with stools, adding to the adjacent bar seating for three.
Multiple Seating Zones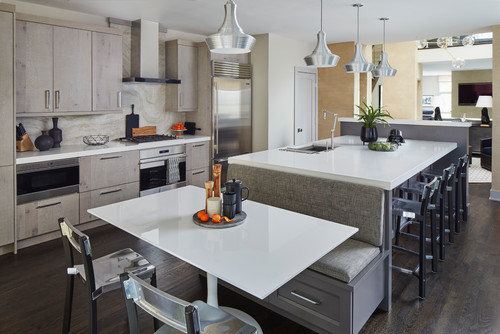 Whether your kitchen is large or small, you naturally want to make the best possible use of available space. The traditional kitchen in this historic home was transformed to add plenty of seating and opportunities to socialize.
The island, which appears to be bright white quartz, features bar-height seating across from the sink and waterfalls into attached bench seating, complemented by a table and two chairs. This offers space for family or friends to sit at the bar and interact with the chef, or alternately, to enjoy an intimate conversation at a more traditional table setting.
Extra Prep Space for Helpers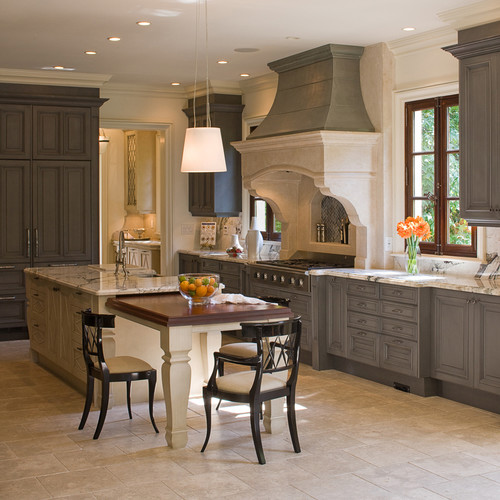 If you've got the room for more prep space but you don't necessarily want an immensely long island, you can tack on a smaller table at a different height to break up the space and add visual interest, along with functionality.
This traditional kitchen with a French country feel is a great example, with the dark, wooden table surface contrasting nicely against lighter marble used for the island and perimeter countertops. Technically, this arrangement could be considered more of an "I" than a "T" shape, but depending on available space in your kitchen, you could easily situate the island addition on a different side.
If you're looking for innovative ways to get the best possible use value from your kitchen space, adding onto your island to create a T shape is a great way to maximize the potential of your footprint and provide necessary prep space, seating, and versatility.
Can Academy Marble help?
With professional help, you can choose the countertop surface that matches your aesthetic preferences and complements the rest of your home, and after installation, we can help you properly care for your investment so that you can enjoy it for years to come. Contact us today to get started on your project.