Are Waterfall Countertops the Right Choice for Your Modern Home?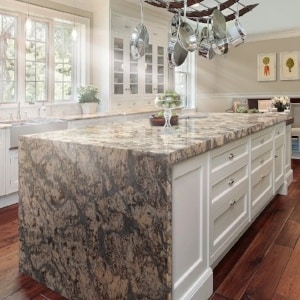 Waterfall counters are countertops that flow seamlessly over the horizontal surface of counters and change directions to run vertically until they reach the floor. With smooth lines and right angles, counters finished with waterfall edges are the hottest trend in interior design for kitchens and bathrooms. However, they aren't the perfect choice for every home or lifestyle. Continue reading to discover if waterfall countertops are right for your home.
Waterfall Countertops and Modern Homes
Waterfall countertops are perfect additions to homes with clean modern lines. Their sleek and seamless features epitomize the modern design aesthetic.
Show off!
A kitchen island with waterfall finishing is a marvelous way to show off luxurious natural stone countertops.
If you've ever dreamed of accenting your kitchen with the best possible materials, using them on a waterfall island can be a showstopper.
Consider the dramatic impact of a waterfall island covered in Black Galaxy Granite; like captured starlight, Black Galaxy Granite dazzles with its black background and flecks of white and gold.
Caesarstone's new offering Excava is another exciting option. Excava has a canvas color base that's richly accented with copper and rose-gold tones for a truly luxe effect.
Designing in Concert with Waterfall Countertops
To truly get the best effect with waterfall counters, be sure to pair them with elements that reflect and capture light, have curved lines or patterns, and bring warmth and personal touches to your space. Waterfall countertops create a modern touch to the home, but can appear cold when not paired properly.
For instance, in an adjacent dining room, you could use chairs with rich weathered leather or decadent mohair velvet upholstery. A light fixture could be modern, but perhaps have a delicate perforated pattern in warm copper or brass.
For bathrooms, a richly-colored, hand-loomed Persian rug could adorn the floor. Also, bathroom mirrors can be framed in any number of interesting ways; carved wood frames, custom mosaics, or woven metals. Getting creative with those simple upgrades can really make your countertops "pop!"
Design Tip: Always remember, that without some elements of your personality, and some variation in texture, a modern space can feel like an office in a cookie-cutter industrial park.  Your home should always reflect the things you love, your interests, and the places you've been.
Waterfall Counters and Traditional Homes
Waterfall counters generally look out of place in traditional homes, especially those with lots of ornate trim and complex design elements. The addition of an island with waterfall countertops, to a traditional home, can look like a spaceship landed in your kitchen.
If you love these countertops anyway, then work with a designer who can find ways to gracefully integrate the idea into your space. One way is to avoid the right angles typical of a waterfall counter and instead let your waterfall countertops curve over your counter's edges. The edges of your counter can also be finished in ways that can match the design of the door edges of your wooden cabinets. With islands, you can consider recessing the exterior side (facing away from the kitchen) and finishing that surface with wood or tile that compliments your existing traditional décor.
Logistical Concerns of Adding Waterfall Countertops to Your Home
Do you have room?
For new construction, you can easily design space to accommodate waterfall counters, but if you are remodeling, the 1-2 inch thickness of waterfall counters might cause the footprints of your cabinets to extend beyond their current dimensions. This could affect code issues on the space required for passages or doors or block a cabinet or refrigerator door from fully opening.
Will you lose cabinet space?
The last thing you want to do is take away usable storage. Some kitchens have side cabinets that are accessed from areas a waterfall countertop would cover. Does the front of your island currently have shelves or cabinets? Do you have another place to store those items? These are all important questions to think about before installing waterfall countertops.
Will you be standing at the counter for long periods of time?
Keep in mind that waterfall countertops don't have the typical 3" toe kick allowance. You may have never noticed it, but most cabinetry has a 3" cutout space at the bottom of each cabinet to allow you to stand closer to your cabinets (this is an ergonomic feature that helps the back and protects toes). So anywhere you might plan to have a waterfall countertop you will lose that comfort space. If it's not an area you anticipate working in, this shouldn't be a problem, but it's something to be aware of.
What's your cleaning style?
We're not accusing anyone of being clumsy, but some of us, slam the vacuum cleaner into things when we clean. This is one of the advantages of the aforementioned toe kick. Most vacuums slide right under the toe kick. Now, if someone is aggressively vacuuming, they will have to be careful not to slam into the surface.
Also, consider what type of cleaners you use for your floors. Your countertops will now possibly be exposed to the same cleaners. So, when you consider installing waterfall counters, be sure that your floor cleaners are compatible with the surface.
Can Academy Marble help?
Our team at Academy Marble collectively has many years of experience as master-craftspeople with natural stone and manufactured-stone surfaces.
This experience is the key to executing a successful waterfall countertop installation. There is no room for error when cutting, matching and fitting pieces for this type of countertop. The whole point is that it appears seamless and hiring an experienced professional will guarantee that it's done properly.
Our experts would love to discuss transforming your space with Waterfall Countertops. Contact us today to get started on your project.