9 Quartz Countertops with Brown Veining You'll Want to Replicate in Your Own Home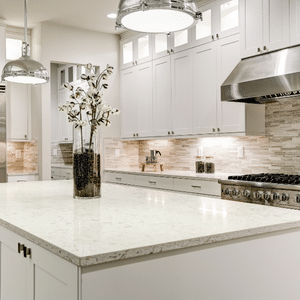 Gray tones may be the popular neutral of the last few years and it's no doubt, subtle grays can be versatile and easy to coordinate. However,  if you prefer warmer tones in your interior design, you may be on the lookout for countertop materials that offer hints of brown to pair with your white, black, or natural wood cabinetry.
You might even be surprised to find brown-streaked quartz options that will work with gray hues. Here are several quartz countertops featuring brown veining that are sure to elevate the style and sophistication in your home.
1. MSI Blanca Arabescato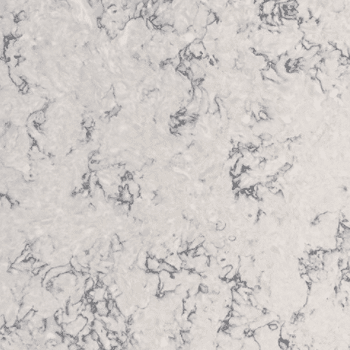 You might not expect to see dark brown veining against a cool white and gray background, but Blanca Arabescato, which is similar to Grigio Adriatico marble, proves how stunning this combination can be.
The timeless beauty of this cool quartz – which features sparse, spidery veining throughout – is ideal for tonal, white kitchen or bathroom spaces, where it will stand out against sedate cabinetry.
Like other cool marble and quartz varieties, it also offers a striking counterpoint to darker cabinets.
2. MSI Calacatta Prado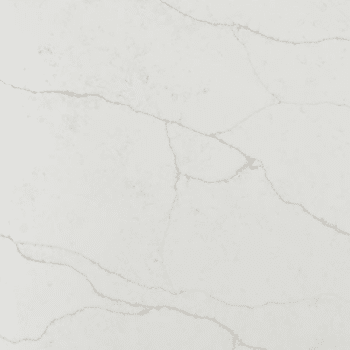 If you want to add some personality with your countertop surfaces, but you prefer subtlety over bold statements, you're going to love Calacatta Prado quartz. This stone falls on the lighter side of Calacatta marble.
Wispy veins of gray and brown course across a bright white background like pencil strokes on a page, creating barely-there patterning that makes a quiet statement all its own.
3. MSI Gray Lagoon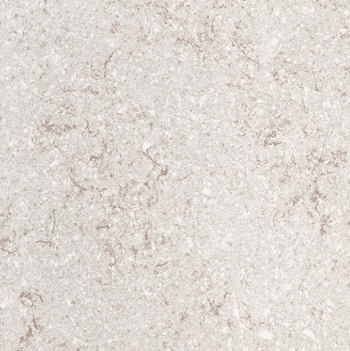 Though technically, all neutrals should pair with other neutrals, you may not see the appeal in the marriage of gray and brown hues. Gray Lagoon quartz will prove you wrong, with a sophisticated blending of a cool gray background with bursts of tracery in white, gold, and brown. The effect is dynamic and dimensional, bringing delicate, sophisticated style to both cool and warm home interiors.
4. Caesarstone Dreamy Marfil
Crema Marfil marble may not be as renowned as brighter Calacatta and Carrera varieties, but it does offer warmer appeal, thanks to a wash of beige beset by subtle veining in cream and brown hues.
Dreamy Marfil quartz captures this aesthetic perfectly, providing some much-needed contrast in a white, tonal kitchen without necessarily stealing the show. It can also serve up high contrast against darker cabinetry. If you love a rustic ambiance, pair it with rich wood tones.
5. Caesarstone Moorland Fog
A light, creamy expanse acts as the backdrop for dynamic patterning in swirls of taupe, gray, and brown. Moorland Fog by Caesarstone looks a bit like candy nougat in terms of color.
The overall aesthetic is one of neutral bliss, with a softness that you'll find soothing, but enough pattern to ensure eye-catching interest atop white, black, or wood-toned cabinetry. Because of the mix of cool and warm hues, it matches well with both types of palettes.
6. Caesarstone Topus Concrete
If you love the look of travertine, but you're not keen on the notorious porosity of this natural stone, you'll be pleased to find a suitable substitute in quartz.
Topus Concrete features a beige/taupe background in the popular, modern greige family, with soft, wispy veining in cream and pale brown shades, adding visual variation and an overall warm appeal. This is the perfect option for kitchen or bathroom countertops if you want a subdued, neutral palette or a calming ambiance.
7. Caesarstone Woodlands
Technically, this is a chocolatey, dark brown quartz with veining in a mixture of black and white, but if you're looking for a dark countertop surface in warm brown shades, this may fit the bill better than a creamy background with only minimal brown veining.
Whether you're using a dark, masculine palette to make a large kitchen feel cozier, or you want a contrast between countertop materials and white cabinetry, Woodlands quartz will deliver the aesthetic you crave with earthy undertones.
8. PentalQuartz Volcano
This riveting quartz brings to mind the explosive nature of its namesake geological structure, including swirls of ash and eddies of liquid magma flows. The black background is nearly obscured by strokes of white and russet browns, which resemble abstract expressionist art. If you want your engineered countertops to serve as a bold, statement piece in your home, Volcano quartz by PentalQuartz will not disappoint.
9. PentalQuartz Amadeus
Deep, dark browns dominate this impressive quartz style, which looks like violent seas on a dark and stormy night. Waves of earthy brown, dark chocolate, and bruised purple are stippled with sparse patches of dark gold, creating a turbulent aesthetic that imbues any room in your home with moody mystery, much like the music of its namesake composer.
While you might not want to pair this particular quartz with bright white elements, Amadeus will look stunning next to wooden cabinets ranging from golden to ebony hues, as these cabinets will complement the colors in the counter material.
Academy Marble & Granite is the area's most reputable place to find the stunning, elegant quartz countertops you're looking for, whether you want to incorporate hints of sandy veining or a warm expanse of rich brown as part of your interior design.
Check out our portfolio for design inspiration or visit one of our convenient showrooms in Bethel, CT, or Rye, NY today.