6 Neutral Granite Countertop Colors that Work Seamlessly
Granite is renowned for its incredible patterning and dimension, not to mention its strength and durability. It is often considered to be a dramatic and eye-catching addition to any living space, which is why homeowners looking for something more subdued might turn to the calmer countenance of marble or quartzite for the countertops in their home.
With that being said, if you're interested in a statement piece that will go with almost any design — from a tonal white kitchen to a masculine bathroom to a space filled with warm wood surfaces — you can add granite to any room in the home. You simply have to select varieties that deliver a neutral palette, virtually complementing your interior design while imbuing your space with a focal point that's rife with visual interest.
Here are neutral granite options that are sure to work seamlessly with your home's décor.
#1: Alaska White
It's hard to imagine a slab of granite that's more suited to literally any palette than Alaska White, which features an icy background of white and silvery-gray, punctuated by chunky swaths of graphite, espresso, and onyx hues. Patterning varies widely among slabs, but there's no denying the bold appeal of this entirely neutral stone.
Whether your palette is white, dark, wood toned, or candy-colored, this breathtaking granite will complement it effortlessly, while still providing a showpiece for your kitchen or bathroom.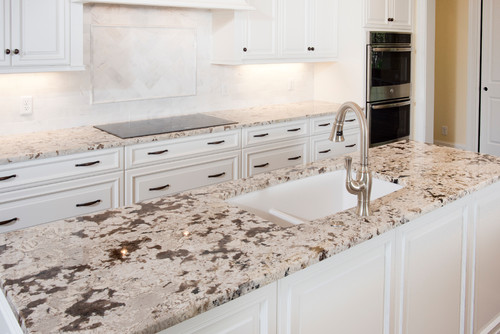 This contemporary kitchen with bright white cabinets, stainless steel appliances, and black hardware shows just how eye-catching Alaska White granite can be.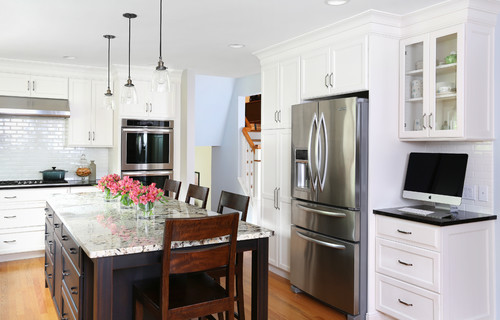 For comparison, it looks equally stunning atop a dark base, as evidenced by the striking island in this
craftsman-style kitchen
.
#2: River White
If you're looking for a soothing complement to your kitchen or en suite, but with a little more personality than a Carrera or Calacatta marble, for example, River White granite has everything you want. The off-white background is complemented by gray veining ranging from barely-there wisps to rugged streaks. The surface is speckled with burgundy spots.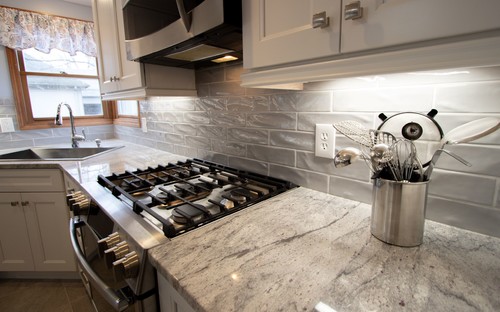 In this
transitional kitchen
, it pairs beautifully with white cabinetry and a gray-blue subway tile backsplash, as well as stainless steel appliances, interrupting the starkness of an all-white space with an alluring display of organic pattern.
#3: Luna Pearl
It's hard to find fault with this expressive granite, which is not so much patterned as stippled by Mother Nature herself.
Speckles of white, black, and shades of gray are almost uniformly strewn across Luna Pearl granite surfaces of this stone, creating a sense of movement very different from the streaking and veining of marble.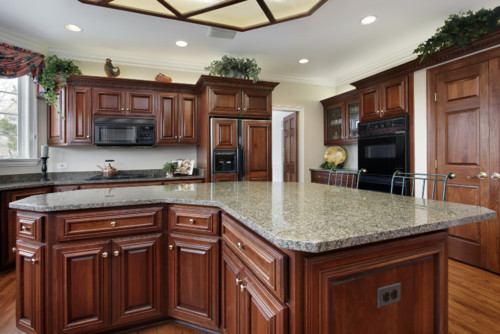 You might think it would only pair well with white, black, or gray palettes, but that theory is blown apart by this
traditional kitchen
, where Luna Pearl granite adds fantastic contrast to rich, dark wood cabinetry, and golden flooring planks.
#4: Crema Bordeaux
It's easy to look at Crema Bordeaux granite and picture it surrounded by warm wood tones. With a creamy, beige background, liberally striped in dark brown and gray and sprinkled with burgundy, it's not hard to see why.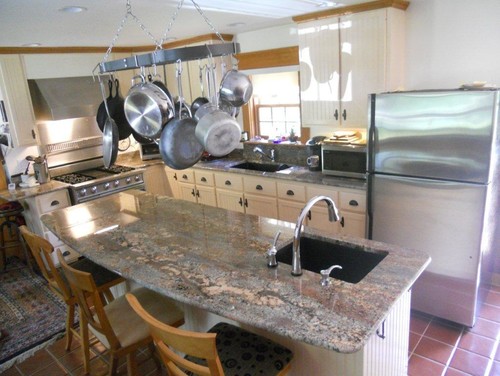 However, this warm-hued variety is still considered to be a neutral, which means it can go with a wide variety of styles. This farmhouse, eat-in kitchen provides a prime example. When set atop white cabinets, the grayer tones stand out prominently, while the cinnamon and sand tones connect with the terra cotta tile flooring.
Just remember, coloration can vary widely by slab, so you'll want to pick the piece that's best suited to your preferred palette.
#5: Brown Antique
Despite the overall, deep espresso wash of Brown Antique granite, there's a lot of nuance to this subtle stone. For starters, it can read as a warm brown or nearly blue-black, depending on what you pair it with. In addition, the crystalline quality of this variety imbues the stone with silvery highlights that create incredible dimensionality.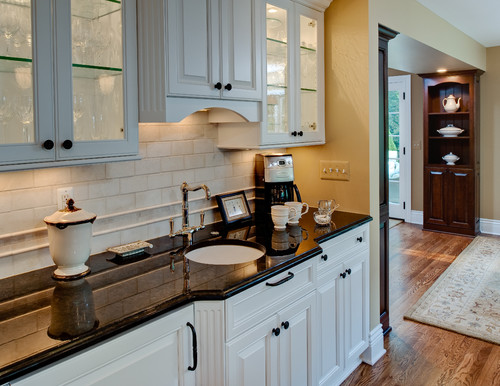 Naturally, it complements wooden surfaces very well, but for maximum impact, pair it with white cabinetry, as in this
traditional kitchen
space. Because it's a bit more sedate than other varieties, the contrast will draw eyes and make the most of the stone's elegant beauty.
#6: Absolute Black
If consistency in a countertop surface is more your speed, you're going to like the inky depth of Absolute Black granite, which lies like a solid, evenly-textured expanse of starless night across cabinetry. Although it lacks the intense patterning common to granite, it's no less impactful for its simplicity.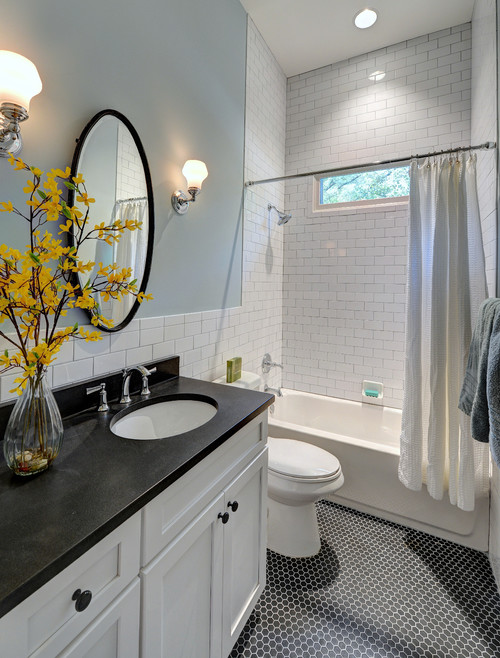 Consider the timeless beauty of this traditional, black and white bathroom, featuring a stratified effect that starts with the black, honeycomb tile flooring, leading to white cabinetry, which is topped by muted, leathered Absolute Black granite counters, and offset by a backsplash and shower surround in gleaming, white subway tile. The pale, blue-gray paint on the walls softens the overall effect.
You'll find that neutral granite varieties work seamlessly with a wide range of cabinet and backsplash materials. They also allow you to work in some color through paint without the worry of clashing.
When you're ready to pick the best granite countertops for your home, make sure to check out our portfolio or visit a conveniently located Academy Marble & Granite showroom in Bethel, CT or Rye, NY.