How to Pair a Greige Kitchen with Luxe White Countertops
Bright white kitchens have been a popular choice for decades. It's no surprise, considering the clean, inviting ambiance associated with this highly favored design choice. Of course, if you don't accessorize with a bit of flair, your white kitchen can look somewhat flat and lacking in visual interest.
Over the last few years, the on-trend solution has been to pair white and gray to add depth, while only straying a little from the all-white motif. This can be seen in the extraordinarily popular combination of lower cabinets in gray and uppers in white.
However, the pale, cool dove grays that dominated the last half-decade are now giving way to warmer "greiges," a tone that's characterized as a mixture of gray and beige.
If you like the modern appeal of gray, but you prefer the warmth of sandier shades, you'll get the best of both worlds with hues in the greige family. This new neutral is a great way to warm up a white kitchen without the pink undertones of taupe.
The only question is: How can you pair a greige kitchen with luxe white countertops? Here are a few suggestions to get you on the right track.
A Subtle Approach to Greige
One great way to incorporate greige into an otherwise white kitchen is to choose a pale shade that reads as nearly white, adding subtle tonality that heightens dimension in the space without shouting about its presence.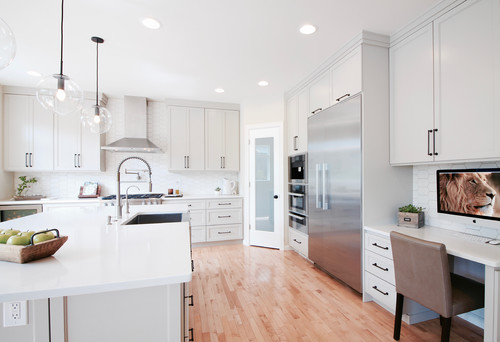 This transitional, eat-in kitchen provides a prime example. The white quartz countertops and geometric, picket tile backsplash in bright white imbue the space with luminescence, reflecting the natural light. In a greige so pale as to require a second glance to make sure it's not white, the cabinets offer an incredibly subtle shift that provides a seamless gradient between white surfaces and stainless steel appliances.
Glass globe pendants don't interrupt sight lines, and simple, black door and drawer pulls add just the right amount of contrast and character. The overall effect is both attractive and serene, making this the perfect place for family and friends to gather.
If you favor a white kitchen, but you want to add just a hint of color for visual interest, this subtle approach serves up refined style in spades.
Saturated Greige Kitchens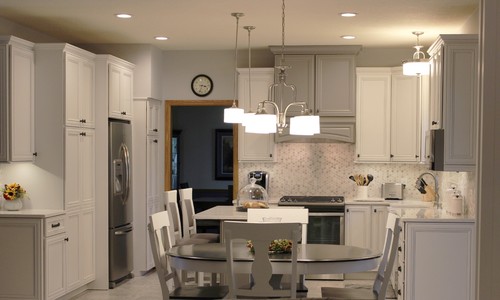 If subtlety isn't your style, you can definitely go with a more saturated, smokier greige to offset your white countertops, as in this traditional U-shaped kitchen.
The cabinet and hood vent combination above the range not only creates a focal point among otherwise white cabinets, but it also draws on the color of the stainless steel stove oven below for cohesion and visual punch.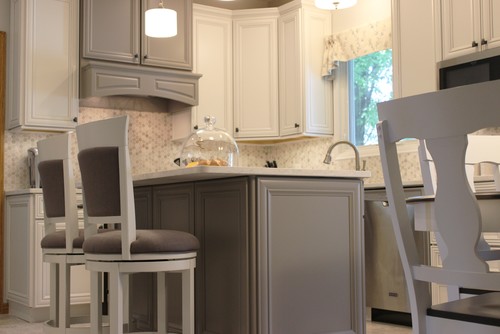 The same greige is used on the island, carrying the line of standout color down the wall from the hood to the stainless steel oven and out across the kitchen floor, essentially creating a central stripe that runs the length of the kitchen. This is accentuated by white bar chairs with gray seating and backs.

Of course, adding a bold strip of greige to your white kitchen could look out of place if you're not careful. But this design does it right with transitional elements, namely the honeycomb sheet tile backsplash. With a gradient of hues ranging from white to light and medium gray tones, organically filling the space between cabinets and countertops, there's a mid-ground that bridges the white, greige, and stainless hues in the space.
Without such transitional pieces, the white and gray tones could seem disjointed. Tying them together visually with a backsplash that draws upon all of the colors in the space helps to soften the hard lines and create a look that is elegant, cohesive, and extremely appealing. The black hardware on the cabinets mimics the black elements in the cooktop and other appliances, too, adding contrast without becoming an eyesore.
Mix and Match Greige Kitchens
Can't decide between cool gray and greige for your kitchen? Good news – you can do both. The thought of mixing cool and warm neutrals may seem strange, but it can be expertly executed with some care and consideration.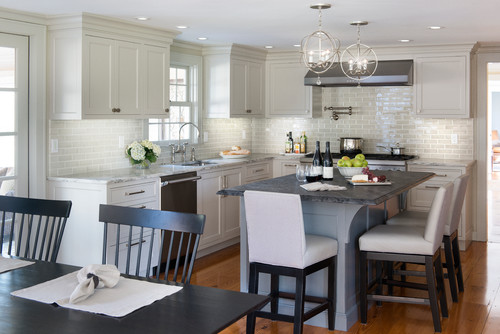 Just look at this traditional kitchen that features an incredibly modern palette. White cabinets around the perimeter are paired with lively, white quartzite in Ivory Supreme, with a subway tile backsplash in soft gradients of greige. Then there's the kitchen island, featuring a cool, gray base topped by a pewter-like, granite countertop surface in Matrix.
Finishing touches include warm, golden wood flooring and bar-height chairs with ebony legs and white seats, along with appliances and fixtures in stainless steel. There are a lot of competing gray and silver tones in this kitchen, but with expert placement, the overall look is incredibly cohesive and sophisticated.
Whether you want to lean hard into the greige trend or try it out in a more subtle way, you can still create the bright, beautiful kitchen you crave with stunning white countertops paired with shades of greige.
Need Help on Your Project?
We would love to help you pick the countertop material for your next kitchen installation or upgrade. To request a complimentary consultation with one of our design experts, click here.