Add the "Wow" Factor to Your New York Home with a Matte Black Kitchen
Unless you're leaning toward the classic styling of a black-and-white kitchen, black probably isn't your first choice when it comes to planning a remodel. However, with cooler neutrals dominating over the past several years, black has slowly crept in as a viable choice for cabinets, countertops, and entire kitchen spaces.
A lot of blacks can indeed make a room look smaller, but this might be ideal if you want to make a cavernous kitchen cozier. Black also serves to provide contrast and visual interest in an otherwise white kitchen space — hence, the popularity of black-and-white motifs.
Dark hues are traditionally considered masculine, but when paired with the right elements, you'll find that you can create a contemporary kitchen space that is neither particularly masculine nor feminine.
By adding black to your kitchen design in doses large and small, you can create a truly breathtaking space, especially when you opt for trending matte finishes.
Sleek, Contemporary Styling in All Black
This contemporary kitchen remodel in New York featuring a matte black island countertop and cabinets is a stunning example of modern, sophisticated design. The island and cabinets stand out against white walls, pale wood flooring, stainless steel appliances, and perimeter counters in white and gray.
Due to the matte appearance and hidden hardware, the overall aesthetic is recessive, sleek, and refined. The amount of black in this kitchen could easily overwhelm the space, but lighter hues create a balance that makes the matte black surfaces stand out, and wood flooring adds some much-needed warmth to the aesthetic.
Offsetting Matte Black Cabinets
White cabinets and black countertops make for a bold kitchen design, but if you want to change it up a bit, consider a role reversal, as in this black-and-white contemporary kitchen. Here, a bright white kitchen space is elevated with flat-panel cabinets in matte black and polished black perimeter countertops.
The black is a striking counterpoint to white walls and flooring, as well as a waterfall island and perimeter backsplash in white, marble-look quartz. The overall ambiance is bright and breezy, but the black adds an element of visual heaviness that helps to ground the design.
Updated, Elevated Farmhouse
The farmhouse aesthetic is characterized by design elements like abundant wood, a large apron sink, and modest styling. If you're interested in a more modern design style, however, there are plenty of ways to update your farmhouse kitchen. A palette featuring matte black elements is a great option to explore.
Just look at this modern farmhouse kitchen with white cabinets and countertops in Jet Mist honed granite. The kitchen feels spacious and pristine, but the addition of matte black counters adds a casual ambiance that softens formal elements and creates an unpretentious air.
Touches of black throughout — in window frames, the grout in the backsplash tile, and accessories — serve to create a cohesive design. Hints of gold in the fixtures and door and drawer hardware bring some warmth and shine to the area.
Shades of Gray
Gray has been the neutral of choice for several years, so if you find black and white too stark, you may want to try a gradient effect. This transitional East Hills kitchen perfectly progresses between the white countertops and the massive waterfall island in black marble.
Transitional elements include flooring in weathered wood planks, white and gray Danby marble for perimeter countertops and backsplash, smoky glass pendants over the island, and sheer black shades on the windows. The overall effect is of a gentle evolution from light to dark instead of a potentially jarring contrast between white and black.
Rustic Industrial Chic
It's easy to go overboard with rustic and industrial elements in a loft setting, where exposed beams and brickwork often abound. Adding modern elements allows you to create a more balanced and livable space, as in this industrial open-concept kitchen.
The rustic and industrial bones have been preserved in the massive rough-hewn ceiling beams, expressive wood flooring, and exposed brick behind the range. However, the addition of white cabinets modernizes the space considerably, as does the use of matte black countertops for the perimeter and island. The rougher feel of the matte surface ties in beautifully with rustic design elements.
Black Accents
This industrial farmhouse kitchen proves that a darker palette can feel incredibly warm and inviting when you choose black for accent pieces. The farmhouse design features matte black upper cabinets, appliances, and lighting fixtures that blend perfectly with the graphite backsplash, gray countertops, and rich, rustic lower cabinets in warm, heavy-grained wood.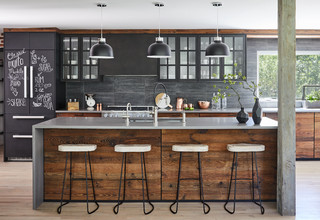 Adding black to your kitchen space is nothing new, but you definitely want to do it in a modern way, whether you decided to go all out with a tonal black kitchen, blend black and white, or just add touches of black through accents.
If you're ready to select the perfect matte black countertops for your remodeling project, visit Academy Marble & Granite in New York today to speak with an experienced team member.