What You Need to Know About the Matte Countertop Trend
Interior design styles are constantly evolving, which can make it difficult to get on board with temporary trends. However, when you remodel your kitchen, you can generally expect trending materials to hold up for several years or more, by which time you may be keen to upgrade anyway. Today's trends could become so ingrained that they simply serve as one of many popular stylistic choices for decades to come.
Although glossy stone countertops still reign supreme, matte finishes are currently gaining popularity. This means you can get in on this trend during its upward trajectory, instead of catching it at the tail end. 
Whether you're looking to stay in your home for years after your remodel or interested in prepping for a potential sale in the near future, you'll find that there's a lot to love about the matte countertop trend. 
Here's what you need to know before you choose between matte and glossy finishing options for your stone countertops.
An Attractive, Modern Appearance
Glossy counters aren't likely to go out of style any time soon – there's no arguing with the stunning appearance of a gleaming, shiny countertop surface. With that said, matte countertops bring a modern aesthetic to the kitchen and are likely to speak to homeowners and buyers who want an updated kitchen design.
Chic, yet understated, matte surfaces offer unique visual appeal, along with functional benefits like curbing glare from natural and overhead lighting and hiding minor flaws, from water spots to fingerprints to food splatter.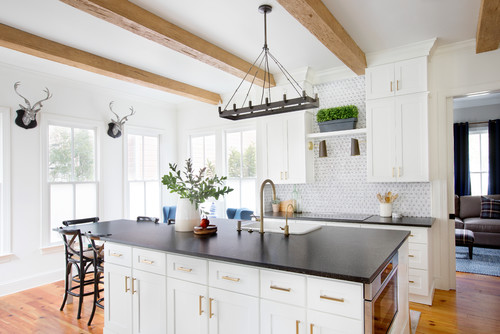 If you're looking for modern appeal, consider the dark quartz countertops in this beach style kitchen. With both countertop and cabinet surfaces done in a matte finish, the contrast between black countertops and white cabinets is slightly softer, and details like shiny, gold hardware and a patterned backsplash in ceramic tile gain more attention than they would if every surface gleamed.
Enhanced Visual Texture
In design, adding visual interest to a space means utilizing elements like color, pattern, texture, and shine. You might worry that removing the shine of a glossy surface will leave your kitchen looking dull and lifeless, but in eliminating shine, you're actually adding texture – replacing one element with another to create a different kind of visual interest.
This can lend an air of understated elegance and sophistication to your interior design, whereas high-gloss surfaces may be visually overwhelming in a large or brightly lit kitchen.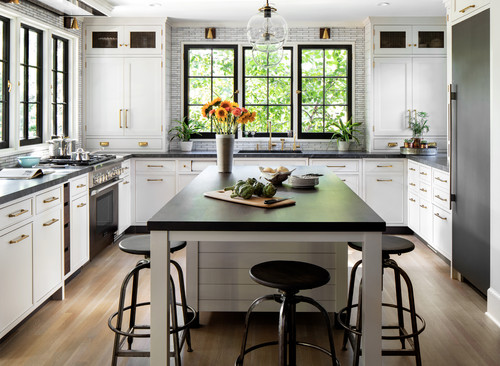 Consider this modern farmhouse kitchen in New York. Matte surfaces abound, from the Jet Mist granite countertops to the Light Pewter cabinets to the metal laminate door panel on the refrigerator. 
The matchstick tile backsplash adds another layer of texture, while shine comes from ample light fixtures throughout the space, including recessed lighting, a pendant over the island, and a light box and low-profile vent in the ceiling above the stove. 
Door and drawer hardware also adds hints of sparkle, while abundant natural light fills the space, coming from two banks of windows on adjacent walls. With so much illumination, glossy surfaces could be overpowering, but the matte finishes deliver toned-down appeal and beautiful texture that really highlights the contrast of the black and white surfaces. 
Matte Countertops Cut the Glare
Bright lighting is a staple of kitchen spaces, which often feature a combination of lighting sources, including a bright wash of overhead light, under cabinet lighting, and/or task-oriented lighting. 
While glossy surfaces can help to bounce light and make small kitchens feel larger, light hitting a high-shine surface can also create an insufferable glare, especially if you have a large space or your kitchen gets a lot of natural light.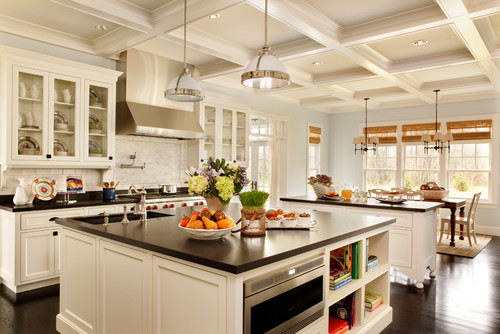 Take, for example, this expansive, traditional kitchen. Not only do the countertop surfaces account for a lot of real-estate in this open-concept kitchen and dining area, but the large bank of windows lets in tons of natural light, as you can see from the reflection on the antique-finish, which is Cambrian Black granite. 
Compare the level of glare to the shiny flooring and you'll quickly realize the potential impact if the expansive countertop surfaces featured a high-shine finish, as well. 
Matte Surfaces Are More Forgiving
Practical considerations are important for homeowners with busy households, especially when kids leave a lot of mess in their wake! Parents who simply don't have time to follow their kids around with a cleaning rag are sure to appreciate the utility of matte counter surfaces, which can hide signs of daily use. In contrast water spots, fingerprints, smudges, and food splatter will stick out like a sore thumb on high gloss.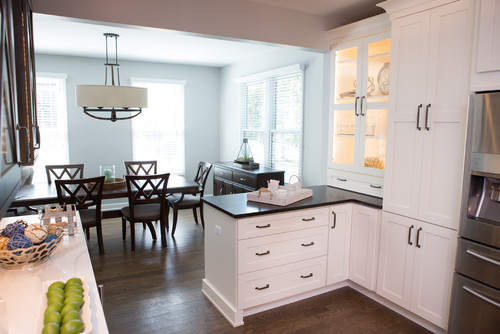 This transitional kitchen, featuring multiple countertop surfaces, is an ideal example of this principle at work. While the island features glossy, white Cambria Britannica quartz, perimeter countertops are in dark Kodiak granite with a leathered finish. 
This design choice delivers exceptional visual balance; while the glossy island stands out against white countertops because of high shine, the perimeter countertops stand out as a contrasting color. 
More importantly, however, the main food prep surfaces around the kitchen space are matte, which means they'll better hide grime, scratches, and the day-to-day detritus that busy parents may not have the time to thoroughly clean for a few days. 
A Note on Cleaning and Maintenance
There's a lot to love about matte countertop finishes — not least of which is that their forgiving nature allows for a more lenient cleaning schedule. However, if dust and grime linger on surfaces too long, they can become fairly difficult to clean. When they're left behind, greasy fingerprints and food residue can leave streaks and smudges.
For this reason, it's best to follow a regular cleaning schedule. According to MSI, the best way to maintain a honed (matte) stone surface is by daily wiping with a damp cloth to prevent water spots. You should also perform regular cleansing with gentle dish soap and warm water, followed by thorough rinsing with clean water. 
You could also use a stone cleaner that helps to maintain the sealant with every cleaning. It's important to always use a soft, microfiber cloth to wash and dry surfaces to prevent scratches and leftover lint. Avoid harsh and/or abrasive cleansers that could damage the sealant and the countertop surface. 
By following simple cleaning guidelines, you'll keep your trendy, matte counters looking beautiful for years to come.
We're here to help
Choosing the right countertops for your kitchen or bath can be overwhelming without the right assistance. Academy Marble & Granite's team is ready to help. Visit one of our locations, or contact us today to set up a consultation.