How to Design a Modern Farmhouse Style Kitchen and Bath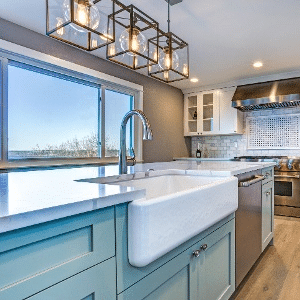 With the rise of retailers like Magnolia, shabby-chic style and the chalk paint and shiplap trends, modern farmhouse style is having a big moment right now!. Designers using a modern farmhouse design style oftentimes choose up-cycled, reclaimed and distressed items to integrate into even the most upscale of homes. Using this aesthetic, they rise to the challenge of using basic and older materials in high-end designs.
Review the following tips to learn how to incorporate the farmhouse style into your new kitchen design or renovation.
What is the modern farmhouse style?
The modern farmhouse is inspired by homes found in the United States in the early 19th century. During this time period in American history, function and practicality were preferred over style. The agricultural revolution was booming and farms, barns and utilitarian buildings were abundant. The modern-day farmhouse takes its style cues from this era and combines it with modern nuances.
In particular, the modern farmhouse style showcases an up-to-date spin on decorative elements that are found in rustic, country homes and barns. A defining characteristic of this aesthetic is the cozy, warm sense that it evokes through the use of:
Natural wood finishes (including raw or rough edges)

White or white-washed wood paneling

Open shelving

Copper, brass or matte-iron finishes

Farmhouse-style single basin kitchen sinks

Wood or stone flooring

Galvanized-steel accents

A neutral color palette
Modern farmhouse design tips for your kitchen & bath
Farmhouse Style Tip #1: Include rustic elements
This kitchen is clean and sleek. However, it effortlessly displays organic elements that introduce the modern farmhouse style.
The kitchen ceilings display rough, exposed beams which recall the structure of barns and farm buildings. The kitchen sink is a large single farmhouse sink and carries the utilitarian look that is a staple in this aesthetic. Another organic element in this kitchen is its rounded, large light fixtures.
Granite countertops are an ideal material for a modern farmhouse kitchen. Less expensive materials, like a butcher block or tile, may match this style well, but cannot withstand the test of time. With both of these countertop materials, homeowners and builders will have to worry about maintenance issues, such as scratching, chipping and staining. While granite does require maintenance care, it is more durable and needs less upkeep than butcher block and tile countertops.
Farmhouse Style Tip #2: Open shelving
Open shelving gives a nod to the clean simplicity of life on the farm. They enable you to balance the practicality of accessibility with a decorative, informal display.
When it comes to adding open shelves to a farmhouse kitchen or bath, you can use materials that are vintage or upcycled, with a little wear and tear an added bonus rather than an eyesore. Adding this element suggests it is an open and inviting space.
Farmhouse Style Tip #3: Wood paneling
In the home below, the kitchen features another modern farmhouse classic: wood paneling. The model for this paneling is the wooden boards that hide beneath the plaster of older homes. Below is a great example of a restored home with this type of construction.
On design shows, this is often called "shiplap" but it's usually just some sort of beadboard or wall paneling. It is not tongue-and-groove shiplap.
The look of shiplap look can be added to any wall or added to cabinet doors, islands and backsplashes. If you are planning to add this look to your home, it is best to hire a professional. For a DIYer, it may be a cumbersome job to install due to the tight spaces and corners found in a kitchen or bath. Water and heat damage may also occur if it is not properly installed.
In addition, since this can be a bold look, it's also important to decide if shiplap will be added to all the walls in your kitchen or bath, or just one. Consider adding shiplap to one wall to make it the focal point of the room.
When adding shiplap into your home, you can also consider line direction and whether or not you want to install your shiplap vertically or horizontally.
This bath features white shiplap on every wall. As you can see, in this bath it is not overwhelming. Old Hillsboro Building Company chose to use white paint without any hint of distress so it blends seamlessly into the backdrop. It blends the appeal of the cozy farmhouse look with a modern edge.
Farmhouse Style Tip #4: subtle rural touches
This kitchen features several of the elements we've previously mentioned including wood accents and open shelving.
On the end of the island, you can see diagonal braces (also called crossbucks) which are a traditional element used on barn doors. This island is a nod to the 19th-century look but upgraded to fit into any modern kitchen.
Classic navy blue and true red complement golden tones in the wood and light fixtures. This muted color palette gives this room a cozy warmth. The designer of this room, CarsonSpeer has selected Calacatta Ibiza quartz countertops from Cambria, in a neutral color.
Natural Stones that Exude the Modern Farmhouse Style
Using natural and unrefined materials is a staple in any modern farmhouse. A fitting way to carry this out is through using natural countertops in your design. Below are a few of our favorite granite, quartzite and marble slabs that will work well in your modern farmhouse kitchen or bath:
Ready to design your own modern farmhouse style kitchen or bath?
Academy Marble & Granite would love to help you create a modern farmhouse-style kitchen or bath for your home. We invite you to choose a stone from our vast selection of countertop materials in our Bethel, CT and Rye, NY locations.