Kitchen Island with Granite Countertop Design Guide
Granite not only offers a stunning addition to any kitchen space — thanks to dramatic patterns that add depth, dimension, and visual interest to every slab — but it's also a homerun for functionality.
Granite boasts a 6-7 rating on the MOH's scale of mineral hardness, making it one of the hardest, most durable natural stone types used for interior design. When properly sealed, it is also resistant to heat, scratching, etching, staining, and other forms of damage. However, homeowners must still be weary of spills and harsh cleaners, as certain chemicals and abrasive substances can prematurely damage the sealant.
If you love the look of granite and you're keen on the many advantages it offers as a countertop surface, you may be in a hurry to upgrade. However, you still need to choose the right variety to suit your interior design and your style sensibilities.
Here's a basic design guide to give you some ideas about the best ways to update your kitchen island with granite.
Trendy Tonal Design
While monochromatic pure white countertops on top of white cabinets never goes out of style, you can add an eye-catching focal point with one of several white granite varieties.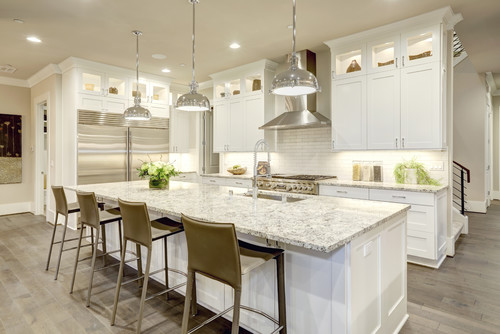 Just take a look at this transitional New York kitchen. Your eyes can't help but go right to the stunning granite on the island and perimeter countertops.
Paired with simple Shaker cabinets in bright white, a white subway tile backsplash, and pale, weathered wood flooring, the countertops become the star of the show. With a slab of White-Ice or Wisconsin White granite, for example, that features a white background with gray specks and striations, you can add a lot of flair.
For more drama, opt for Alaska White, featuring grays, blacks, and browns and a greater depth and visual appeal.
A Study in Contrasts
If variety is the spice of life, then nothing is livelier than a black and white motif that juxtaposes colors at opposite ends of the spectrum. Pairing black countertops with white cabinets — or vice versa — is a great way to make a statement and break up the monotony of a kitchen that's all one color.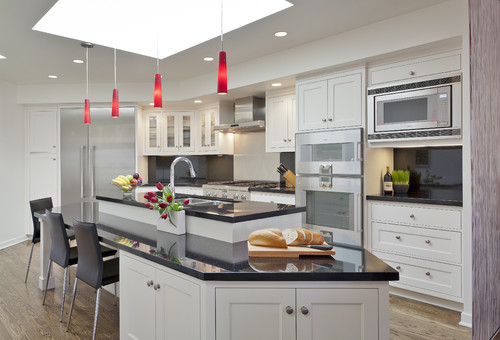 This contemporary kitchen, featuring what looks to be Black Galaxy granite atop a white island and perimeter cabinetry, is a great example of this exquisite style. If you want to take your design to the next level, consider multiple countertop colors, such as a White-Ice granite slab atop dark island cabinetry, with a Jet Mist granite over white perimeter cabinets.
Warming Up with Wood Pairings
Many families spend a lot of time in the kitchen, and they want the environment to be warm and welcoming. Although both white and black granite can pair with wood, you might want to choose a warmer option. Adding golden or brown tones can enhance the cabinetry that you select.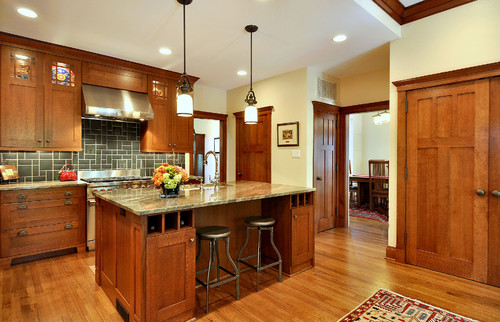 Crema Bordeaux, with its breathtaking blend of cream, brown, red, and burgundy tones, makes for a beautiful addition to any kitchen space. Paired with stained oak cabinets, as in this Craftsman-inspired kitchen, the granite contributes to an overall glow of warmth.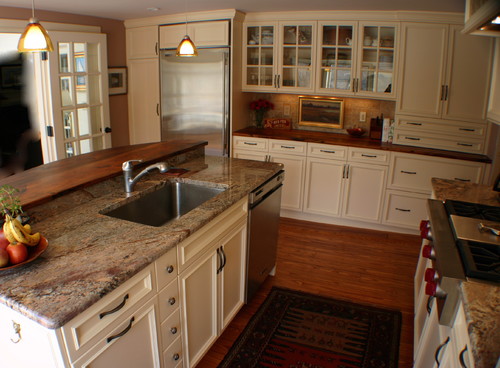 However, it's also a lovely compliment to this
traditional kitchen
, where it mirrors the warmth of other wood surfaces, like the flooring, to tone down the bright white of the cabinets.
Kitchen Island Color Combinations
While cabinets in neutral hues (white, black, gray, and wood tones) are the most common choices, making countertop surface selections a cinch, you might also be interested in displaying your personality through the use of a bold color for island cabinets as a way to create a focal point.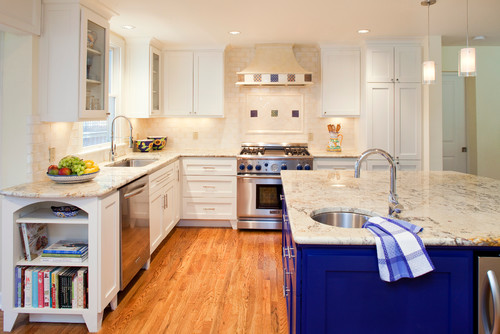 How can you make bold combinations work with granite? If you're going with a bright, saturated color, opt for a neutral counter surface, as is shown in this eclectic kitchen, where a brilliant, royal blue island is topped with creamy granite that features gray and golden veining, like Colonial Gold. Surrounding cabinets in white and a cream-colored backsplash ensure that the island will take center stage.
Wowing with a Waterfall
The impact of your granite relies largely on the variety you choose, but the way that you use it can make a difference. For added drama, consider installing a waterfall countertop, where granite flows from the counter surface to the floor as vertical end-pieces for your island.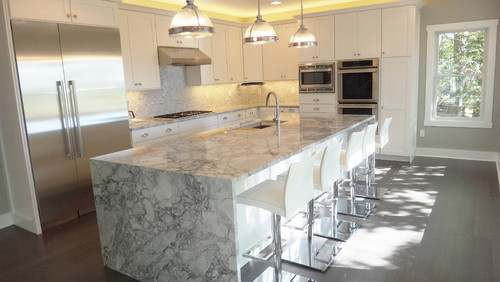 Stunning examples like the white and gray granite in this contemporary kitchen.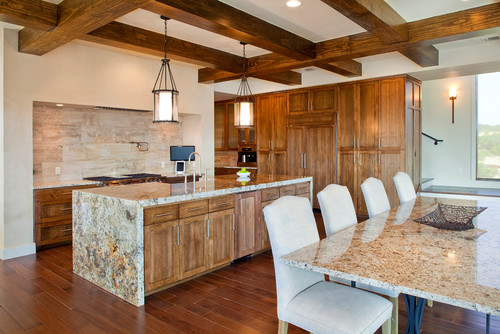 Or, the cream, gold, and dark tones of this Mediterranean kitchen island can demonstrate the powerful effect you can achieve when you choose a waterfall design.
Picking the Perfect Accessories for the Kitchen
Once you've chosen your cabinet and countertop materials, it's time to attend to details like accessories. The lighting and faucet fixtures and other hardware that you choose will depend largely on the style of your home and the rest of your interior design.
Whether you choose industrial lighting and antique bronze hardware to add personality to a modern kitchen, play up dark tones in a Typhoon Bordeaux or Bianco Antico granite, or you select sleek stainless steel and glass globe pendants to punctuate the cooler tone of White Ice granite countertops, you'll find that there's no one way to accessorize. You'll have more opportunities to personalize your space and make the most of your granite island.
Ready to Update Your Kitchen?
With so many options to explore, we would love to help you on your next kitchen project. To request a complimentary consultation with one of our design experts, click here.