Which White Quartz Countertops Should I Buy for My Home?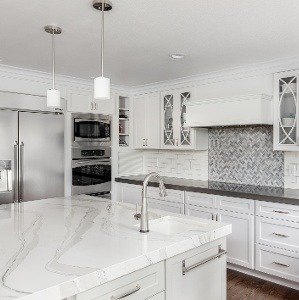 There's nothing quite like the pristine brilliance of an all-white kitchen, which is why it remains such a classic and enduring style. Then again, a black and white kitchen motif is also a popular choice. The timeless visual appeal of contrasting white countertops against black cabinetry and other design elements cannot be denied  Of course, a warmer and more welcoming atmosphere with wood cabinetry and flooring can be elevated by a stunning, white countertop surface, as well.
When you opt to install attractive and durable engineered quartz countertops in your kitchen, bathrooms, or other areas of the home, you'll enjoy a myriad of benefits. The benefits of installing quartz include not only a beautiful and valuable upgrade, but also a resilient, nonporous surface that is resistant to microbes, staining, corrosion, and other harm. While it's not unusual for homeowners to think that marble and granite are the only options for high-end countertop surfaces in the home, you might be surprised to discover the other benefits inherent to this alternative stone option. Quartz is easy to care for and when it comes to design potential, you'll enjoy the dimension of natural stone (because it's made with over 90% real quartz), as well as options for either a natural or unique appearance.
If you're looking for white quartz countertops for your home, here are just a few incredible options that are sure to deliver the utility, the look, and the longevity you prefer.
Natural Stone Looks
Engineered quartz is primarily crushed quartz material, which gives it the depth and dimension of natural stone, even though it's not a solid slab straight from the earth.  However, because it is bonded together with small amounts of resin, polymers, and pigments, it can be made to look like other types of natural stone, such as marble and granite.
Silestone, for example, offers a striking Bianco Calacatta option that features bold, gray striations on a snowy background, as well as a paler, more subdued Classic Calacatta, both of which mimic the natural variations of Calacatta marble. 
Caesarstone offers a similar option with Calacatta Maximus, featuring oversized veining for a dramatic flair, and a much more subtle Calacatta Nuvo with barely-there wisps of gray. Caesarstone also has its own versions of creamy Montblanc marble, stunning Statuario (Maximus and Nuvo versions), and off-white Dreamy Marfil.
MSI offers several marble-like options, including well over a dozen different Calacatta products to choose from. There does not tend to be quite as many options for white granite, but MSI does offer Blanco Arabescato, with a pale gray background and dark, delicate veining that could easily be mistaken for White Ice granite.  If you want a bit more drama, you might like Pacific Salt, with dark gray and tan patterning peppered on a creamy background, reminiscent of Alaska White granite.
Of course, viewing a sample is different from installing quartz countertops in your kitchen, and it's understandable to worry that quartz made to look like other types of natural stone won't hold up to scrutiny.  However, you don't need to worry, as modern quartz surfaces offer a close, nearly identical, comparison to natural stone.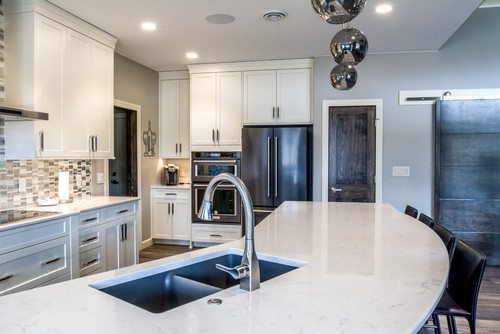 If, for example, you were to walk into this contemporary kitchen, you might take one look at the countertop surface and peg it as White Carrara marble, when it's actually Swanbridge quartz from Cambria.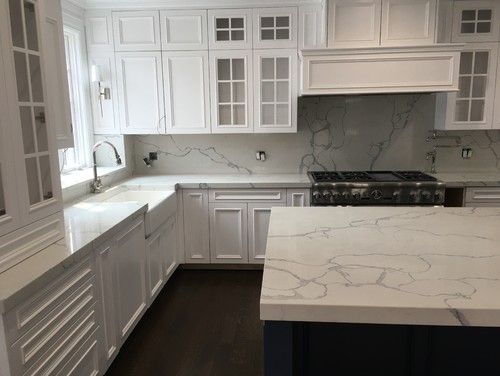 The MSI Statuary Classique in this modern kitchen easily passes for its namesake Statuario marble. In other words, you can have the natural stone look you crave with all the benefits of engineered quartz, and no one will be the wiser.
Uniquely Quartz Appearance
Quartz is an extremely versatile option for counter surfaces in your home for the simple fact that it can be made to look like almost anything. If you want something that looks nothing like marble or granite, you'll be pleased to discover an incredible range of options in white and off-white hues.
If bright, pristine, pure white is your heart's desire, you're sure to love Arctic White quartz from MSI, which delivers a clean, bright surface with no veining or pattern of any kind. Silestone offers brilliant, icy Miami White, as well as just slightly warmer Iconic White for classic appeal. Caesarstone goes boldly bright with aptly-named Pure White and keeps it frosty with Intense White, which actually features tiny, crystalline spotting to amp up dimensionality without impacting the overall wash of color.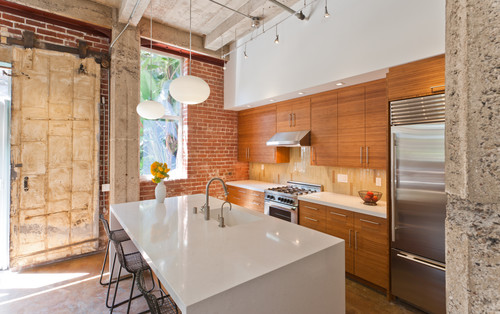 How do these surfaces look in a real-world setting?  The Caesarstone Organic White waterfall island and perimeter countertops in this contemporary kitchen offer a stunning counterpart to warm brick walls and bamboo cabinetry. Of course, with quartz you can also imbue your space with a bit more personality.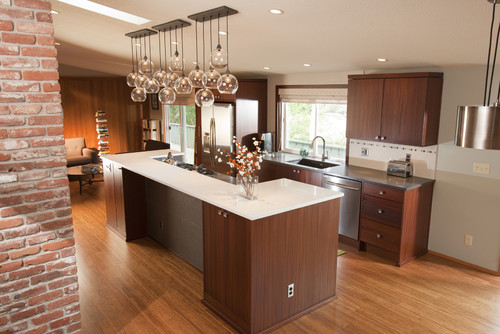 This mid-century kitchen makes a bold statement with Nougat Caesarstone, featuring dramatic chunks of crystal. Set against rich, mahogany cabinets, not to mention wood flooring, wood paneling, and brickwork, the creamy, glittering island is an absolute showstopper. If white countertops have captured your fancy, you'll have no trouble finding the perfect options to suit your design style and your personal preferences when you choose quartz counter surfaces for your home.
Can Academy Marble help?
With professional help, you can choose the quartz countertop that matches your aesthetic preferences and complements the rest of your home, and after installation, we can help you properly care for your investment so that you can enjoy it for years to come. Contact us today to get started on your project.