How to Create Kitchens with Character Through Countertop Veining, Pattern, and Texture
Countertops are an integral design element in any kitchen. Depending on the surface materials you select, your countertops can play second fiddle to cabinetry or they can serve as a focal point, adding character and visual appeal to your space. When you choose natural stone, such as marble, granite and quartzite, or man-made quartz, you'll imbue your living space with the beauty of stone and have the opportunity to introduce drama with the veining, pattern, and texture you select for your countertops.
Marble: A timeless stone filled with delicate texture
Many types of marble feature dramatic veining that stands out in any kitchen setting, but nothing comes close to the delicate and refined veining you'll find in Calcutta marble. A prime example is a transitional kitchen in this New York home, designed by Karen Weidner, previously of Ulrich.
What started as a turn of the century kitchen transformed into a sophisticated, modern retreat in cool and soothing whites and grays. The standout of this stunning design is the Calcutta marble countertops and backsplashes, which pull together white cabinetry and gray accents, thanks to abundant veining in soft, flowing rivulets of foggy gray and contouring expanses of alabaster. The peaceful ambiance of this kitchen immediately puts you at ease and begs you to breathe a sigh of utter relaxation.
Granite: Classic beauty & versatility
When you're looking for veining, pattern, and texture that truly elevates any kitchen design, you can't go wrong with granite, which offers a vast array of color combinations, tonal palettes, contrasting elements, and visual depth.  Whether you prefer the warmer tones of Colonial-Gold granite or the dark striations of Jet Mist granite, you can make a bold statement when choosing among stunning variants particular to this type of stone.
Consider this Westchester County, NY renovation, featuring lively granite in gray and brown tones, with thick veins winding throughout and darker flecks flung across the surface. This kitchen exemplifies the versatility of granite countertops, which pair with both light and dark tones, thanks to the contrast in colors often inherent to the stone.
This kitchen, in particular, blends white kitchen cabinetry with a dark island, all set atop dark brown, wood flooring.  That's not all – there are also gray backsplash tiles and stainless steel appliances, adding modern flair to what would be an otherwise traditional kitchen space.
The diverse characteristics of the granite tie the whole look together in spectacular fashion, marrying seemingly juxtaposing elements with a dynamic appeal. Granite delivers the trifecta of veining, pattern, and texture, making it the ultimate choice when you want to add a heaping dose of character to your kitchen.
Quartzite: Full of unique and intriguing patterns
Quartzite may not enjoy the same level of acclaim as marble and granite, but you'll find unique and eye-catching varieties to rival better-known counterparts when you consider quartzite for your kitchen countertops. If you're looking to create a powerful message with counter surfaces, quartzite adds a dose of dazzle thanks to particles of quartz embedded in the stone that cause it to sparkle in both natural and artificial lighting conditions.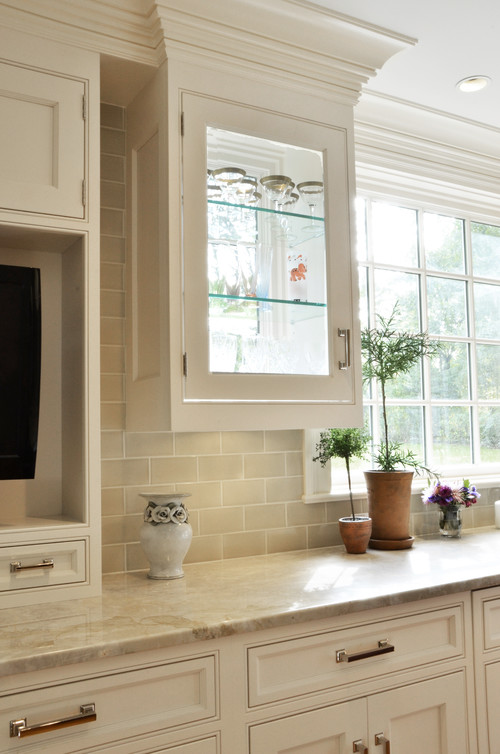 Dolce Vita quartzite, which literally translates to "sweet life", is an excellent choice for anyone seeking a warm and welcoming kitchen with charm and character to spare.  As you can see in this Fairfield County, CT kitchen, designed by Studio Dearborn, the blend of warm ivory, blonde, and butterscotch tones is soft, but offers a lot of movement, nonetheless. Paired with neutral cabinetry and backsplash tiles, the subtle striations are sweet indeed.
Quartz: Elegant, engineered stone
One of the biggest draws of quartz for kitchen countertops is the depth and dimensionality it delivers. This manmade material is comprised of crushed quartz, resin, polymers, and in some cases, pigments that enhance the natural colors found in quartz. These countertops are about 90% quartz, which means you'll enjoy the natural beauty of stone, along with added benefits like minimal imperfections and a pre-sealed surface (thanks to included resins).
What does this countertop material look like and how can it complement your home?  Quartz comes in a wide range of colors, such as the inky demeanor featured in this Westchester County, NY kitchen. Dark and reflective, it provides a riveting counterpoint to pale cabinets, a beigey backsplash, stainless steel appliances, and weathered wood flooring.
Or you might prefer the pristine nature of this CT kitchen by Taylor Bryan company featuring a tone on tone motif with white and gray quartz against white cabinets and accented by a glass tile backsplash. Whether you're looking for light, dark, or colorful tones, you'll enjoy the natural luster of quartz, which complements a wide range of kitchen and bathroom settings.
Not every stone will feature veining, pattern, and texture, although some have all three in spades.  With just one of these elements, however, you can have the breathtaking kitchen you crave, complete with all the character and appeal intrinsic to stone.
With so many options, selecting the ideal stone for your home's style can be tedious. If you need help deciding which material delivers the character you want and makes a unique statement that represents your personal style, we are here are to help.