Tips for Caring for Outdoor Natural Stone
Spring has officially sprung! What better way is there to spend time outside than to upgrade your current outdoor living area to something special? If you're considering updating your existing outdoor space or adding a new outdoor area to your home, now is a great time to start the process so you're ready to enjoy it this season.
Which natural stone surfaces are best for outdoor use?
Natural stone countertop materials are quarried from the earth. They are created from forces of extreme heat and pressure below the Earth's surface. Quarried natural stone is dense and heat resistant, making it a great choice for most outdoor applications. Academy Marble & Granite recommends granite and quartzite for outdoor patio and kitchens. Not only are these stones resistant to damage and fading from UV rays than other stone surfaces, they are also durable against scratching and etching.
Even though marble is a natural stone, it is not recommended for outdoor use. It is a softer stone and more prone to staining and etching. For homeowners or professionals who love the look of marble but need a stone that is better suited for the outdoors, there are quartzite stones that allow you to get the best of both worlds.
Maintenance tips for your outdoor natural stone surfaces
Once your natural stone countertops have been installed, they are subject to routine cleaning and maintenance. Continue reading to discover how to keep your outdoor countertops looking their best.
Tip #1: Sealing
Sealing is highly recommended for all stone, especially newly installed granite and quartzite in your outdoor space. A professional stone fabricator will seal your stone surface upon installation but periodic sealing is recommended.
The regular use of sealants makes natural stone less porous and prone to staining and etching. Sealing is a simple process. The liquid sealant sits on the surface and soaks into the stone. After the recommended amount of time has elapsed (which is dependent on the stone type), any extra sealant is wiped away. After the sealing process, countertop surfaces will be less porous; liquids will pool instead of absorbing into the stone. This gives the BBQ master more time to clean before any damage occurs!
Tip #2: Avoid physical stresses
It's extremely unlikely that you will chip or break your natural stone surfaces. Granite and quartzite are both durable stones that are rated high on the Mohs; granite is rated 6-6.5 and quartzite is rated a 7 on the Mohs scale. However,  all natural stone can be broken or scratched; after all, we were able to mine it, cut it and bring it to your home.
Avoid physical stresses the best you can. This includes using knives, meat tenderizers, or other utensils directly on your outdoor stone surfaces. When prepping a meal, we recommend using cutting boards or butcher blocks. Remember that your countertop can fracture, so break up bags of ice in your outdoor sink, not on your countertop. If you store supplies in high outdoor shelves, pot racks or cupboards, be aware of heavy items that could fall and damage them.
Tip #3: Avoid extreme heat
The last thing you want to do to your beautiful outdoor countertops is leave discoloration and staining from hot objects. The reality is, almost any stone surface can crack when exposed to extreme heat. Always use heat-resistant protection when placing hot objects on stone countertops. If you remove a cast iron skillet or grilling basket from your grill, do not place it directly on your natural stone surface. Use a trivet or silicon pad to protect your countertops. You'll be happy you did!
Tip #4: Avoid long-term exposure to the cold
The New England area experiences chilling winters. If left unprotected, elements from the outdoors can damage your countertops over time.
If your outdoor countertops are not under a roof and left unprotected during cold winter months, we recommend covering them with a tarp-like material. This will ensure your countertops and appliances are protected against long-term exposure to snow, ice and wind.
Tip #5: Cover the countertops if leaving for a long time-period
If you and your family are frequent travelers or have a second home, it's a good idea to cover your outdoor countertops when not in use for an extended period of time. This ensures that they stay debris-free and out of any rain storms. Even though natural stone like granite and quartzite are known for their longevity, if left in the elements for long periods, they can still etch, scratch and fade. This is an easy tip that will help extend the life of your outdoor countertops.
Recommended items to protect your outdoor natural stone surfaces
Chopping Block
This Williams Sonoma heavy 3-inch chopping block is an ideal large cutting surface that will protect your countertops from scratches. It's cherry-wood, end-grain construction, is gentle on knife edges as well. You can have it monogrammed so your grill master will want to use it every time.

Smart Trivet Holder
This ingenious heat-resistant trivet protects your countertops, is dishwasher safe, and has an unexpected capability: it's a stand for your tablet or mobile phone. If you like to cook with the help of online recipes or video tutorials, this attractive trivet is for you!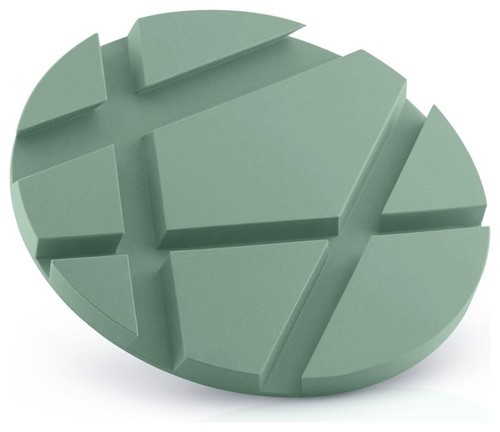 Decorative Melamine Platters
Anthropologies' Tropical Melamine dishware collection includes these three whimsical platters. Delight your guests with a complete set of these colorful dishes that are dishwasher safe and great for stone surfaces. They also come in fun patterns for spring and summer!
At Academy Marble & Granite we're passionate about offering you the finest natural stone selection in Fairfield, CT and Rye, NY. Visit our portfolio to see our latest projects. Feel free to contact Academy Marble & Granite if you have any questions about caring for outdoor natural stone, or stop by one of our locations to see our granite and quartzite outdoor options.