What Is the Best Countertop for An Outdoor Kitchen?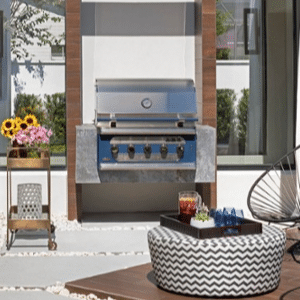 With a little help from mother nature, you'll be outside entertaining soon. If you're considering updating your existing outdoor space or planning to install a new outdoor kitchen, dining or bar area, now is the perfect time to start the process so that you're BBQ season ready!
The best countertop materials for an outdoor kitchen
Weather-hardy countertops made of granite, quartzite or Dekton by Cosentino are the best countertops for an outdoor kitchen.
Academy Marble & Granite carries natural stone countertops and partners with industry leading quartz suppliers to bring you countertop materials that are ideal for outdoor environments.
Natural stone countertops
Natural stone countertops such as granite or quartzite are ideal choices for outdoor use given their history with mother nature. Granite and quartzite are created in the earth under tremendous forces of heat and pressure and have already survived eons of time facing Mother Nature's elements.
There are minor differences in the durability of granite and quartzite. Measured by resistance to scratching, granite is rates a 6-6.5 on the Mohs hardness scale. Quartzite contains quartz which is harder than granite. Quartzite rates a 7 on the Mohs hardness scale. These countertops are intended to last as long as the home, or at least until a homeowner changes their tastes in décor.
In terms of resistance to long-term sun exposure, quartzite is more UV-resistant than granite. Sunlight causes the tiny quartz crystals in quartzite to shine and sparkle, causing a glimmering effect. This is one reason designers favor it for outdoor kitchens.
Slabs made from either of these natural materials will vary in pattern and coloration. Quartzite comes in unique, vivid colors and patterns, including pinks and greens. If you're searching for something less bold, quartzite also comes in an array of neutral colors, such as beige, grey and white. This material is often sought after as a marble alternative. With marble being a delicate stone that is prone to scratching and etching, quartzite can be used in its place without much notice.
Even though granite and quartzite are known for durability and longevity, they are still porous natural stones. These countertops are sealed upon installation and need to be periodically re-sealed as well. With a sealant, granite and quartzite countertops become almost impervious to damage from stains.
Manufactured countertop materials
Dekton Ultra Compact Surface is one of the finest outdoor manufactured countertop materials. Academy Marble & Granite is proud to partner with Dekton by the Cosentino to deliver premium outdoor countertops to our customers.
A proprietary process that involves combining glass, high-tech porcelain and quartz under extreme pressures creates the Dekton material. The result is an exceptionally durable material.
Benefits of choosing Dekton for your outdoor living space include:
Non-porous: water won't damage it and bacteria cannot accumulate below its surface

Stain-resistant: common household liquids and oils won't stain

Easy-to-clean: a hand towel with water will wipe up most spills sufficiently

Heat resistant: hot pots and pans can't damage it. It's an A1-rated material; it's non-combustible.

Freeze-resistant: it tolerates freezing and thawing
Dekton also comes with a 25-year warranty. According to Dekton's maintenance guide, when properly installed and maintained, it's unlikely to be damaged by any common circumstance.
Outdoor Kitchen Design Tips
Graceful transitions
The design transition from indoor to outdoor spaces should form a relationship between the two spaces. If you have a beachy-themed living room that looks onto your outdoor area, the outdoor area should have a similar theme or color scheme. Because the connected spaces have no abrupt thematic changes, they flow into each other and each space appears larger.
While the outdoor space should be complementary, you can take some design liberty and intensify the thematic you are carrying over, making your outside theme a bolder, brighter-colored version of your inside space. For example, if your living room has sedate aqua accents, your outdoor kitchen can have bright turquoise cushions or canopies. Or, if an adjacent indoor breakfast nook is painted in a subtle coral, your outdoor kitchen could include a mosaic of a bright flamingo.
Fairfield County custom-builder Titus Build, LLC designed this outdoor space in Wilton, CT. In the first photo of the interior, you can see the outdoor space through the window. Notice that the colors are absolutely harmonious, and there's a subtle echo of horizontal lines and rectangular shapes in each space. Both spaces have natural color schemes. The interior colors are lighter than the rich golds, browns, and rusts of the exterior space. The interior space has little texture while the exterior has rough surfaces.
Lighting
Outdoor parties go on long after sundown. When you design an outdoor kitchen, consider including landscape, task and mood lighting. Have you ever used a flashlight to assess the status of your steaks? You can avoid this scenario by installing the appropriate task lighting in work areas. Once again, consider the relationship to the interior. Harsh floodlights may be needed outside, but don't point them towards the house.
You're invited to our showrooms
Academy Marble & Granite's team is eager to help get your outdoor party started. Contact us today to view outdoor countertops that will look great in your home.