How to Choose the Correct Countertop Thickness for Your Application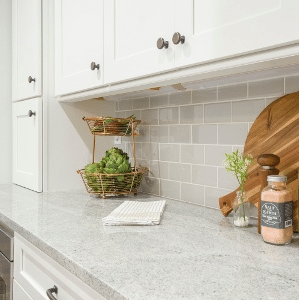 Countertops are scattered throughout the average home, providing functional workspace in the kitchen, bathrooms, and outdoor areas.  However, many modern homeowners have a desire to make their countertops more than just utilitarian features.
This is why so many homes feature beautiful and unique countertop surfaces in natural stone, and it's also used for flooring and vertical surfaces like backsplashes and fireplace surrounds, for example. Of course, in addition to choosing from appealing materials like marble, granite, quartzite and quartz, you also have the option to select the countertop thickness that is not only functional, but aesthetically pleasing for your application.
When selecting countertops for your project, it's important to understand the role one particular feature, the thickness of the stone plays in the utility, longevity, and appearance of your kitchen and bathroom surfaces. While experienced professionals can certainly describe the pros, cons, and applications of different thicknesses of stone, it's a good idea to have some background knowledge going in.
How can you choose the correct countertop thickness for your particular application? Here are a few things homeowners should consider. 
Prefab and Vertical Applications
Generally speaking, quality stone slabs are no less than 1.25 inches thick, or roughly 3cm, but there are certain applications that utilize thinner cuts. One example is prefab countertops. Because these are typically made overseas and produced in bulk, they're often cut thinner to maximize value, and may be only 1-2 cm (or 3/8-3/4") thickness.
What does this mean for your countertop surfaces? Prefab countertops are going to be cheaper, but they're not as sturdy or resilient as thicker cuts. They have to be bulked up and stabilized with a backing of some sort, which is usually made of plywood. These countertop surfaces feature laminated edge pieces to make them appear thicker than they are and hide the plywood underneath. However, if you look closely the seam running along the edge of the countertop can be a dead giveaway. 
The problem with these fragile pieces is that they rarely feature the warranty that is standard with thicker, custom fabricated stone countertops. In some cases, thinner slabs of marble, granite, or quartz are used for vertical spaces like fireplace surrounds. 
High-End Applications
The industry standard thickness for kitchen, bathroom, and other countertop surfaces in natural stone is 1.25 inches. This thickness provides the strength and stability required to create an unbroken surface without the need for stabilizing it with a plywood backing. A slab of this thickness can be applied directly over cabinetry, and often, there's no need for the seams that frequently mar prefab countertops (unless you have an unusually large or oddly shaped surface area that exceeds the largest slabs available). 
If you want to do a large overhang area, as with a bar where you wish to place seating, for example, you'll need to seriously consider the benefits of thicker stone. Whereas ¾" thick stone requires supports if it exceeds 8 inches of overhang, you can safely extend 1.25" thick countertop surfaces up to 16 inches beyond cabinetry before you need to consider additional support. 
Generally speaking, you'll pay more for 1.25" thick marble, granite, or quartz counters than for thinner cuts, but you'll get a lot more bang for your buck in terms of achieving a high-end look and the versatility in applications. Whether you want to eliminate seams or create a significant overhang, thicker stone facilitates these options. 
In addition, you can customize countertops with a variety of edging designs, since the slab is thick enough, there is no seam on the edge, and there's no need to hide plywood backing, as with thinner slabs. 
Specialty Applications
Natural stone countertops undoubtedly look beautiful in the home, but if you want to take your countertops to the next level and really make your marble or granite the showpiece of the kitchen, a waterfall design is sure to do the trick. This design style extends the countertop surface down to the floor on one side of a peninsula or both sides of an island, much like a waterfall dropping to the floor. 
This New York kitchen with gray, granite countertops provides a stunning example of how to make your island the focal point with a waterfall design.
Another sample features marble countertops in a New York kitchen, where a stunning white cascade stands out against dark wood flooring and cabinets. Of course, this is a specialty application, and it will affect the thickness of natural stone needed. 
Since natural stone is not cut in this configuration to create an unbroken piece, you'll need a mitered edge on the corners, where the vertical pieces meet the countertop surface. Mitered edges are cut to a 45-degree angle and glued together, and in order to ensure stability, stone surfaces must be thicker than normal, about 2-2.5 inches.
All in all, whether you want specialty features or a traditional countertop surface in marble, granite, or quartz, you'll find that thicker slabs offer the versatility to explore different applications. 
Ready to Get Started?
Natural stone can make for stunning and long-lasting countertop surfaces. Academy Marble & Granite invites you to visit our showrooms in Bethel, CT and Rye, NY to find the ideal natural stone countertop for your home.