6 Undeniable Reasons You Will Love Mont Blanc Quartzite Countertops
Quarried in the mountains of Brazil, Mont Blanc quartzite features a soft, creamy white background streaked with long, delicate striations and wispy strokes of gray, with hints of gold. With an appearance similar to marble, this stone brings loads of luxury and eye-catching appeal to any kitchen, bathroom, or outdoor entertaining area.
Homeowners will also enjoy outstanding function with quartzite, which is incredibly strong and durable. Below are six reasons, both practical and aesthetic, why Mont Blanc is the perfect option for countertop surfaces throughout your home.
1. Trendy, But Timeless, Appeal
Mont Blanc quartzite is something of a chameleon, as it can elevate the look of any design. The milky surface lends a bright, uplifting ambiance to interior spaces — but with a soft feeling of serenity rather than a harsh glare.
Sparse striations bring just a hint of drama and movement to countertops, allowing you to decide whether you want this element of your design to stand out or blend with the overall feel of a room. In other words, Mont Blanc fits seamlessly with modern design trends while still imbuing your space with timeless and lasting appeal.
Take, for example, this updated open-concept kitchen. The quartzite counters look equally stunning atop a trendy blue island and classic white perimeter cabinets with contrasting black hardware.
Mont Blanc also pairs beautifully with the aged patina of mid-tone hardwood flooring, creating a space that brings together both modern and traditional elements with ease.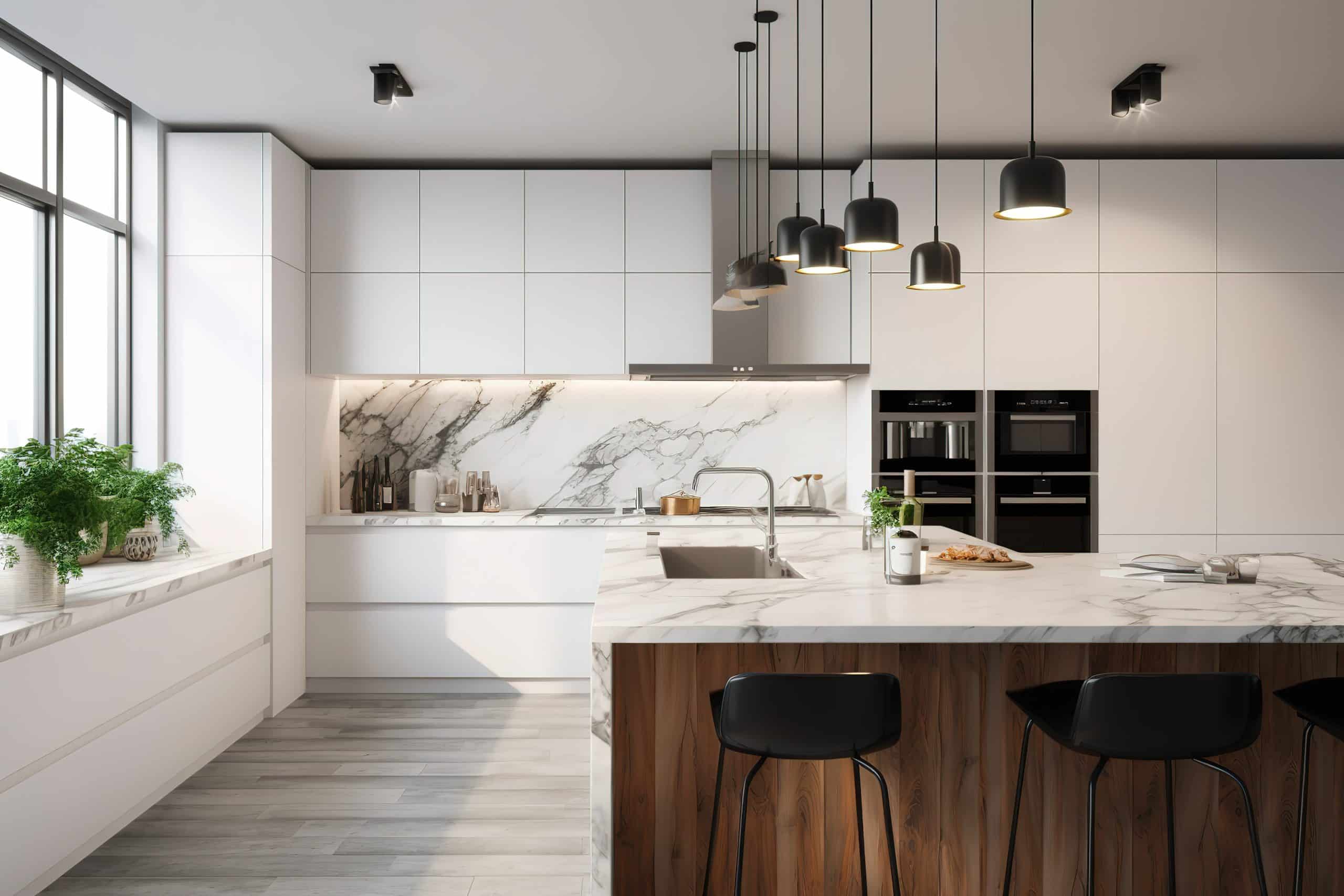 2. Statement Style
Compared to a truly dynamic granite or even a dramatic marble variety, a soothing quartzite might feel like you're playing it safe, but it really depends on the slab you choose and how you use it.
With the right slab and design elements, you can make a stunning statement with Mont Blanc quartzite, as evidenced by this spacious contemporary kitchen.
With blonde wood flooring, mid-tone wood cabinetry, and white walls, the space is already quite calming, and the quartzite surfaces don't detract from the tranquil ambiance.
However, the use of stone on the massive island, expansive perimeter countertops, and backsplash bring subtle movement to the room that elevates the overall design, particularly in key areas like the sink and stove alcoves, where vertical applications stand out.
3. Incredible Versatility
Timeless Mont Blanc quartzite countertops work well with both modern and traditional styles, but it's also incredibly versatile when it comes to pairing with diverse design elements. For starters, it looks absolutely gorgeous next to both light and dark cabinetry.
This transitional kitchen illustrates how Mont Blanc countertops tie white cabinets, stainless appliances, and white/gray backsplash tile together. The leathered countertops add casual appeal with a modern, matte finish that takes the formal feel of the space down a notch.
​​You can up the visual interest by pairing Mont Blanc quartzite with darker cabinetry, as in this U-shaped New York kitchen, where the island countertop pops against an espresso base.
This stone also looks magnificent with rich, warm wood tones, like the heavily grained, almost orangey cabinets in this contemporary kitchen.
​​Although it may skew austere, Mont Blanc also looks lovely in a range of design styles. This
modern kitchen
proves the point nicely, with clean, minimalist lines paired with rustic touches like weathered beams on a coffered ceiling and a massive wrought iron pendant light. Quartzite countertops and a full-height backsplash add elegance and much-needed movement to the design.
4. Strong and Durable
Naturally, you want design elements that create an attractive space and highlight your personal style, but you also need functional countertops that can stand up to the rigors of a busy household or frequent entertaining. Quartzite delivers in a big way, thanks to a rating of 7 on the Mohs hardness scale, making it stronger than marble and granite.
Quartzite may mimic the ethereal beauty of marble, but this metamorphic rock, created when sandstone with high quartz content is exposed to high temperatures and pressure, is more durable and resilient. Its strong surface is typically less porous than many other countertop materials, especially when polished.
5. Resistant to Damage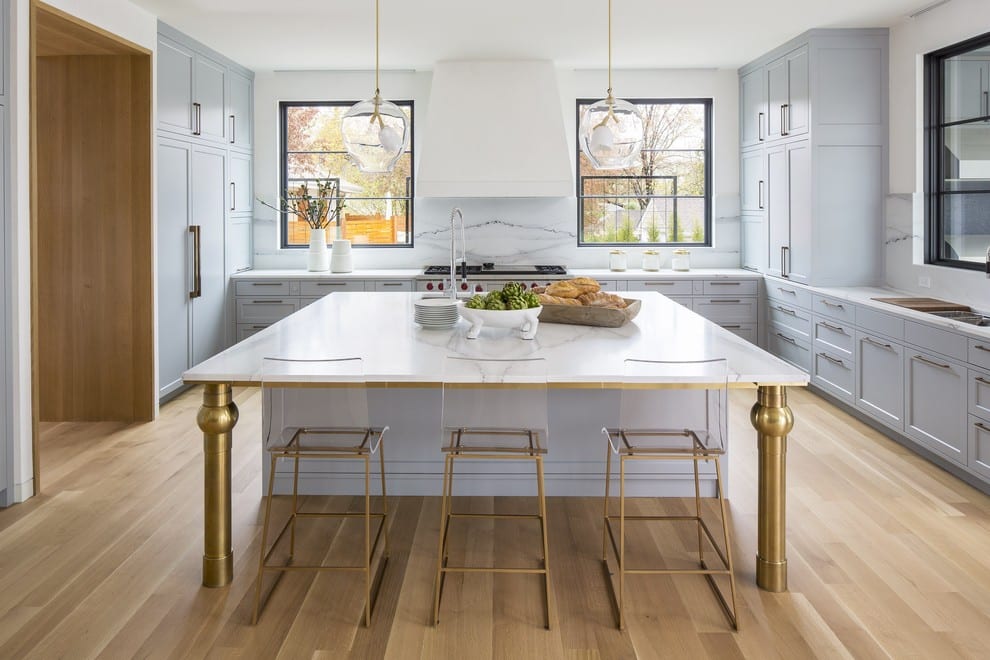 Because of the composition and characteristics of quartzite, it is naturally resistant to all kinds of potential damage. It will stand up to common hazards like heat, staining, etching, scratching, chipping, cracking, and UV rays. This makes it an ideal choice for both indoor and outdoor applications.
Whether you're building an outdoor kitchen, remodeling bathrooms, upgrading your laundry room, or installing a bar, it's hard to argue with the practical benefits of this countertop material.
6. Easy to Clean and Maintain
Like any natural stone, quartzite should be sealed regularly to avoid potential damage like staining. However, because it tends to be slightly less porous than other stone types, it may not need resealing quite as often, especially with a polished finish.
As for cleaning quartzite, a simple wipe with a damp microfiber cloth will suffice for daily messes, while warm water and gentle soap will eliminate grime. Or choose a natural stone countertop cleaner that helps preserve the seal for added effectiveness.
Ready to Upgrade?
When you're ready to upgrade to beautiful, versatile Mont Blanc quartzite countertops, consult with the talented team at Academy Marble & Granite, or simply visit one of our convenient showrooms in Connecticut or New York.