Trending Quartzite Colors to Consider for Your Kitchen and Bath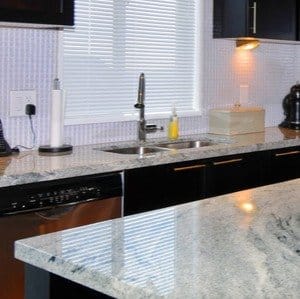 It's hard to resist the calm beauty of quartzite, an extremely durable metamorphic rock that offers an alternative to marble or granite countertops. Given its name, quartzite is often confused with quartz, but they are completely different. Quartz is an engineered stone made from crushed quartz bonded by resins and polymers while quartzite is a natural stone that is quarried and slabbed, like marble or granite. Quartzite ranks at 7 on the Moh's hardness scale, making it an incredibly resilient kitchen or bathroom countertop surface.
If you're not as familiar with quartzite, you may not know what to expect from this beautiful surface material. Often softer and subtler in both color and pattern than popular marble and granite options, quartzite can help to create the calming home interior you crave, and it pairs easily with cools or dark palettes.
In addition, quartzite is trending as one of the hottest additions to homes, which means you can not only add incredible beauty, but tons of value to your property with some of the most beautiful and popular options for quartzite countertops. Here are a few inspirational ideas for adding quartzite to the kitchen or bathrooms in your home.
Princess White Quartzite
White kitchens and bathrooms are a staple of bright and airy modern homes. Adding natural stone to a tone-on-tone interior elevates luxury and adds dimension to what could be an otherwise flat, rather featureless look. If you're seeking a sophisticated option that skews marble, but adds a level of luminosity, you'll love Princess White quartzite eye-catching stone, featuring gray striations and sparkling quartz deposits that enhance depth and visual interest.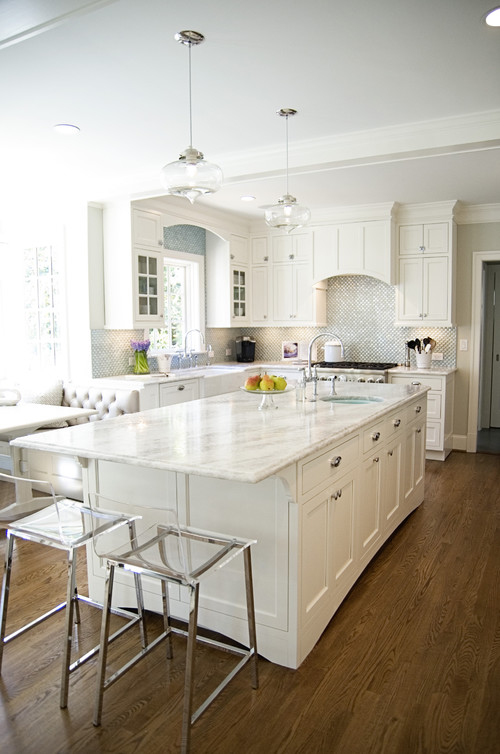 A good example of how your white kitchen space might look is found in this gorgeous traditional kitchen featuring Princess White quartzite paired with pure white cabinetry, top and bottom. Medium-tone wood flooring grounds the airy kitchen space, while an aqua blue sink and iridescent, milk glass tile backsplash add just a hint of color. However, it's the gray veining across the counter surface that grabs the eye in this neutral kitchen space.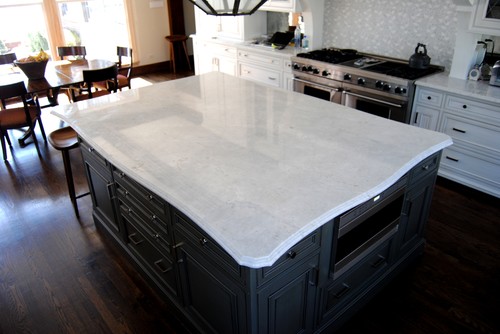 Of course, you don't have to go all-white. This bright quartzite can also be offset against darker hues for more pop. Just look at the pairing in this transitional kitchen, where the quartzite boldly stands out against dark gray island cabinetry and dark wood flooring.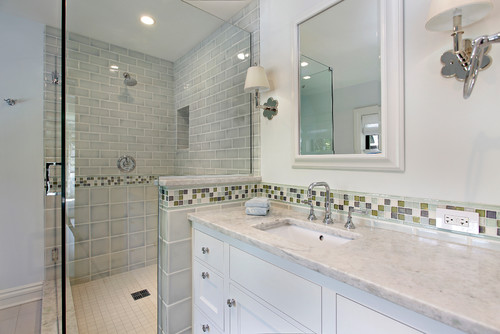 If you're looking for a lovely addition to your bathroom space, Princess White is an excellent choice, as well. In this contemporary bathroom, the quartzite stone effortlessly ties together white cabinetry and pale, gray tile work, along with a gold and silver mosaic tile backsplash, creating a cohesive and sophisticated appearance.
Taj Mahal Quartzite
Often compared to Calacatta marble, this creamy quartzite with soft, subtle veining is slightly warmer, making it an ideal choice for any homeowner looking to create welcoming interiors. With a white background brushed with feathery gold, beige, and gray veining, this incredibly versatile stone pairs with nearly any palette imaginable.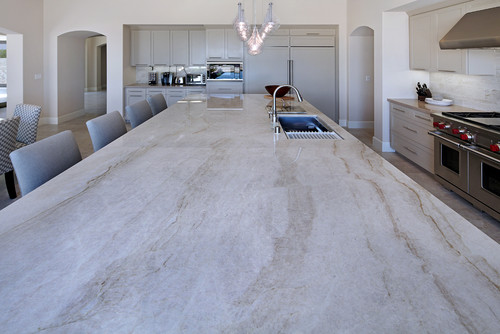 Consider, for example, how the cream and gold in this Taj Mahal quartzite slab warms up this contemporary kitchen. Without this addition, the white cabinetry and walls could create an otherwise sterile space.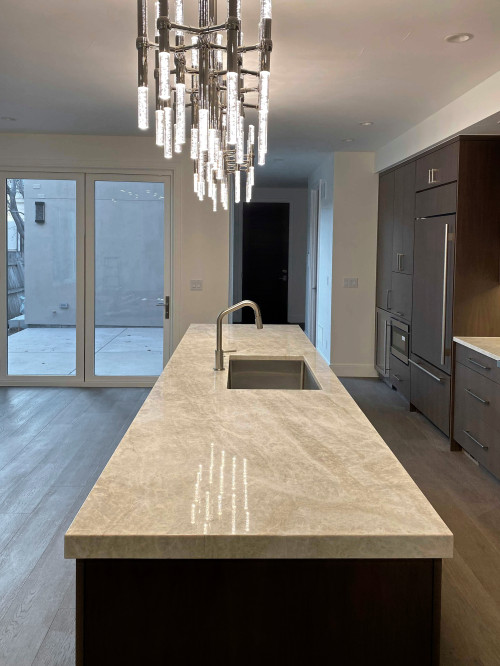 However, it also pairs beautifully with the dark, contrasting cabinetry in this spacious kitchen, picking up the warmer tones of the wood flooring throughout.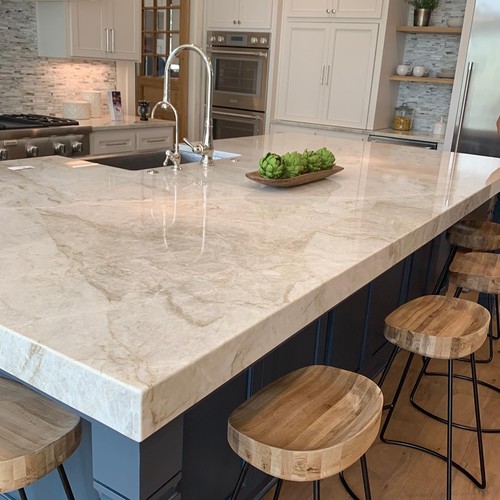 Incredibly, this stone also works well with the bluish-gray island cabinet in this transitional kitchen, proving that it really can complement any design.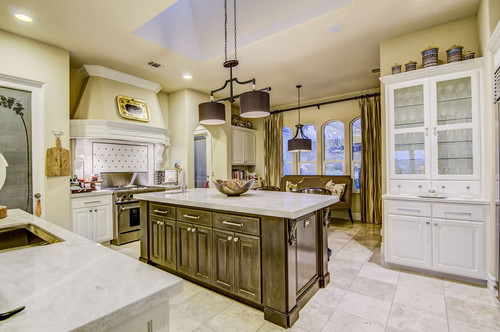 It also blends with a variety of styles, adding flair to French country in this traditional kitchen. If you're worried about how to use quartzite to the best advantage in your home upgrade, you can relax when you choose Taj Mahal quartzite, which seems to work well with a wide range of styles and palettes.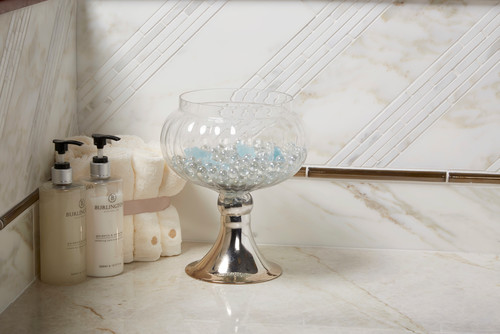 In fact, you can even pair it with other natural stones for a stunning effect, as shown in this modern bathroom design. Countertops in Taj Mahal quartzite blend beautifully with a backsplash in Calacatta Gold marble. While the look of these two stones is similar, harder quartzite is preferable for the counter surface, which must withstand a lot more daily use and abuse than the backsplash.
Dolce Vita Quartzite
If you want to turn up the dial on warmth in your kitchen and bathroom spaces, Dolce Vita quartzite (meaning "sweet life" in Italian) is a great choice. With a background ranging from yellow to orange and veining in white, cream, gray, beige, and peachy tones, this stone is similar to Taj Mahal, but with every characteristic amped up, including more prominent color and pattern.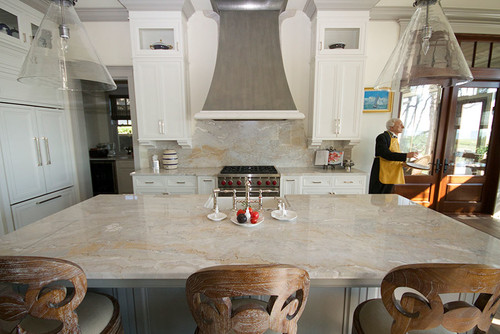 You can see how it stands out against white cabinetry in this modern kitchen, pulling warmth from surrounding wood elements.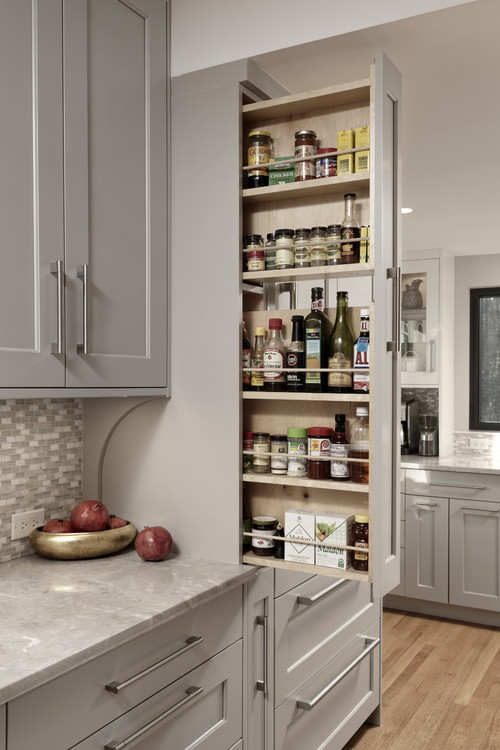 You might be surprised to learn, however, that Dolce Vita works equally well with cooler tones, as in this transitional kitchen featuring pale, gray cabinetry and a gray mosaic tile backsplash.
Are Quartzite Countertops Right for You?
There's no shortage of quartzite varieties to choose from, with colors and patterns that tend to deliver a subtle complexity. With so many options to explore, you can design a gorgeous kitchen using quartzite stone.
We would love to help you pick the countertop material for your next project. To request a complimentary consultation with one of our design experts, click here.