6 Kitchen Countertop Peninsula Ideas for Small Spaces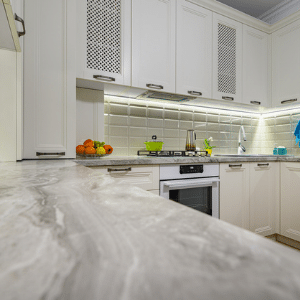 A small kitchen can feel like a curse, whether your recipe repertoire involves little more than scrambling eggs or if you enjoy entertaining and having friends gather. The layout of your kitchen is incredibly important if you want to make the most of every square inch of usable space.
Adding a peninsula to the mix will not only maximize the available footprint, but it can also provide outstanding function when done properly. This will add extra storage, the option for a proper kitchen triangle, and even space for seating that you might not otherwise enjoy.
How can you choose the peninsula that's right for your small kitchen space and your needs and preferences? Here are a few ideas to get you started.
#1:
Double-Duty Peninsula
In a small living space, designs that do double-duty are vital. The kitchen peninsula offers an incredible opportunity for multi-use functionality. One of the best ways to get added use value from your peninsula is to provide seating on the outside.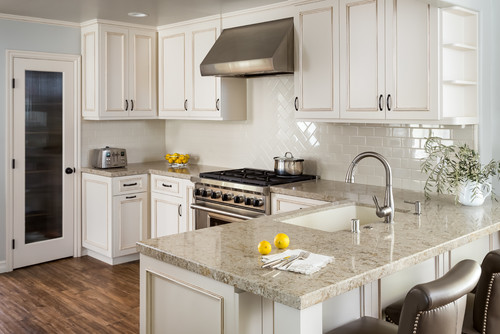 This tonal, transitional kitchen in white offers a prime example of the best uses for a peninsula. The Silestone quartz countertop not only plays home to the sink, with extra storage beneath, but the peninsula also creates separation from other living spaces.
A bar height peninsula could be ideal if the designer has created an overhang that serves as seating for an eat-in kitchen space by extending the counter beyond the cabinetry.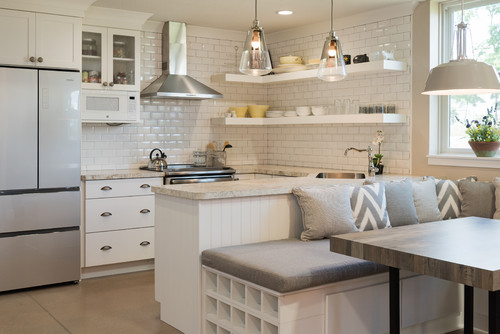 If you prefer a more traditional eating space, you can also back the peninsula with banquet seating, as in this timeless, transitional kitchen. As you can see, the countertop has no overhang for seating, which makes the nearly flush cabinet backing perfect to double as a seatback for the banquet.
#2:
Bar Height Peninsula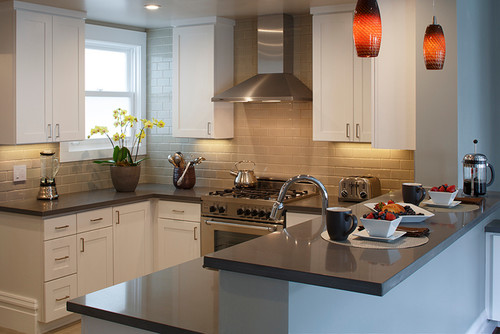 If you'd like a bit more separation between cooking and entertaining spaces, a bar height peninsula could be ideal. The bar height countertop in dark gray quartz seen in this contemporary kitchen is set above and behind the regular, countertop height peninsula in the kitchen.
The height of the bar creates a clearly defined kitchen space without cutting it off completely, as a full wall would. Because it features an overhang, it can serve as a seating area with barstools, but it could also act like a pub table for standing guests. You could even place a pub table against the peninsula to create a T-shaped extension.
#3:
U-Shaped Peninsula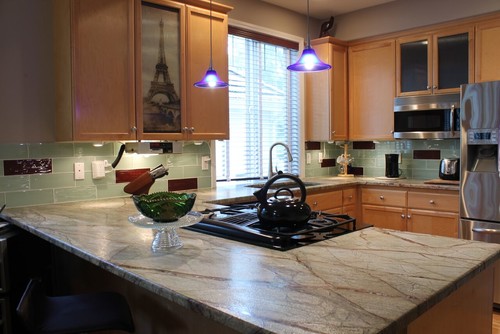 A U-shaped peninsula won't work in every kitchen space, but if you need your peninsula to serve not only as seating and storage, but also a point in your kitchen triangle, you might want to consider this option. A good example can be found in this small, contemporary kitchen, which features a countertop in striking, Rainforest Green leathered marble.
The shape of the countertop could create added prep space, but because of the unique configuration, there's also room to place a stove within the U, preserving the kitchen triangle (with sink on adjacent wall and fridge across from the room).
#4:
Wraparound Countertop
A peninsula is naturally going to take up some space in another room, likely the dining or living room area. How much space it uses is up to you. If the peninsula is attached to a partial wall, you may have to get creative.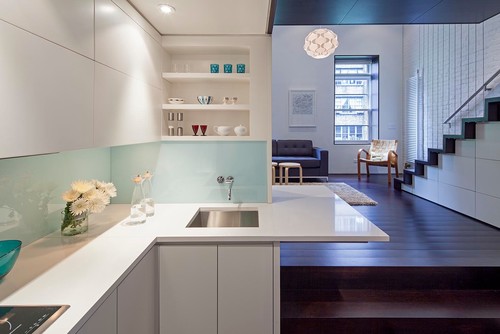 The modern kitchen in this Manhattan micro-loft takes a novel approach to extending the countertop surface — which looks to be white quartz — around the partial wall separating the kitchen and lounge spaces. Because the living room is elevated, the peninsula extends over the short staircase leading up and rounds the corner to essentially serve as a low hearth in the next room.
#5:
Prep and Storage Peninsula
It can be hard to fit much into a tiny peninsula, so if you're concerned about placing a sink or appliance there, you might be better off restricting this extra countertop space to prep and storage only.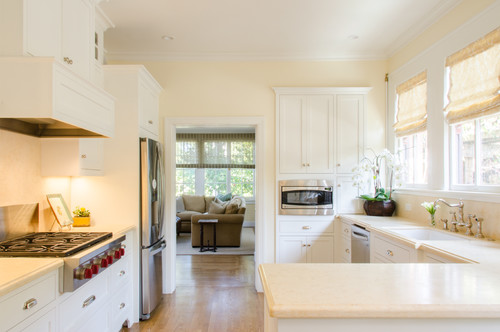 This traditional kitchen, featuring what looks to be creamy marble countertops, is a great example. With the sink along the adjacent wall and the fridge and stove on the other side of the room, the peninsula provides an out-of-the-way space for a helper to work on chopping veggies without impeding the cook.
It could also serve as a staging area for food that's ready to head to the dining room table, and of course, the cabinets below provide much-needed extra storage for smaller kitchen spaces.
#6:
Irregularly-Shaped Peninsula
Not every home is laid out in neat little boxes. You may find yourself dealing not only with minimal square footage, but also with oddly-angled walls. A peninsula can help you to square off the kitchen perimeter and normalize a strange layout.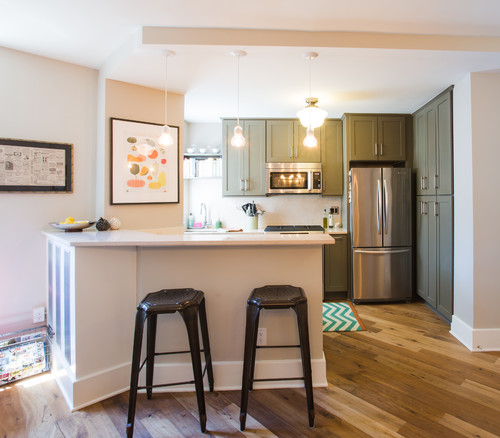 This eclectic kitchen offers a prime illustration of this principle at play. The quartzite-topped peninsula extends from a diagonally situated wall, but jags to create a parallel with the far perimeter wall, essentially creating a square layout that the diagonal wall would otherwise lose.
Small kitchens can certainly prove to be problematic, but the thoughtful addition of a peninsula can help you to increase your use value and aesthetic appeal. Are you ready to add or update a kitchen peninsula? Make sure to check out our design portfolio for inspiration.