5 Stunning Matte White Quartz Countertops You Should Consider for Your Kitchen
If you're interested in a stunning matte, white countertop surface to brighten a dark kitchen design, balance out colored cabinets, or match a monochromatic kitchen space, there are no shortage of options in marble, granite, quartzite and other natural stone.
However, busy households are usually drawn by the functional appeal of engineered quartz—a non-porous, durable countertop surface that's not only resistant to all kinds of damage but also possesses antimicrobial properties and requires almost no maintenance.
The good news is renowned quartz manufacturers, like Caesarstone, MSI, and Silestone, offer a wide range of options to choose from, including varieties in matte white. Some of these products mimic the appeal of other natural stone surfaces (marble, for example) as well as bright whites not found in nature.
No matter what you're looking for, you'll find it in quartz. And if you're eager to get in on the matte trend in countertop design, quartz can achieve that look for you. Here are a few stunning varieties for your kitchen space.
#1: Frosty Carrina Caesarstone
Kitchens don't tend to have many soft surfaces. With hard flooring, cabinets, countertops, and appliances, your kitchen is as functional and food-safe as it can be. But it may lack the feeling of warmth and welcoming you're looking for.
Well, the right finishes can make a difference in the ambience of your kitchen space, and the soft, powdery finish of Frosty Carrina is a great example. The white background is lightly brushed with subtle gray veining—similar to Carrara marble, but even more delicate. The matte finish makes this a surface designed for serenity.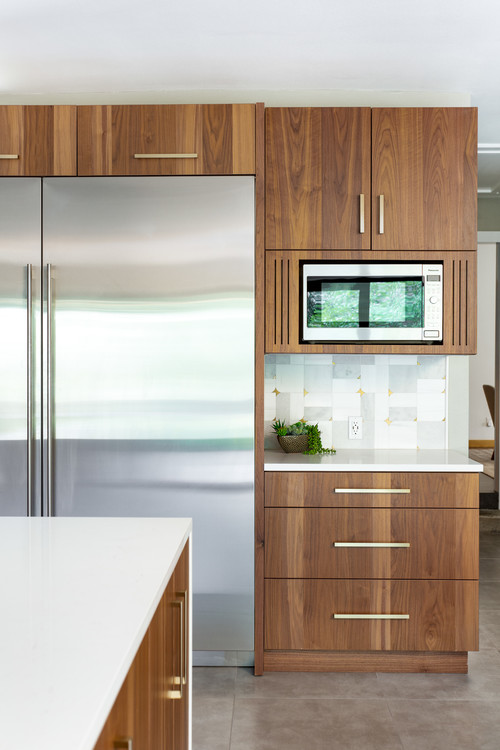 While Frosty Carrina will blend seamlessly with white cabinets, the surface is bright enough—even without the high shine of a polished finish—to stand out against darker materials, such as the heavily grained walnut cabinetry in this simple, yet sophisticated modern kitchen. Brass fixtures draw on the warmth of the wood and contribute to a space that is both bright and welcoming.
#2: Cloudburst Concrete Caesarstone
With its beautiful blend of white and cream tones, Cloudburst Concrete is the perfect marriage of cool and warm, providing an eye-catching surface. It should pair beautifully with any number of other design elements, from white, black, or gray cabinets, to wood tones, to pale and saturated color palettes. Plus, you're sure to love the added visual texture of the concrete finish.
More pronounced than the flat matte of Caesarstone's honed finish, the concrete line features an organic, uneven texture similar to the material from which it gets its name. If you're drawn to bursts of white strewn across a cream surface and accentuated by tangible texture, this is the quartz countertop you've been looking for.
#3: Calacatta Vicenza MSI
One of nearly two dozen Calacatta options available from MSI is Calacatta Vicenza. This option offers a cool white surface featuring delicate wisps of gray veining, similar to what you might find on slabs of Calacatta marble. However, the soothing appeal goes even further thanks to a matte finish that brings subtlety and modern style to a timeless classic, often seen in high shine.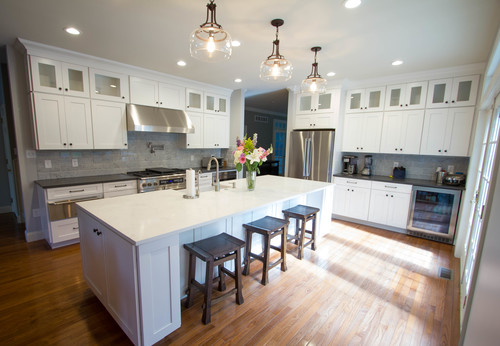 This transitional kitchen illustrates how lovely matte-finish quartz can be. It pairs bright white cabinetry with Calacatta Vicenza for the island surface and a dark gray quartz around the perimeter. The lighter gray subway tile backsplash creates a smooth transition between light and dark surfaces, and with minimal reflection on the countertops, the hood vent and appliances in stainless steel really pop.
#4: Daria Silestone
Part of the Nebula Code series from Silestone, Daria delivers pale off-white appeal in light beige tones that bring brightness, but also warmth to your kitchen space. If you're worried about the possibility that pure white countertop surfaces could make your kitchen appear a bit lifeless, this subtle combination of white and beige tones is just the tonal shift you're looking for. The matte suede surface keeps the look soft with muted shine that's easy on the eyes.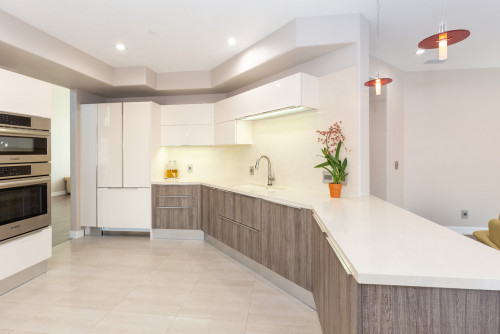 As you can see in this open concept kitchen, Daria Silestone countertops add just the right amount of contrast atop lower cabinets in a weathered oak finish, and they don't compete with the glossy white upper cabinets. The clean lines of this minimalist design give the space a sleek aesthetic and an airy appeal that's incredibly attractive and inviting.
#5: Calacatta Gold Silestone
Just because you want a white countertop surface doesn't mean you have to give up the high drama of bold patterning. The Eternal collection from Silestone offers a number of natural-looking stone patterns ranging from subtle to stark. Calacatta Gold, available in polished or suede finish, serves up a lot of movement and visual appeal by mimicking the look of—you guessed it—Calacatta Gold marble.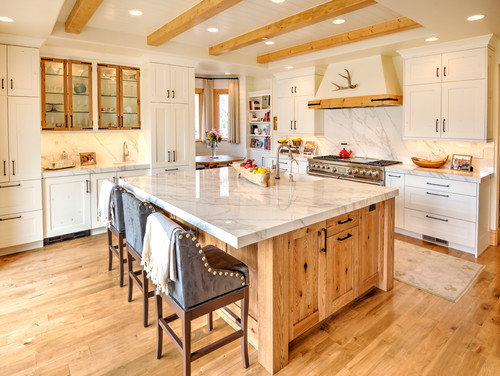 This modern
farmhouse kitchen
is a great example of what you can expect from this stunning quartz. Notice how well it pairs with nude rustic wood tones in the flooring and island cabinets, as well as with the white perimeter cabinetry. The neutral palette is the perfect showcase for this high-drama quartz, featuring thick striations that imbue the space with movement and personality.
If you love the glow of white marble or other natural stone countertops, but you really need the resilience of quartz for your busy household, you'll have no trouble finding a happy medium with the bevy of matte-finish options offered by several quality quartz manufacturers.
We're here to help
Choosing the right countertops for your kitchen or bath can be overwhelming without the right assistance. Academy Marble & Granite's team is ready to help. Visit one of our locations, or contact us today to set up a consultation.