4 Kitchens Featuring Carrara Marble with Brown Veins that Are Anything but Ordinary
Carrara marble is known for its delicate and classic features that typically showcase a white background with wispy, gray veins. The veining against the white backdrop creates a cool, calming effect when used for countertops in the kitchen, bathroom, and other spaces in the home.
However, this marble variety may also feature gold or brown veining if exposed to iron deposits during formation, imbuing slabs with a warmer ambiance that many homeowners appreciate.
While both gray and browns found in natural stone are considered neutrals and will technically pair with almost any other colors and materials in your home, one is cool and the other is warm, which means you'll need to consider how best to coordinate your decor.
With the right combination of elements, your warm Carrara marble will look spectacular. Here are a few countertop pairings that are sure to give your upgraded kitchen or bathroom the wow factor you're looking for.
#1:
Weathered Wood
You might think rich, dimensional granite is ideal for a rustic, farmhouse aesthetic, but don't be too quick to dismiss Carrara marble.
With a bit of brown in your slab, you can not only add a dazzling pop of white to an otherwise woodsy space, but you can still blend with the larger aesthetic, too, as the veining picks up the color from surrounding wood surfaces.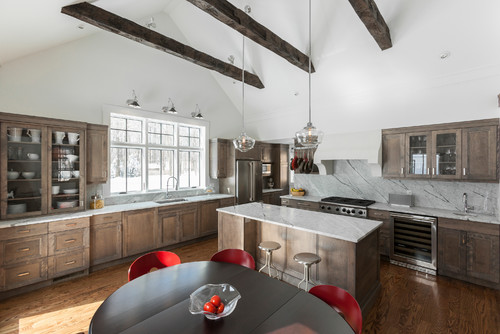 Weathered wood, like the cabinets in this
rustic, New York kitchen
, is ideal because it often features both brown and gray tones, making it perfectly suited to pairing with the whites, grays, and browns found in Carrara marble countertops.
#2:
Modern French Country
Traditional French country design tends to feature wood, warm tones, ceiling beams, and a prominent range hood, among other common elements.
Carrara marble with rich, brown veining will fit perfectly in such a kitchen, but it could get lost with too much similarity. For a more dynamic design, consider modifying the French country look with pale blues (blues and browns are a classic French design combo anyway) and adding modern metallics to the mix.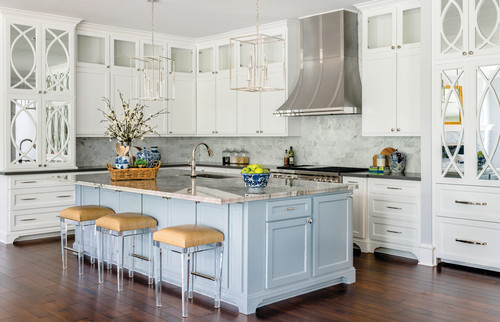 This blue, white, and brown
transitional kitchen
is a great example. Technically, only the backsplash subway tile is Carrara, while the island is Fantasy Macaubas quartzite. However, the brown tones on the kitchen island slab give you a good idea of how brown Carrara might fit in such a design, although the slab would likely feature softer strokes of brown, as opposed to the fine line work of quartzite.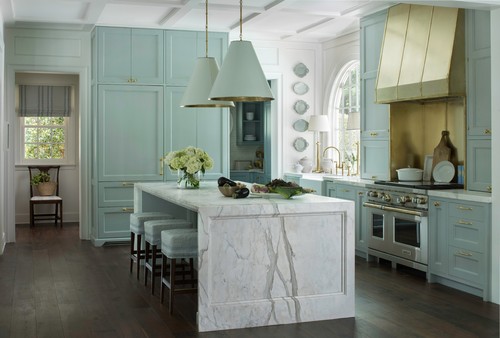 Or you could go with a happy medium between traditional and modern. The prominent waterfall island in this modern take on a French country kitchen is actually Calacatta Gold marble, featuring golden, beige, and brown veining that's somewhat bolder than what you're likely to find with Carrara.
However, you can get an idea of the warmth brown-veined Carrara would add to the French Country aesthetic, albeit with softer, more soothing striations than a Calacatta slab.
The warm tones draw on the rich, dark wood flooring and golden accents (range hood, door and drawer hardware) and contrast prettily with the pale, robin's egg blue of the cabinets, while the white background of the marble mirrors the coffered ceiling above.
It strays a bit from traditional French country styles, but nonetheless, it results in a space that feels both modern and timeless, welcoming and chic.
#3:
Coastal with a Kick
At first blush, the coastal style, which tends to feature pale woods and whitewashing, may seem an ideal setting for typical Carrara, but not so much a warmer variety. However, this is a situation where finding just the right slab could make all the difference.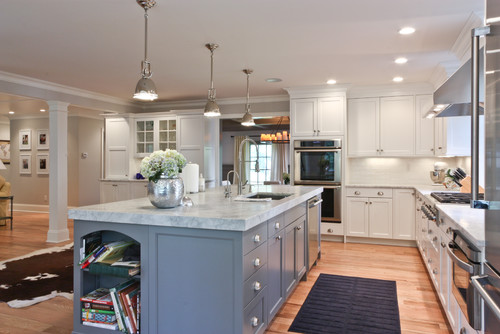 A blend of white, gray, and a light dusting of brown accents in your slab could help to pull together all the elements of a coastal theme, including both wood and white surfaces. Just look at the modern, beachy interior of this
classic coastal colonial kitchen
.
The Carrara countertops are primarily white and gray, matching well with the bright white and dove gray cabinetry, stainless steel appliances, and silvery hardware and fixtures. However, there are also subtle hints of warmth in the marble that speak to the blond flooring, creating a central piece that marries the other design elements.
#3:
Warming Up White
An all-white kitchen may be bright and airy, but it can also be deathly dull. With minor tonal variations, however, you can add visual interest without straying from the monochromatic motif you favor.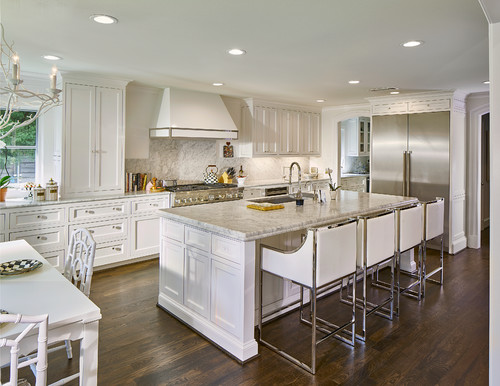 Warm Carrara is a great addition to white rooms, like this
transitional chef's kitchen
. With bright white cabinets, a white hood, and stainless-steel appliances, the look of this room could be incredibly spartan, if not for the rich wood flooring and the subtle warmth of the countertop and backsplash, which feature mostly gray veining and hints of warmer tones. A slab with more prominent browns would still work, though, thanks to the dark flooring.
Brown veining may not be typical for Carrara, but it certainly lends a warmer touch to this already soothing marble variety.
If you're interested in how to add Carrara countertops to your home, check out the Academy Marble & Granite portfolio for inspiration or visit one of our convenient showrooms in Bethel, CT or Rye, NY to speak with a member of our team.