5 Kitchen Countertop and Cabinet Combinations that You Can't Go Wrong With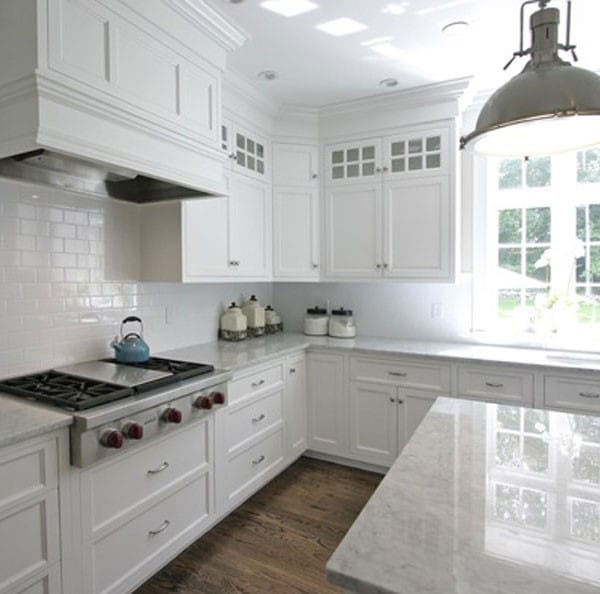 If you're starting a kitchen renovation, you probably have in mind an idea of what you want. With inspiration resources like Pinterest and Houzz, it's impossible NOT to have a giant collection of ideas and photos from which you can create your dream kitchen. Maybe there's a certain kitchen countertop stone you want or perhaps you're set on a specific cabinet color, but therein lies the difficult decision of which combination works best for your design aesthetic, lifestyle and budget.
To help make your decision a little bit easier, below are 5 timeless combinations of cabinet colors and countertops that, rest assured, will provide you with a winning end result you can enjoy for many years to come.
1. Classic white kitchen countertops with white cabinets
There's nothing more timeless than white on white. It's a space that has the power to drastically brighten up any home with a combination you'll never sicken of, but we understand that it's not for everyone. A blank white on white canvas can easily illuminate anything left behind during food preparation or the decorative handprints of little ones, so it may require additional cleanings if your lifestyle lends itself to frequent use and activity. And if you're worried that it's just too boring for you, you can spruce up the palette by adding in edging details, black or gold hardware, or choosing a countertop with natural gray running through. You can also accessorize with pops of color to personalize your clean kitchen canvas.
With white, you have a lot of options when it comes to countertop selection – quartzite, quartz, marble and sometimes even granite. Keep in mind that many options will have gray streaks throughout, as that's the appearance of the natural stone. There are definitely plain white options available, especially in quartz as it's man-made.
Our favorites:
Marble countertops: Monc Blanc Marble – creamy white with beautiful light gray streaks
Quartzite countertops: White Macaubas Quartzite – Refreshing and clean with beautiful natural veins
If you're thinking that white on white may be too classic, try choosing shaker style cabinets, matte black hardware, and straight edges to integrate a more modern look.
2. Light gray cabinets with white or black kitchen countertops
Light gray countertops are very much on trend right now, but they're also a classic option that will never go out of style. The trick is to stay with a shade that's just a few shades darker than white to help keep the brightness in your kitchen.
When it comes to kitchen countertops for gray cabinets, white (with or without natural gray streaking) or black pairs best. These combinations can easily give a modern or traditional feel, based on the finishes you choose.
Marble, quartzite and quartz are great options for the lighter countertops, while granite is an excellent option for black.
Our favorites:
Marble countertops: White Thassos Marble – The purest, brightest white you can find!
Granite countertops: White Ice Granite – This beautiful granite combines white, black, and gray all in one!
Image via: https://www.houzz.com/photo/15083433-colonial-farmhouse-traditional-home-bar-minneapolis
3. Light wood cabinets with black kitchen countertops
If you have a lot of natural light in your home and are looking for more of a rustic look, you can't beat wood cabinets with black countertops.
Our favorites:
Granite countertops: Black Galaxy Granite – A sleek black option with tiny white and gold specks throughout.
Quartz countertops: Ceasarstone in Jet Black – An extremely durable, true black option.
If you think this look might be too traditional for your style, you can instantly add a modern feel with the backsplash design, hardware and cabinet style you select. Shaker style cabinets are a common choice for homeowners looking for a modern twist on a classic. And if you want to make the look a bit more rustic, try adding farmhouse details like an apron sink and open shelving.
Don't let us deter you from lighter countertops if that's what you're leaning towards. Wood cabinets can easily be combined with white kitchen countertops as an alternative, for a lighter, brighter feel.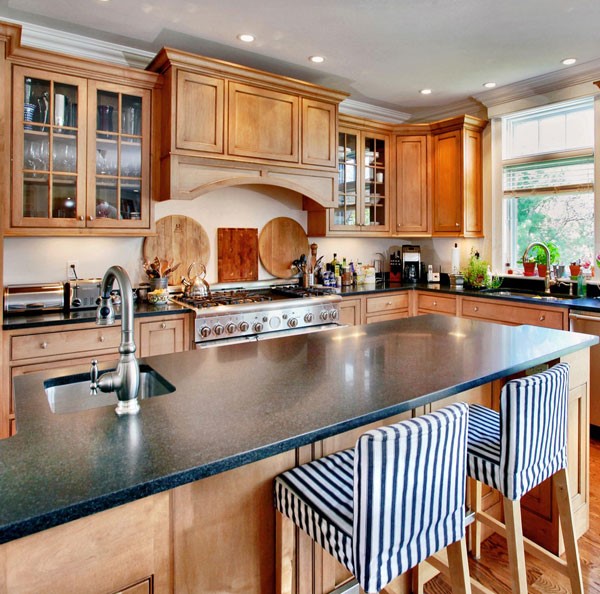 Image via: beeyoutifulllife.com
4. Dark wood cabinets with tan kitchen countertops
There's something so classic about a darker kitchen and the use of wooden cabinets. Though dark wood cabinets will go with many shades, we love the look with tan countertops. Tan shades also hide leftover grime well, so if you have a busy lifestyle, this option might be perfect for you. Granite is definitely your best bet here, as it comes in many beautiful shades of tan.
Our favorite granite countertops:
Santa-Cecilia Granite – This stone captures cozy, traditional style with its use of burgundy gold and dark gray veins.
Giallo Ornamental Granite – A bit darker than the last, but just as rich and vibrant in color.
5. Dark gray/blue cabinets with light gray kitchen countertops
Dark cabinets are having a moment, especially as an accent piece, such as on a kitchen island. They're great in more industrial style kitchens or paired with open shelving. Lately we've seen a lot of dark gray/bluish cabinets being paired with light gray countertops. Though this look is a bit more on trend, it's still timeless, especially when paired with simple white subway tile. If you live in a dark space and don't get a lot of natural light, this option might not work for you.
Marble, quartzite, quartz and granite all offer light gray countertop options.
Our favorites:
Granite countertops: River White Granite – A beautiful stone made up of white, gray and red tones.
Quartzite countertops: Taj Mahal Quartzite – A white/gray background with gentle paint-like strokes of gold.
Which cabinet and kitchen countertop combination is right for you?
Though there are a million combinations to choose from, we recommend finding a combination that works for your home. Looking at photos online is helpful, but nothing compares to seeing the true beauty of kitchen countertops than in-person. We recommend starting at a slab warehouse, so you can see things up close, touch the different stones, and maybe even discover something new!
Looking for a kitchen countertop contractor or supplier in the New York or Connecticut area? Academy Marble has the largest warehouse of natural and engineered stone for you to browse right in your backyard! Feel free to stop in or contact us at any time to discuss your needs.