Have a Blue Christmas with White Kitchens Featuring Blue Accents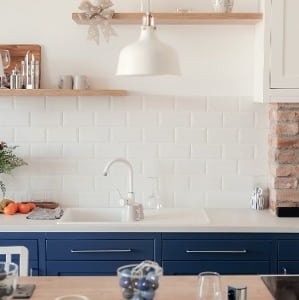 Blue and white is a classic color combo in design, prominently featured in a diverse range of styles throughout history, from Chinese porcelain to Dutch decorative tiles, to the picturesque white buildings and blue roofs of Santorini, Greece. If you're looking to integrate this eye-catching aesthetic to your kitchen, here are a few ways to update your kitchen, potentially in time for the holiday season!
Coastal Done Right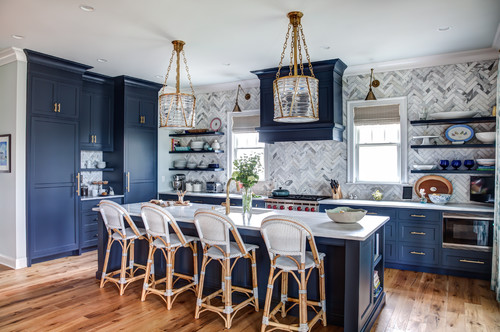 It's easy to overdo any design style, but a mix of modern and traditional notes help to make this New York coastal kitchen an absolute delight. The blend of white and blue elements is perfectly balanced, with white marble countertops standing out against rich, gray-blue cabinetry, hidden appliances (the fridge), and range hood. The white wall-to-wall mosaic tile backsplash and gray shades pull it all together with a traditional, but trendy herringbone pattern.
Add in rustic wood flooring, modern open shelving and stainless appliances, along with standout accessories like massive gold and glass pendants and bar height chairs in whimsical, white rattan, and you've got a coastal look that offers timeless appeal with thoroughly modern sensibilities.
Grounded Design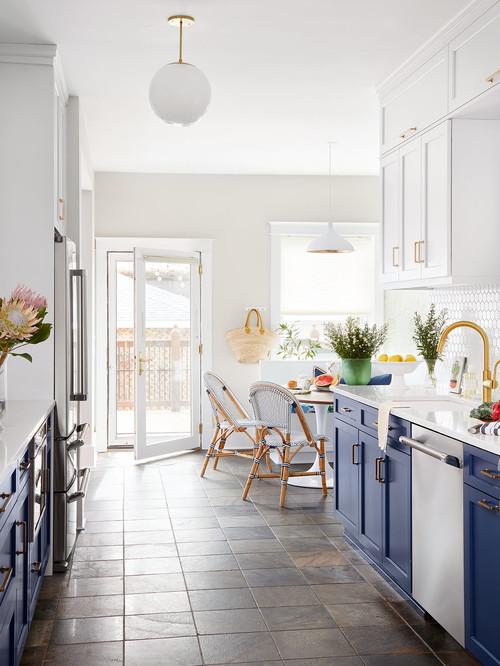 By now, many homeowners have embraced the idea of upper and lower cabinets in different hues. If you want to try something different than the light wood/dark wood or white and gray trends that have proven most popular, one option is to choose a more colorful counterpoint to contrast your light upper cabinets, as seen in this beach style kitchen.
White quartz countertops act as the line of demarcation between upper and lower levels, with bright, white cabinetry and honeycomb tile backsplash above, and cobalt cabinets below, paired with slate flooring tiles. Using darker colors on the lower half of the room creates a visual heaviness that grounds the space, creating a balance that imbues the room with a sense of calm when offset against a bright and airy upper portion.
Surrounded by neutrals, the blue certainly makes a statement, and mixed metallic accents (stainless appliances, brushed silver door and drawer pulls, and a gold faucet and light fixture) add subtle shine that enhances without overpowering.
A Fun Focal Point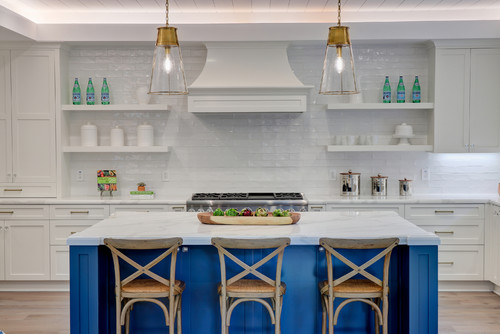 Accomplishing your statement style is a delicate art, especially when you decide to add vibrant blue to an all-white kitchen. Take a page from this coastal style kitchen, featuring simple white cabinets, open shelves on an expansive white subway tile backsplash, a white marble countertop and pale wood flooring.
While pretty and pristine, this space would be less exciting without the island in a stunning, azure hue. To say it pops is an understatement – it's an absolute showpiece, especially topped with white marble and accented with brassy gold pendant lights overhead.
Aquatic Splashes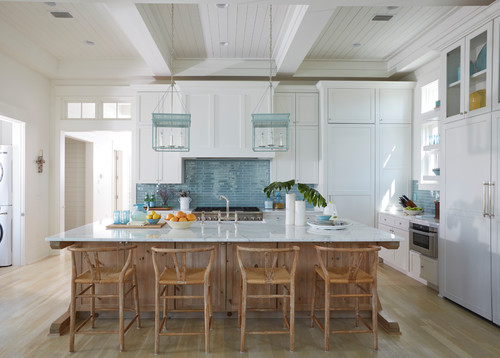 Adding color is a personal choice, but it's important to consider the impact. If you're not necessarily looking to create an eye-catching focal point in your otherwise white kitchen space, you'll be glad to discover there's a way to add a hint of blue hue without upsetting the airy atmosphere.
This tranquil, beach style kitchen is a prime example, featuring white-washed walls and cabinetry, pale beigey floorboards, a rustic wood island (and knotty chairs to match), and classic white countertops that could be Carrara marble or a clever quartz lookalike. Blue accents come in the form of pale, pastel, cerulean tiles reminiscent of seafoam in the weak morning light. This hue is mirrored in boxy, glass pendants and accessories like bowls, tumblers and vases displayed on countertops.
Unconventional Touches of Blue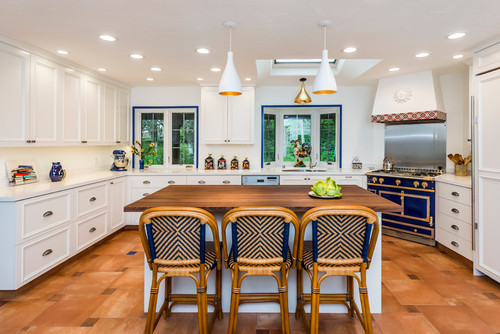 When most people think about adding blue to their kitchen, they consider painting cabinetry or displaying their lapis or cobalt Fiesta® dinnerware on open shelves. However, you can get a lot more creative when it comes to adding blue accents to your kitchen.  Just look at this largely white traditional kitchen featuring Mediterranean flair.
The while walls, cabinetry, and perimeter countertops paired with terra cotta tile flooring could feel basic, but the design has been spiced up with minimal, but impactful touches of deep, saturated blues. Note the delicate blue trim around the windows and the subtle blue stripes on the barstool chairs. Of course, the true standout is the breathtaking blue oven with gold accents. If you want a surprising way to add a pop of color to your kitchen, you'll certainly accomplish your goal with colored appliances.
Removable Elements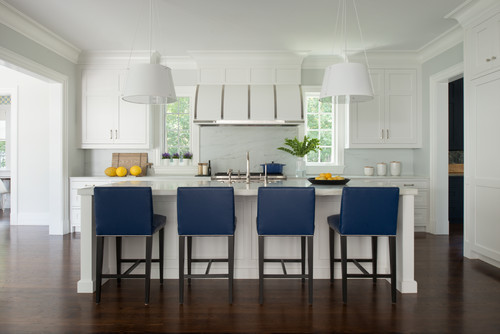 If you're a bit gun-shy when it comes to adding color to your space, you don't need to commit to a backsplash or even painted cabinetry. Simply add a range of removable accent pieces that can be swapped out as desired with little expense or effort. Take for example this classic colonial style New York kitchen. The white marble countertops and cabinets create a subdued backdrop and present an opportunity for a pop of color. 
It doesn't get much more traditional than white marble countertops, white shaker cabinets, and dark wood flooring, but this alone is a pretty monochromatic look.  Luckily, you can sprinkle in some much-needed color with blue leather upholstery on barstool chairs and display-quality cookware like a Dutch oven in blue enamel. With the addition of zesty lemons on the counter for an added pop of complementary color, an otherwise dull kitchen becomes a work of art.
Can Academy Marble help?
With professional help, you can choose the countertop that matches your aesthetic preferences and complements the rest of your home, and after installation, we can help you properly care for your investment so that you can enjoy it for years to come.  From the time of templating, you can expect your countertop project to be completed in 7 days or less*! Contact us today to get started on your project.
* Project completion time subject to change based on stone inventory, the complexity of the job and availability. A deposit is required to secure or hold the selected stone. All items that go on the cabinets (sinks, faucets, cooktops and accessories) need to be selected before templating can begin.