When Is It Time to Replace Bathroom Countertops?
Whether you've recently purchased your dream home, even if the décor is not quite to your taste, or you've lived in your home long enough that your last remodel is now long out of sight, you might find yourself contemplating a few home upgrades.
As you may know, updating kitchen and bathroom spaces tends to deliver the greatest impact, not to mention the best return on investment. With that being said, you may want to preserve some elements, like existing cabinets or countertops.
How do you know when it's time to replace your bathroom countertops? Here are signs your bathroom countertops are ready for a refresh.
Following Significant Damage
No matter what type of countertop surface is in your home, it can be subject to a range of potential damages, from cracks and chips to staining and etching, mold and mildew, and even mishaps like fire damage.
Some of this you may be able to live with, such as a small crack or chip. However, extensive damage could impact the function and integrity of your countertop surface, not to mention the visual appeal of your living space.
You will certainly need to address damaged countertops before you sell, so why not update your countertops now to increase function, aesthetics, and your own enjoyment of your home?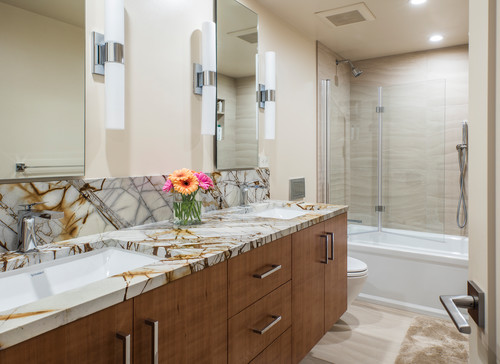 When Replacing Other Elements
If your cabinets are the proverbial sway-backed nag of your interior design and you're ready for the increased function and appeal of new cabinetry, it's a good idea to replace bathroom countertops, as well.
When you start updating your bathroom space, you'll find that outdated elements stand out like a sore thumb, and in the case of replacing cabinets, you may not be able to salvage the countertop during the demolition process. Either way, refreshing one element of your space is only elevated by a larger-scale remodel.
When Countertops Link Your Design to Decades Past
With a classic design style that includes timeless neutrals (white and black, namely), your bathroom could survive decade after decade without necessarily looking outdated. However, if your space was designed with trending colors and materials, it will likely start looking like a time capsule within a decade or so.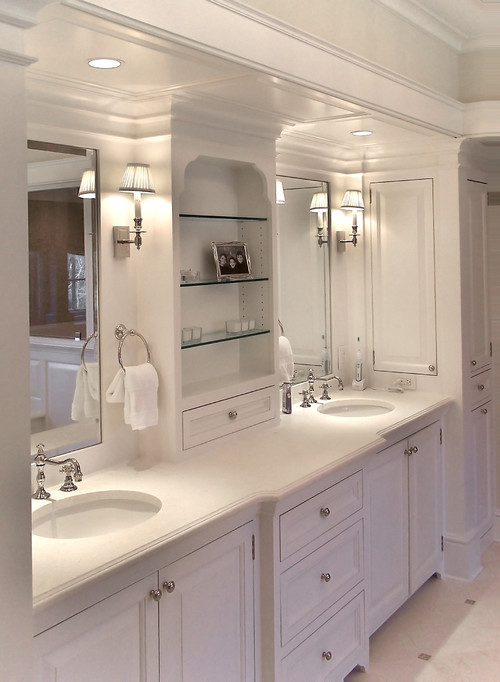 This spacious traditional New York bathroom, featuring a tonal white design with milky marble counters, will probably never go out of style.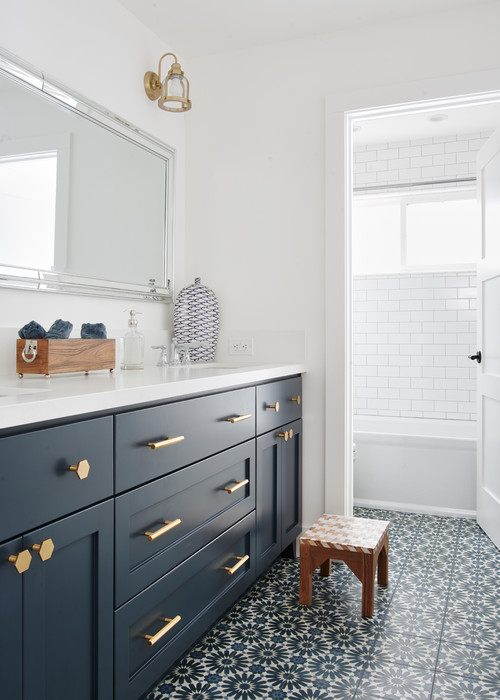 You can also pair retro elements, like the patterned tile floor and subway tile shower in this beach style bathroom, with modern elements like a resilient Caesarstone countertop, navy cabinets that could later be repainted to reflect trending colors, and gold fixtures and hardware that could easily be updated down the line.
If You Want to Upgrade to Luxury Materials
Depending on your price point, you could find yourself purchasing a home that needs a little work, starting with replacing low-budget materials like laminate, tile, or solid surface countertops.
Natural stone is certainly more expensive, but it's incredibly strong and durable (it could last a lifetime with proper care). It adds luxury to your interior design, and it's a lot more attractive and valuable to buyers when it comes time to sell down the road.
If You're Thinking of Selling
When it comes time to show your home during the home sale process, prospective buyers will note every visible defect. But give them a recently remodeled space to walk into, like this serene, contemporary New York bathroom featuring white flat-panel cabinets, beige flooring and walls, and a gray countertop in what looks to be sleek, modern quartz, and they'll be wowed.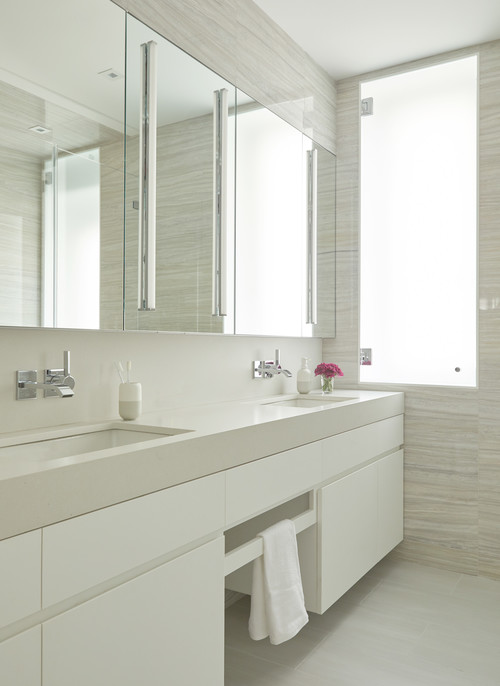 If You Want to Increase Your Own Enjoyment
There's something truly joyful about living in a space that represents your personal style and beauty standards. Becoming a homeowner is exciting, to be sure, but making a space your own exponentially increases your enjoyment of your home.
Maybe you love the classic color palette and minimalist design of this modern Soho bathroom, featuring black cabinets, a white granite countertop, a free-standing soaker tub, and a zero-entry shower.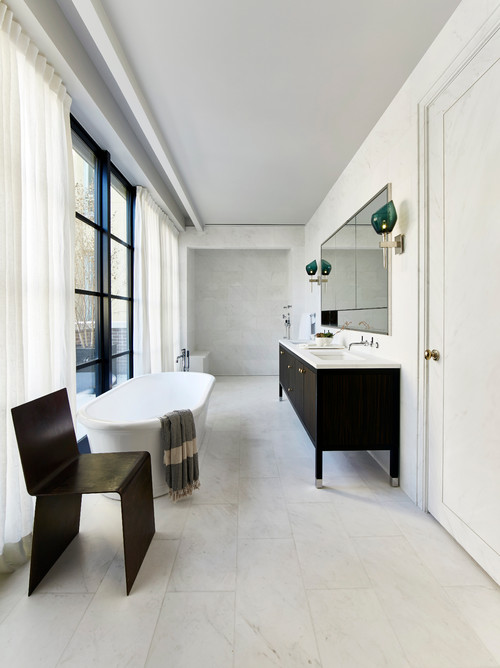 Perhaps you'd prefer slightly more personality and visual interest, as with the Shaker cabinets, patterned wallpaper, and heavy-grained Silestone quartz countertops in this transitional New York primary bath.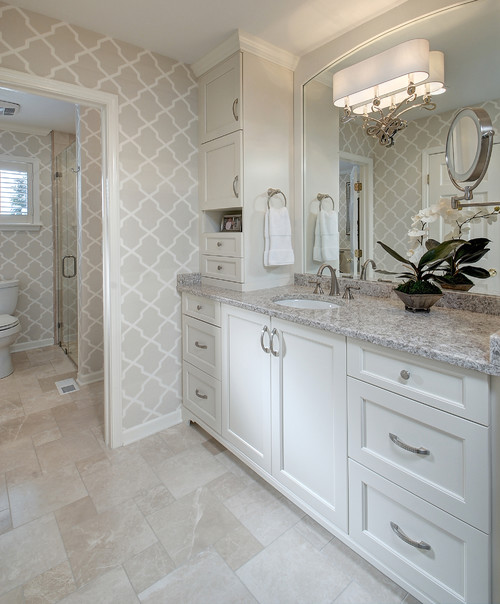 You might like the warm appeal of ample wood elements in this fishing-shack-inspired contemporary bathroom, especially when complemented by an eye-catching countertop and shower in Hall Quarry granite.
Or maybe you want to express your personal style with bold wallpaper, rich wood cabinetry, and lively granite countertops, as in this eclectic powder room.
Whatever your style, the talented team at Academy Marble & Granite is here to help when you decide it's time to upgrade your bathroom. Check out our portfolio for design inspiration or visit our showrooms in Bethel, CT or Rye, NY to speak with a professional.