4 Stylish Kitchens with PentalQuartz Countertops
There's no denying the appeal of quartz. This engineered surface not only delivers the beauty of natural stone, often mimicking the look of favorites like marble and granite, but it offers the resilience and utility of a non-porous, food-safe surface designed for strength and durability.
PentalQuartz, in particular, offers several attractive collections that feature over 100 colors and styles to choose from. Featuring abundant solids, patterns and finishes that let you customize to suit your home interior and your personal aesthetic, there is a style for every home. When you choose PentalQuartz countertops for your kitchen, bathroom or other project, you'll not only increase the beauty, function, and value of your home, but you'll enjoy a 15-year warranty that ensures long-term satisfaction.
Of course, you first need to find the look that's perfect for your home improvement project. If you're ready to upgrade your kitchen with stunning PentalQuartz countertops, here are a few great ideas to get your creative juices flowing.
Kitchen Idea #1: Tone-on-Tone
Bright white kitchens can create a space that appears larger, offers a clean look and does not go out of style. With non-porous quartz that's resistant to staining, any household can make the dream of a pristine, white kitchen a reality.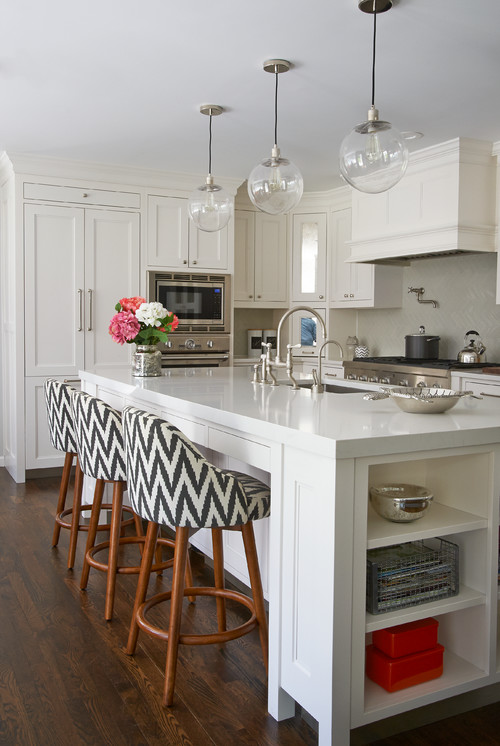 Imagine yourself merrily prepping meals or sipping your morning coffee in this gorgeous, transitional New York kitchen featuring pearly, PentalQuartz Lattice countertops. Paired with white cabinetry and dark hardwood flooring to ground the design, it delivers a cohesive look.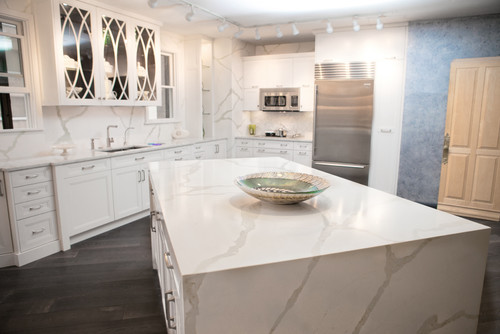 Looking for something with a little more visual interest?  PentalQuartz has you covered with sundry white-based patterns, like the Calacatta waterfall island, countertops, and expansive backsplash in this modern kitchen. The countertops showcase bold, gray striations that add statement style against the white cabinetry and dark flooring.
If a clean appeal of a bright, white kitchen is the pinnacle of design in your book, you can easily get the look you love with a lot less maintenance when you choose resilient PentalQuartz in any number of white hues and patterns.
Kitchen Idea #2: Classic Black and White
There's no easier way to add visual interest to your kitchen than with contrast. Color can be tricky, especially if you're planning to sell. But you can still get the eye-catching contrast you crave when you choose a classic, black-and-white motif.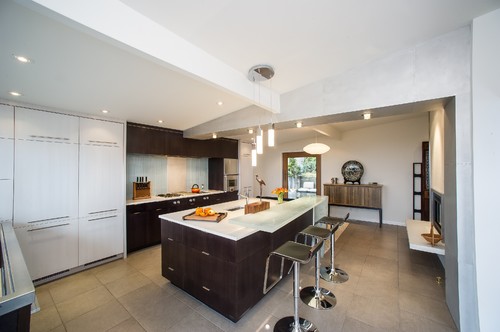 Just look at how the Super White Polished PentalQuartz countertops in this contemporary kitchen pop against recessive flat-panel cabinets in dark wood. With neutral flooring and a glass tile backsplash, the vibrant countertop surfaces are the star of the show.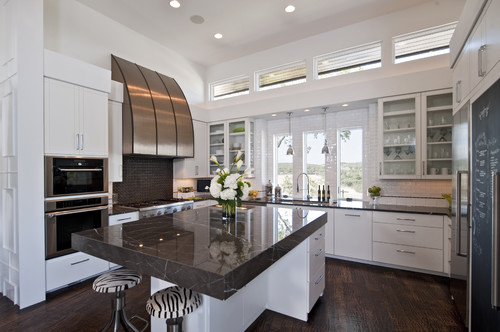 Or you could take the opposite approach, as in this contrasting contemporary kitchen, which pairs dark St. Laurent PentalQuartz with white cabinets and dark wood flooring to create a cohesive, layered look. There are endless ways to make black-and-white kitchens work in your home, especially with so many stunning light and dark countertop options available from PentalQuartz.
Kitchen Idea #3: Shades of Gray
Over the last few years, gray has become the "It" component of neutral kitchen designs, and indeed, interior design at large. If you're looking to incorporate this trend in surprising and delightful ways, you'll have no trouble finding the perfect PentalQuartz addition to your kitchen space.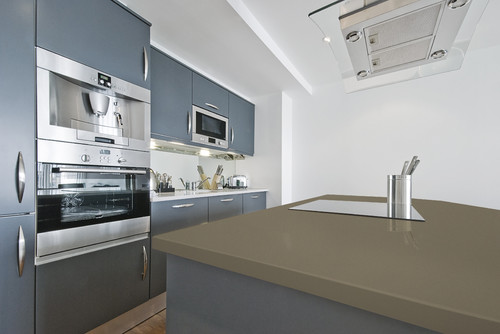 Consider, for example, this trendy contemporary kitchen decked out in warm gray Piasentina PentalQuartz countertops, set against cooler, blue-gray cabinetry and accented by bright, stainless steel appliances and fixtures.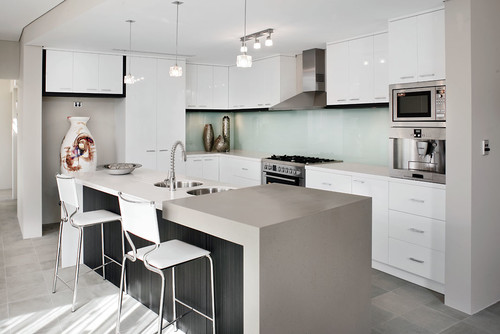 For the homeowner seeking something a little more spartan, the study in cooler shades of gray found in this stormy modern kitchen is sure to please. The mid-tone, Stormy Sky PentalQuartz countertops serve as the transition between a dark wood island, paler gray walls, and perimeter cabinets in white.
Not every homeowner feels comfortable with contrasting extremes in black and white. If you'd like something a little more subtle, gray offers a middle-of-the-road neutral that can transition between darker and lighter tones or create a calming ambiance to ease the stresses of modern life.
Kitchen Idea #4: Woodworks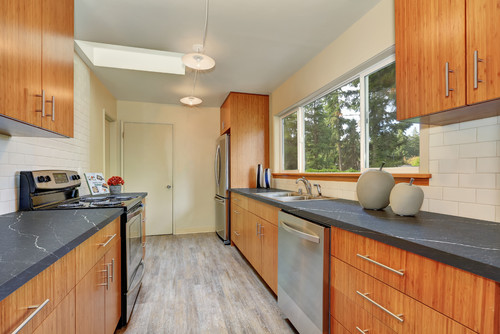 Warm wood surfaces, a longtime standard in homey kitchen spaces, have recently made a comeback with modernized appeal. Stark countertop and backsplash combinations, as in this galley-style kitchen featuring golden bamboo cabinetry, a white subway tile backsplash, and Sorano Honed PentalQuartz countertops with a dark background and white striations, create a versatile look.  The weathered wood flooring offers a pale counterpoint that brings the design full circle.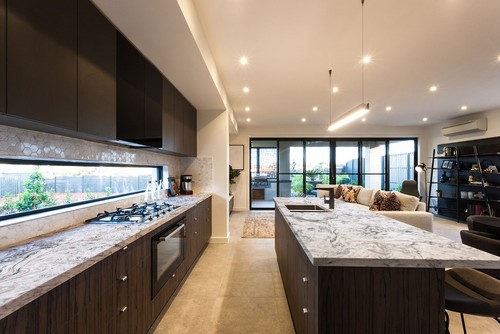 Masculine appeal is on full display in this bold, open-concept contemporary kitchen, with heavy-grained, dark wood cabinets serving as the base for PentalQuartz countertops in stunning Avalanche, featuring eye-catching swirls of gray and white.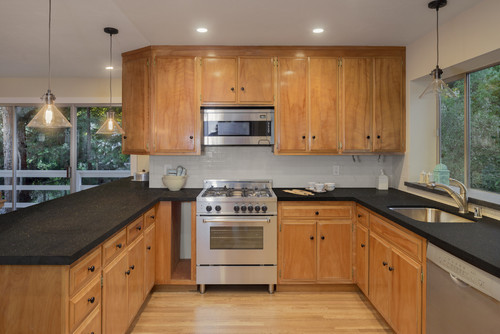 Or you might like the starry-skied Galaxy PentalQuartz in this warm, contemporary kitchen, where honeyed cabinets and flooring perfectly offset the rich counter surfaces.
Truly, there's no end to the beauty you can imbue your home with when you turn to PentalQuartz countertops for your kitchen remodel. With so many options to choose from, you'll have no trouble creating the perfect design to suit your personal style sensibilities.
Can Academy Marble help?
Our team at Academy Marble collectively has many years of experience as master-craftspeople with natural stone and manufactured-stone surfaces. Contact us today to get started on your project.