How to Pair Absolute Black Leathered Granite in the Kitchen
If you're seeking a countertop material that's impactful, striking in its simplicity, and ideal for busy households where messes are inevitable, you can't go wrong with Absolute Black granite. This is especially true when you choose a modern, leathered finish that delivers elegance with casual appeal instead of the formal aesthetic of a polished finish.
Granite is among the toughest and most durable options for your kitchen, ranking at 6-7 on the Mohs hardness scale and offering resistance to common damage like heat, staining, etching, scratching, chipping, cracking, and more. In addition, the dark hue of this granite will hide any mishaps that might occur. While regular cleaning and maintenance will ensure a beautiful countertop surface for years to come, busy homeowners are sure to appreciate the convenience this stunning natural stone has to offer.
You will also encounter incredible ease of use with Absolute Black; the versatile stone looks beautiful in virtually any interior design. The only question, then, is how to pair Absolute Black granite with other design elements properly. Here are a few options to explore before making your final decision.
Breezy Black and White
It's hard to argue with the classic and timeless appeal of a black and white motif, especially in the kitchen setting. Just look at the study in contrast exhibited in this contemporary New York kitchen.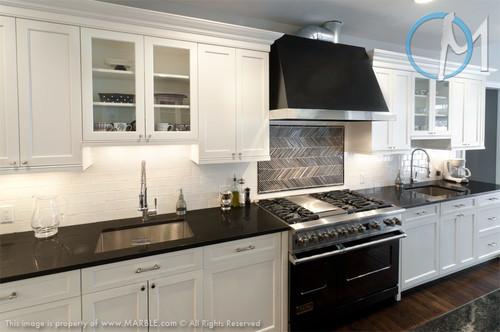 The Absolute Black granite countertops in a
leathered finish
and a black oven and hood combo offset this kitchen's bright white cabinets and subway tile backsplash. The dark wood flooring creates a striated effect that grounds the room and is incredibly pleasing to the eye.
Splashes of stainless in the appliances and fixtures and a gray, matchstick tile accent over the stove in a chevron pattern add pops of shine and visual texture to complete a striking kitchen tableau.
Paint It Black
If you're not interested in the stark contrast of black and white, opting for a black-on-black kitchen space may be more your speed. This spacious, contemporary kitchen offers a masculine, yet harmonious take on the tonal motif with an Absolute Black granite (honed, in this case) waterfall island and perimeter countertops, paired with sleek, flat-panel cabinets in zebra wood stained indigo blue to create a rich, inky surface.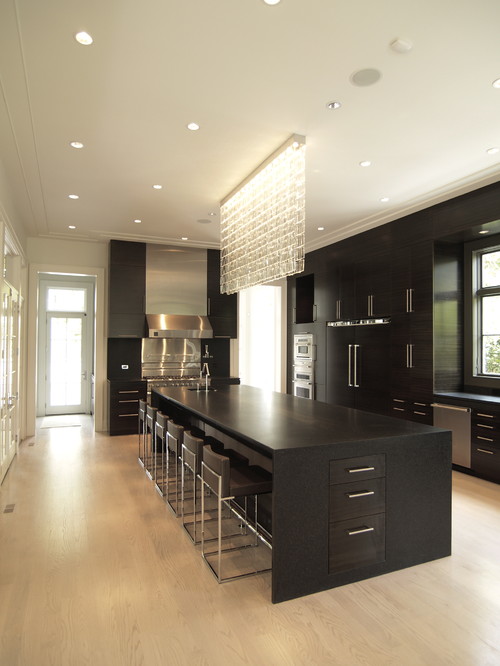 Paneled appliances contribute to a unified appearance, while stainless fixtures and hardware pop, adding visual interest to the otherwise unbroken line of cabinets and countertops. The linear lighting fixture in sheets of glass tile emphasizes the length of the room and brings focus to the island, while nude wood flooring and a white ceiling horizontally bookend the darker elements in the design.
Shades of Gray
Black and white make for a traditional kitchen design combo, but if you're looking for a little more softness and nuance, you can break it up with some gray elements. For example, the gray subway tile backsplash in this traditional, I-shaped kitchen acts as a visual transition between Absolute Black granite countertops and white upper cabinets.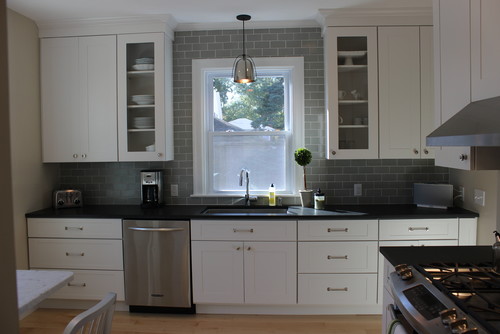 Are you looking for a bit more variation? Try different shades of gray across a larger surface area, as in this
transitional kitchen space
. The waterfall island in Absolute Black leathered granite and
Silestone
perimeter countertops in Pulsar pair with pale gray cabinets and hex tiles in shades of white and gray. The white subway tile backsplash and combination of silver and gold metallics for fixtures and hardware help create a cohesive and visually thrilling space.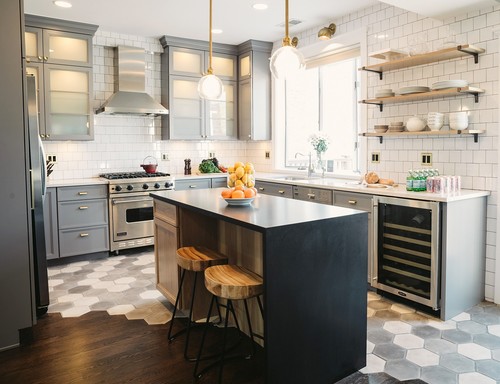 Rustic Farmhouse
You might not think Absolute Black granite would pair well with wood tones, but this assumption is simply untrue, as you can see in this U-shaped farmhouse kitchen.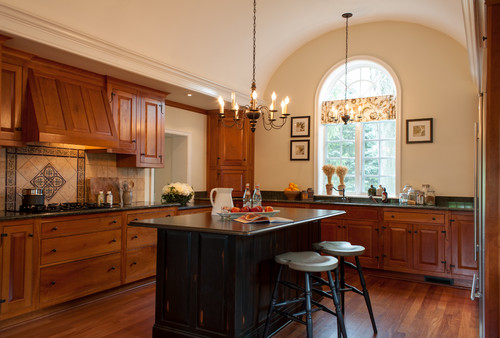 Although the granite used for island and perimeter countertops here is honed, you still get a good idea of the visual appeal of the pairing. Not only does the inky countertop surface offset the rich, caramelly wood used for cabinetry and flooring, but it looks superb atop the distressed black cabinets of the island, which acts as a focal point in the space.
Color Pops
Black is a true neutral that allows you to have some fun with colored cabinetry if you so choose. This upscale, modern farmhouse kitchen offers a prime example, thanks to Absolute Black leathered granite set against a rich pop of cranberry cabinetry for the island, along with white perimeter cabinets.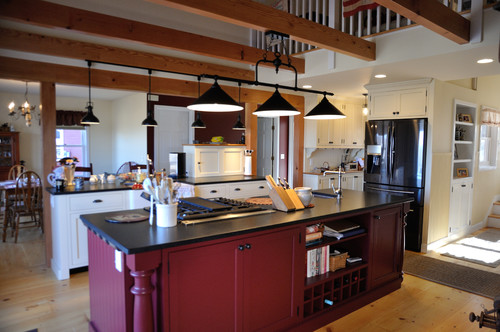 The black, industrial pendants tie in with the counters, while pale wood flooring and overhead beams add horizontal borders.
You might also like a black and blue motif, as in this transitional New York kitchen. While the countertop material is not confirmed, you can at least get an idea of what Absolute Black leathered granite might look like with mid-tone blue cabinets, gold hardware and fixtures, and white, gray, and gold honeycomb tile to tie it all together.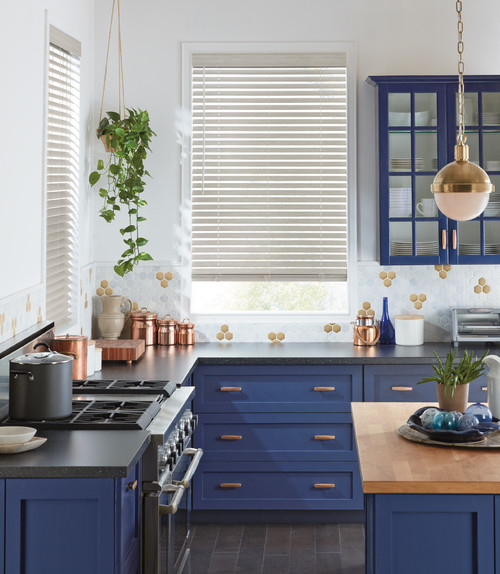 If you love the modern appeal of Absolute Black leathered granite, now is the time to connect with the experts at Academy Marble & Granite to find your perfect slab. Visit one of our conveniently located showrooms in Bethel, CT, or Rye, NY, to get started.