Considerations for Installing a New Bathroom Vanity
The vanity area is an integral  component of any bathroom space, serving both a functional and aesthetic purpose. In a powder room, it often serves as the focal point, but in larger three-quarter or full bathrooms, it also provides essential functions.
If your old vanity is damaged, outdated, or simply inadequate to serve your needs, it's time to consider upgrading to a newer, more functional bathroom vanity. How can you make sure that you purchase and install a vanity that's the right fit for your home and your personal needs? Here are a few tips to help you make the right choice!
Consideration #1: Available Space
First and foremost, available space will dictate your options when it comes to installing one or more vanities. You'll need to start by taking precise measurements of the bathroom, including the doorway, since your vanity will have to fit through it.
Learn how to measure countertops in 4 easy steps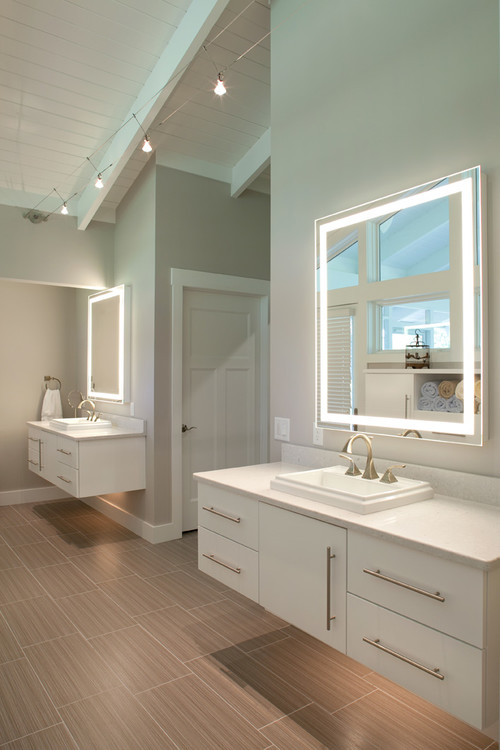 If you have a spacious floor plan, as in this contemporary primary bath, the options are nearly endless. As you can see, homeowners took full advantage by installing his and hers vanities that feature floating cabinets and expansive vanity countertops in Bianco Rivers quartz from Silestone.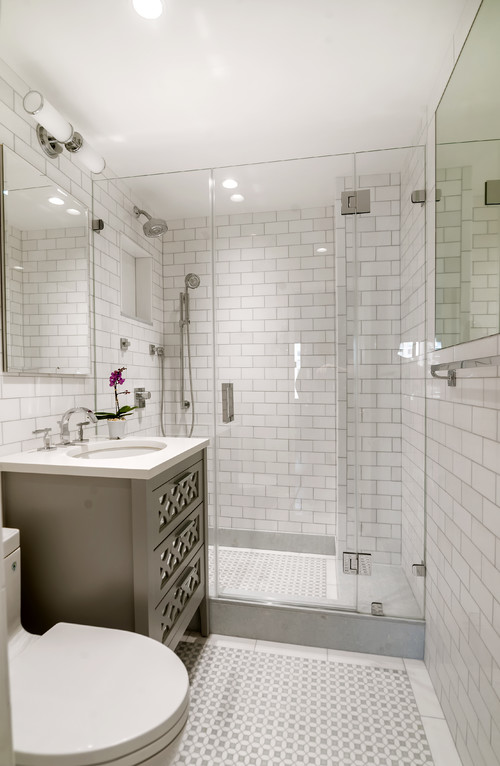 However, you might also find yourself working with very limited square footage, like this transitional bathroom in an Upper West Side condo. With a footprint of less than 5' x 8', they managed to fit a decent-sized shower but had to select a small vanity cabinet (24" x 21.5") and quartz countertop to match. Accurate measurements allow you to make the best use of available space with vanity furniture.
When partnering with an expert fabricator in your area, they will ensure accurate measurements during the templating process. During templating, digital measurements ensure the highest level of accuracy.
Consideration #2: Storage Needs
Regardless of the amount of space you have, it's essential to choose a vanity that meets your storage requirements.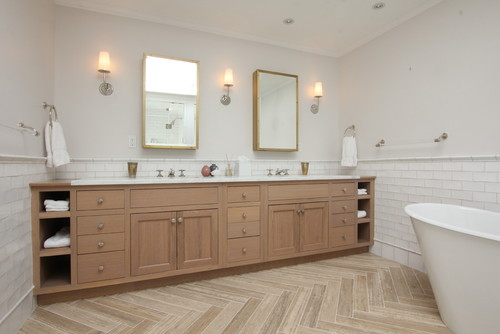 For example, the double vanity in this traditional primary en suite features ample storage with two sets of cabinet doors, three columns of drawers, and bookend shelving in light wood, all topped with marble countertops.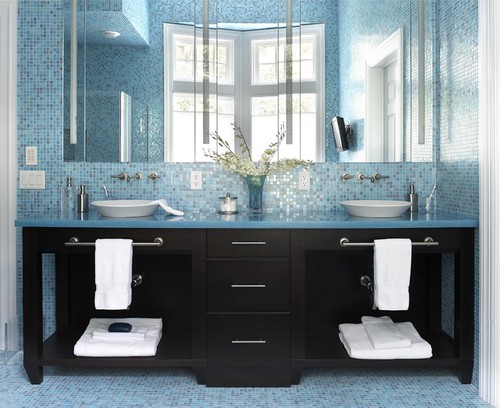 This modern, Westchester County bathroom, by contrast, has plenty of space to add under-sink storage but instead features only a central column of drawers beneath the marble countertop surface, flanked by open space beneath double vanity sinks. Both space and storage needs will play an important role in selecting the right bathroom vanity.
Consideration #3: Materials and Finishes
When it comes to choosing materials and finishes for your bathroom vanity, you'll have to consider the architectural style of your home, the overall design of your bathroom space, and of course, your personal preferences and budget.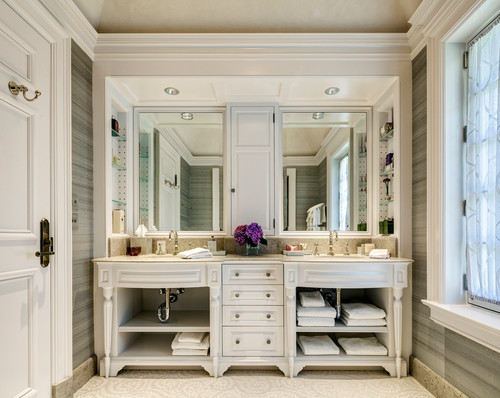 This
elegant New York bathroom
, for example, stays relatively true to the French Normandy design of the home, with a traditional, furniture-like vanity cabinet and a creamy granite countertop and backsplash.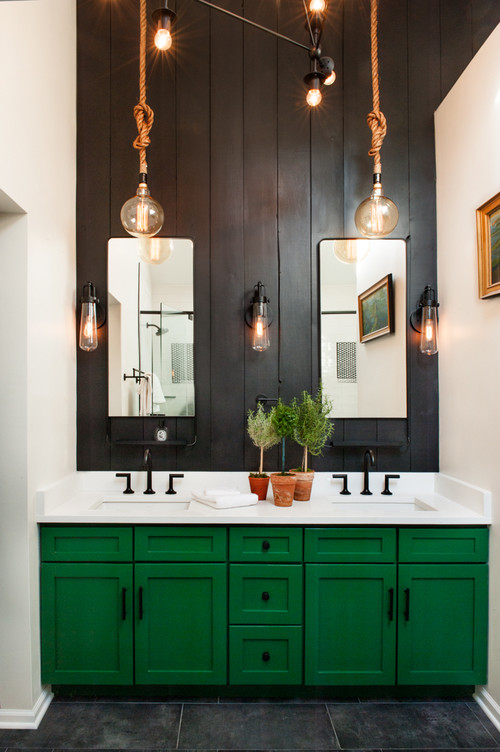 You could also decide to update a traditional style with modern finishes without necessarily detracting from the overall appeal. This farmhouse bathroom dazzles with a vibrant green vanity cabinet, topped with what appears to be bright white quartz that is accented by black hardware and fixtures. The dark wood paneling and exposed Edison light bulbs preserve the traditional farmhouse aesthetic with a surprisingly modern flair.
Consideration #4: Modern Touches
While it's always wise to consider the style of your home when you're remodeling any room, you should also take the time to look at contemporary design choices and see whether they'll fit in. When it comes to bathroom vanities, there are several options to explore.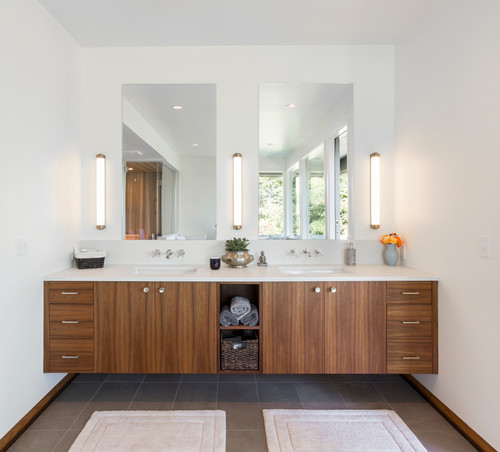 Floating vanities have become incredibly popular, and they can fit in with your existing design. The floating vanity in this mid-century modern bathroom features striking wood patterns and simple hardware on the cabinetry, topped with a sleek quartz countertop surface that reflects the midcentury aesthetic with a modern twist.
You might also consider modern options like open shelving, furniture pieces turned into vanities, and backlit or underlit cabinets, among other trends.
Consideration #5: Overall Aesthetics
Whether you're looking to create a spa-like primary bathroom with a soothing ambiance or you want a contemporary powder room that wows your guests, it's important to consider the feeling you hope to inspire when your remodel is complete. If you're just replacing a vanity, it needs to blend with your existing design. A complete renovation gives you a lot more leeway, although the design should still complement your whole-home aesthetic.
As a part of your design process, you'll want to think through whether you want to add a backsplash or sidesplash to your vanity, depending on how your piece fits against nearby walls. The vanity countertop can provide an additional place to showcase some design flair, either by matching other surfaces in the bathroom (tiled shower shelves and surrounds, for example) or creating an eye-catching contrast.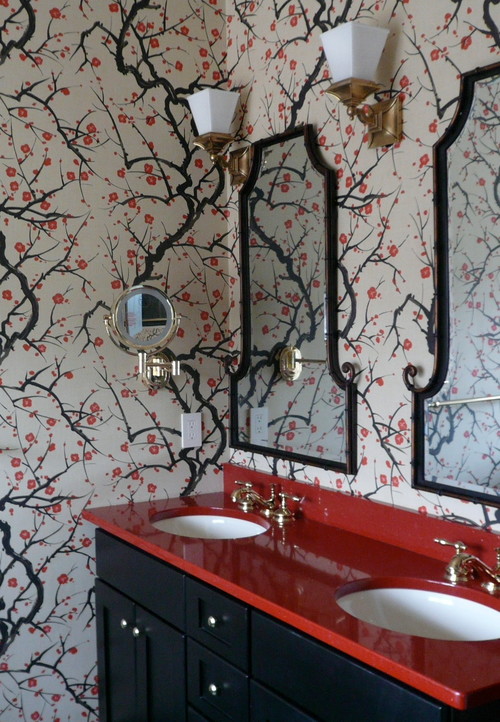 Of course, you also need to consider your personal tastes. Many people are willing to take risks in a small bathroom space that they wouldn't necessarily lean toward in larger, more visible rooms. This Asian-inspired New York bathroom is an excellent example.
The arresting pattern of the cherry blossom wallpaper is complemented with bathroom furniture in a black-and-red motif suited to the style. Black cabinetry is topped by striking red quartzite. The look is completed with uniquely shaped mirrors in black frames with touches of gold, as well as brass fixtures.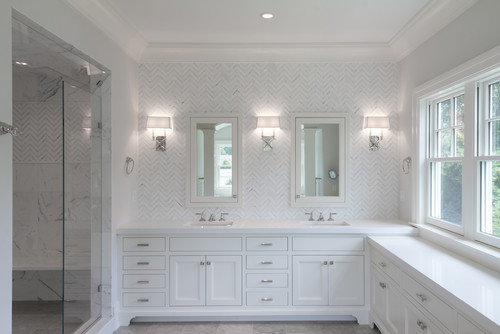 Fairfield County shoreline bathroom, featuring white cabinets, a white quartz counter surface, and a touch of visual texture through a custom mosaic wall tile, also in white.
Consideration #6: Plumbing Needs
If you are planning to accommodate existing plumbing with your vanity selection, there are a few things to consider as you may need a plumber to assist with adjusting the rough plumbing.
You'll need to look at your piping arrangements before purchasing a vanity (you have more flexibility with a custom-built vanity.) Although a ready to go vanity may be less costly, it may be more expensive on the plumbing side. If the vanity has drawers and shelving, make sure they can clear your plumbing otherwise you need to hire a plumber to do the work.
When you understand your available space, account for storage needs, consider aesthetics, and account for the style of your home, you're sure to find the perfect vanity for your bathroom remodel.
We're here to help
Choosing the right vanity for your bath can be overwhelming without the right assistance. Academy Marble & Granite's team is ready to help. Visit one of our locations, or contact us today to set up a consultation.