9 Effortless Modern Fireplace Surrounds to Inspire Your Home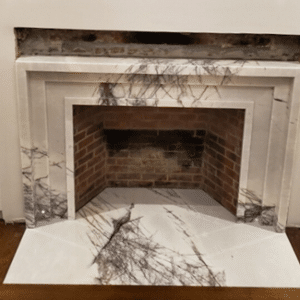 Choosing unique design elements for your home is a personal process, as you want your space to reflect your personality and tastes. However, you also want to invest in pieces that add luxury, increase the overall appeal and improve your property value. Neutral paint and flooring are go-to foundational design choices for many homeowners who plan to add pops of color and personality through versatile accents like rugs and other accessories, but when it comes to adding natural stone, as with kitchen countertops, you have some leeway to choose bolder colors and patterns.
The same is true when selecting a slab of natural stone for your fireplace surround.  The only problem is, you have so many options to choose from. How can you pick the stone that's perfect for your home?  Here are a few things to consider when comparison shopping, as well as some style inspiration, to turn you in the right direction for a modern fireplace surround.
Dreamy Marble
There are few natural stone options with greater universal appeal than marble, and it's easy to see why when you look at the White Carrara marble surround and elevated hearth in this traditional family room. The icy, white background and soft, gray veining stand out starkly against dark wood flooring. It ties in perfectly with pale gray walls and the bright white mantle and legs, for a cohesive effect. Because marble is such a traditional choice, it could easily look stodgy or outdated, but when paired with modern design trends, it can really turn expectations on their head.
For a significantly more modern look, however, consider the massive, floor-to-ceiling, Calacatta Gold marble fireplace surround in this contemporary living room. The open concept layout allows the central fireplace, with a breathtaking blend of white, gray, and gold veining, to serve as a striking focal point, where it might prove overwhelming in a smaller space. Paired with a long, low, horizontal fireplace and parallel concrete bench, the monolithic slab of marble, lit by recessed lighting, is an absolute showstopper.
Dynamic Granite
With incredible depth and dynamic patterns, granite is not for the faint of heart, especially not when on prominent display as a fireplace surround. For example, the bold, branch-like slashes across the Rainforest Green granite used for this contemporary living room fireplace make it almost impossible to tear your eyes away. You might not even realize that the inner section of the surround is also granite – an Antique Brown slab with a leathered finish.
Or how about the rich interplay of chocolatey, orangey, and golden brown hues featured in the Morocco granite in this modern living room?  The colors practically mimic the play of light in the fireplace itself, seemingly extending the flames up and around the enclosure.
Even the Alpine White granite that makes up the fireplace surround and hearth bench in this modern living room delivers all the organic appeal of stark tree limbs sprouting from a snowy landscape.
The charcoal tones of the November Sky granite in this transitional living room evoke a stormy sky or a lava field. With granite, you get nothing if not a dynamic expression of natural beauty.
Stunning Quartzite
Marble and granite are certainly popular options for countertops, fireplace surrounds, and other surfaces in the home, but if you're looking for something a little more unique, consider eye-catching quartzite as an alternative.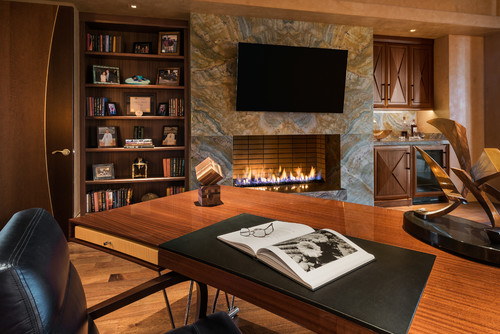 Just look at the abstract veining and colorful striations permeating the floor-to-ceiling slab of Picasso quartzite used in this contemporary home office. The interplay of silver and gold tones fits seamlessly with abundant wood throughout the space, but stands out nonetheless, thanks to the undulating pattern.
If you're looking for something that falls between marble and granite in appearance, check out the Fantasy Blue quartzite in this contemporary family room. Flanked by classic white pillars and mantle, and grounded by rustic hardwood flooring, the patterning of the quartzite, featuring marble-like veining and granite-like patches, lends an air of whimsy to an otherwise traditional space. In other words, it's definitely not your typical fireplace surround.
Of course, if you're searching for something a bit more calm, you could always choose a tamer slab, as with the Taj Mahal quartzite in this contemporary living room. Even with the softer brown and gold striations across a creamy backdrop, it's hard to deny the movement and appeal of quartzite.
Quartz – Not So Much
While engineered quartz makes for beautiful, durable countertops, with a nonporous surface that's ideal for food prep, anyone who has quartz counters knows that they don't have the same resistance to heat as other natural stone products. While this surface is made with roughly 90% or more natural stone, the remainder is polymers and resins that serve as a binding material (along with pigments for color), and when the surface is exposed to too much heat, binding agents can become discolored. As a result, you should stick to quartz for countertops rather than fireplace surrounds.
Can Academy Marble help?
As you can see, there are many options to explore when you start looking for the fireplace surround that is right for your home. With professional help, you can choose the stone that not only matches your aesthetic preferences, but provides a well-suited material for the application. Contact us today to get started on your project.