6 Bold Marble Countertop Colors that Make an Impact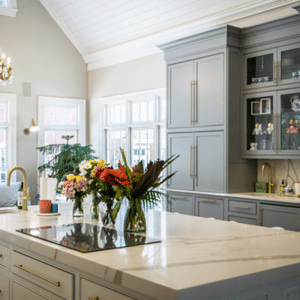 Marble is a classic natural stone choice for household surfaces ranging from countertops and flooring to shower walls and fireplace surrounds. Coming in an array of varieties, t's hard to deny the luminous appeal of milky Carrara or the mysterious, inky depths of Marquina.
With that being said, you might be interested in a marble variety that offers a splash of color and makes a bold statement within your space.
A natural stone countertop should be the star of your kitchen or bathroom design, serving as the focal point in a room and the basis for other design elements.
If you're familiar with the popular neutral marble varieties that have dominated interiors over the last few decades, you'll be pleased to discover there's a wide world of colorful and dramatic options to choose from. Here are several options to tempt the bold and discerning buyer.
#1: Calacatta Gold Marble
Calacatta marble isn't typically considered to be shocking, with its bright white background and gray veining. However, this variety, quarried in northern Italy, features the stunning addition of ropy veins in pale gold to rich, honeyed hues, adding incredible warmth and personality to an otherwise cool, serene stone.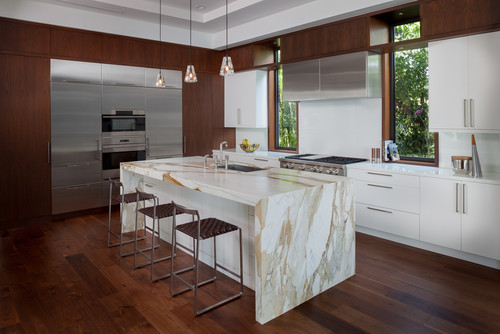 The color palette may be limited, but as the waterfall island in this contemporary kitchen proves, it's anything but subtle. Set against white cabinets and rich, reddish, medium-tone wood flooring, the Calacatta Gold marble becomes a breathtaking scene-stealer.
#2: Arabescato Corchia Marble
This natural stone slab is full of surprises; full of blue and grays, it is not in the typical color varieties of typical marble. With a cool, white background and dense, chunky, gray-blue veining, this variety delivers a little color and a lot of drama, while still delivering the classic luxury that marble is prized for.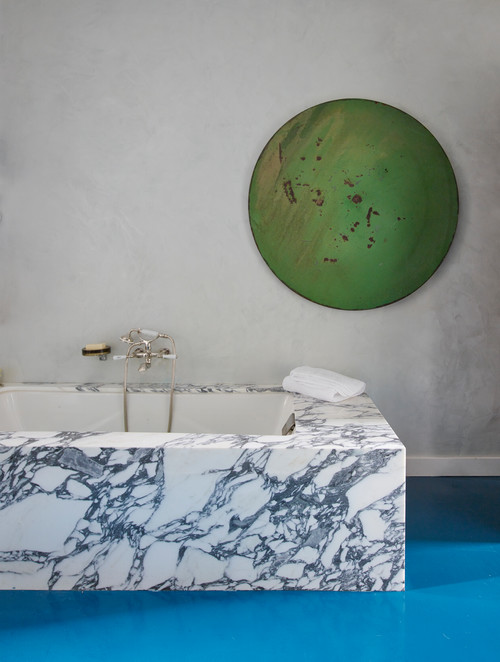 In this eclectic New York bathroom, it has been used for the tub surround, rather than the countertop, but you can see how stunning it is, paired with Venetian plaster walls for old-world appeal, as well as a blue-stained concrete floor that mixes in modern appeal.
#3: Sodalite Blue Marble
Sodalite Blue marble is an interesting variety that gets its gem-like coloration from the presences of lazulite, calcite, and pyrite. The result is a rich cobalt hue with nearly purple undertones, punctuated by substantial patches of cream, gray, and gold, as well as delicate tracery in a webwork of white throughout.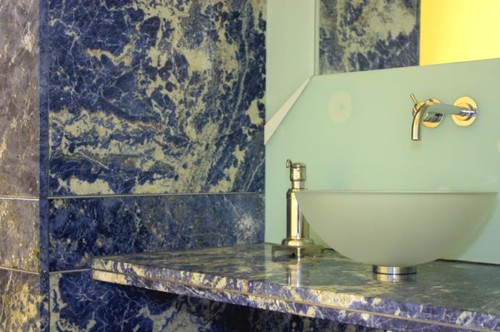 In this modern, minimalist bathroom, marble has been used extensively for the countertop surface, but also on the walls, creating an immersive experience much like diving into the cool waters of the Atlantic. A frosted glass vessel sink and a simple, chrome faucet add just the right touch of texture and shine.
#4: Rainforest Green Marble
Also available in granite varieties, depending on the composition of the stone, Rainforest Green marble is a truly riveting example of how visually bold marble can be.
Quarried in India, this variety features a background ranging from medium to dark green with jagged striations in rich rust, brown, and black that look like nothing so much as branches cutting through a forest canopy. Subtler veining in cream may also be present.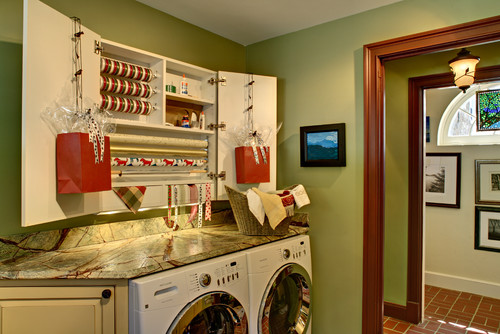 The extreme variations in color and pattern and the dynamic movement in this marble make it a bold choice, but it's easy to build a design around. Take, for example, this traditional New York laundry room, featuring brick flooring, walls in a soft, mossy green, contrasting cabinetry in cream, and door frames and baseboards in rich cherry wood. All of these colors draw on hues present in the marble countertop.
#5: Rojo Alicante Marble
This lively marble, quarried in Spain, ranges in color from meaty pink to rusty red, with darker red undertones and creamy white veining ranging from delicate wisps to heavy streaks. There is a lot of variation in color and pattern, so you'll want to view several slabs to find the perfect one for your countertops.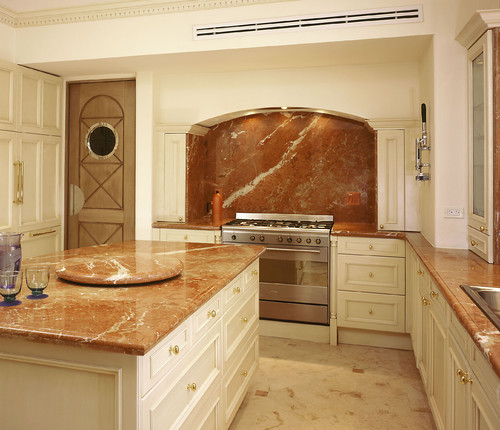 In this classic kitchen space, Rojo Alicante marble has been liberally applied to the island and perimeter surfaces, as well as the backsplash of the stove alcove. There's even a matching lazy Susan for the island.
Paired with beige flooring, cream cabinetry, and gold hardware, this red marble adds warm, rustic appeal, while upping the ante on luxury.
#6: Emperador Dark Marble
Quarried in Spain, Emperador Dark marble is heavy on drama and personality. The background is a rich, dark, earthy brown, lifted by dense, dynamic light brown, gray, and white veining that dominates the surface.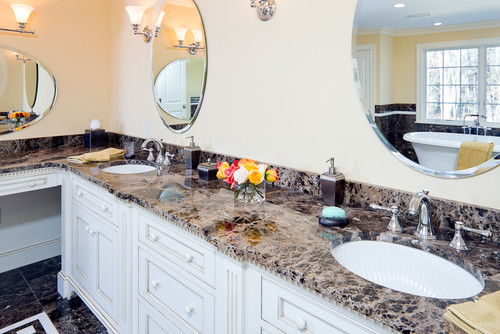 It may not be a jewel tone, but intense contrast and movement certainly make for a bold addition to any room, as in this traditional bathroom, where the marble stands out against white cabinets and cream walls.
It takes a measure of confidence and adventure to choose a bold marble color for the countertops in your home, but when you select the right slab, the payoff is a room filled with personality that's sure to inspire envy in all who behold it.
The friendly professionals at Academy Marble & Granite are here to help you find the statement marble you're looking for. Just visit one of our conveniently located showrooms in Bethel, CT, or Rye, NY, to get started.