5 Kitchens and Baths Featuring Statuario Corchia Marble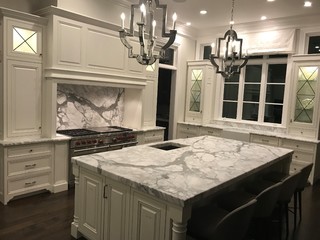 Italian marbles are famous for its luminous white background and expressive veining. Most people are familiar with the crisp gray veins of Calacatta marble and the soft, wispy strokes of Carrara marble. In contrast, Statuario marble varieties offer bolder styling with chunky, dark, gray-to-black veining in high variation patterns. 
Statuario Corchia marble, in particular, has the look of a broken ice floe drifting atop dark seas. The heavy veining and busy patterns create incredible drama and movement that looks great on countertops alone — but it also provides an impressive statement when added to a backsplash or fashioned into a waterfall island.
Generally speaking, Statuario Corchia will serve as the focal point of your kitchen or bathroom design, but you might be surprised by the many ways you can use it and how well it pairs with even bold design elements like bright colors or rich wood. Here are just a few ways to use this eye-catching marble to the best advantage.
1. Cool and Calm
A kitchen in tones of white and gray presents a calming space in which to cook your meals and spend quality time with your family. It also delivers a crisp look that makes your home feel clean and modern.
This spacious kitchen is a lovely example, with white cabinets all around and an expanse of stunning Statuario marble on the island, perimeter countertops, and backsplash. Hardware and fixtures in silvery hues play into the aesthetic, while dark, weathered wood flooring grounds the largely white room.
The honed finish on this marble really puts the veining center stage since it's not competing with a glare off the polished surface. A matte finish also creates a slightly more casual aesthetic, which can make a traditional kitchen feel more relaxed and welcoming.
2. Monolithic Statement Style
There's no denying that the dramatic patterns of Statuario marble varieties catch the attention. This is never more true than when large book-matched slabs are used to cover a massive expanse, as in this New York modern minimalist bathroom where the marble extends from floor to ceiling behind the toilet and bidet.
Because of the large area covered and the bold pattern on the slabs, the design is necessarily minimalist, complemented by flat-panel cabinetry in dark wood. Clean lines and a neutral palette only add to the spacious appeal of this primary bath.
3. A Balance of Cool and Warm
You might think that because Statuario marble is typically in cool white and gray hues, it won't pair well with a warmer palette. Keep in mind that this marble is neutral, and while true grays are often considered to be a cool neutral, they can still pair with almost any color if you choose the undertone carefully.
For instance, take this traditional primary bathroom. What looks to be a Statuario marble variety of marble covers the floor, counter, backsplash, and shower enclosure. However, the walls are painted in a rich taupe, featuring a warmer greige hue with pinkish undertones. This blending of warm and cool creates a space that is both calm and comforting.
4. Bold Color and Texture
In design, it's often easiest to choose one eye-catching focal element and design around it, keeping everything else relatively subtle. However, homeowners and designers can take risks by pairing bold colors and patterns, as in this eclectic New York bathroom that seeks to blend old-world and mid-century styles.
The marble used here for the vanity countertop and shower enclosure is Arabescato Corchia, but it's very similar to Statuario Corchia, with heavy, dark veining on an icy backdrop. It's certainly a showpiece, but because it's so dynamic, it also holds its own against concrete flooring stained bright blue, not to mention a floating brass vanity.
5. Competing Textures
Choosing natural elements like stone and wood will help imbue your home with a feeling of comfort and an ambiance of luxury. However, heavy-grained wood could compete with the high-variation patterns of a stone like Statuario Corchia.
In this distinctive contemporary kitchen, the marble used for the island and perimeter countertops and the full-height backsplash is Calacatta Corchia. Although this variety is slightly more subtle than Statuario, it can give you a good idea of the overall aesthetic.
While the marble would typically be the centerpiece, the herringbone floor pattern in walnut also begs for attention, as does the island in high-gloss navy. However, the marble pattern still stands out against smoky gray perimeter cabinets, and because it is so bright, it draws the eye up and away from competing elements below.
Statuario Corchia marble is incredibly versatile, working with a wide range of design styles and elements to add loads of personality to kitchens and baths. If you're ready to choose your favorite slab, the professionals at Academy Marble & Granite can help. Visit us today at a convenient showroom in Bethel, CT, or Rye, NY.