Which Type of Stone Countertop is Best for Your Bathroom Vanity?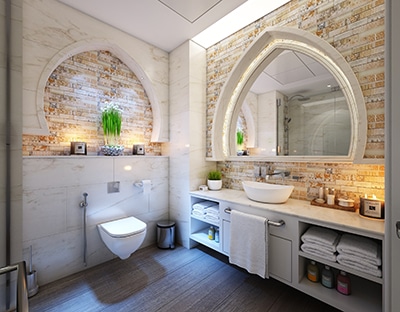 Choosing a stone for your bathroom remodel is exciting but can also be challenging. There's a lot to consider! You might have an idea of the type of look you want, but it's important to think about which will work for best for you and your family.
Though stone can be installed in many places in the bathroom – vanities, showers, floors, backsplashes, and more – today we're talking about the most commonplace for stone. Vanities!
If it's in the budget, most people opt to choose their own stone rather than buying a one-piece vanity with stone already included. Going in this direction allows you to choose the type and look you want, as well ensure a high-quality, long-lasting stone is being installed.
What should you consider when looking for a stone for your bathroom vanity?
There's a lot to think about here. It starts with considering what's most important to you. Though you might already have a stone type in mind, we encourage you to take a look at all factors – is it easy to clean? Will it last forever? Does it need to be resealed often? Before you make any decisions, take a look at the three most important things to consider below –
Durability – Your bathroom countertops might not be subject to as much as your kitchen countertops, but they still need to withstand a lot – constant moisture, makeup, toothpaste, and more. Make sure durability is a factor when considering options.
Ease – It's hard to keep bathroom countertops clean. They'll constantly be wet and messy and might even have some toothpaste stuck on them from time to time. When considering options, make sure to check how easy they are to clean. Do they need a special solution every time? Or can they easily be wiped down with water when needed?
Colors – Chances are, if you're redesigning your bathroom, you have a countertop color in mind. Be sure the stone you choose comes in the color you want. All countertop types have options, but some more than others.
Now that you have an idea of what to consider, we're going to review three countertops options below. Be sure to keep in mind the above criteria when deciding which stone will work best for you.
Marble Countertops in Bathrooms
Marble is definitely having a moment in bathrooms and for good reason – it can quickly transform the look of any space with its elegant appearance. It also comes in multiple colors with the most popular being white with natural gray veins running throughout. Marble also comes in shades of blues, blacks, browns, and even pinks.
Marble countertops have somewhat of a bad rep – it's true that they can be a bit high-maintenance when installed in a kitchen, but the same isn't true for bathrooms. You won't have to worry about constant etching and stains, as your marble countertops simply won't be exposed to as much as they are in kitchens. And no matter where you have marble countertops installed, there are preventative measures you can take to ensure staining isn't a problem. A penetrating silicone sealer (that is regularly maintained) will do the trick.
When it comes to durability and ease, marble countertops are a great option. When sealed properly (and regularly), they are extremely durable. And though they might require a little special cleaner from time to time, generally, they can easily be wiped down with a cloth and water.
Granite Countertops in Bathrooms
Granite countertops are another great option for bathrooms. This type of stone comes in a variety of colors and generally has a shimmering aspect when exposed to natural light. Naturally formed by volcanic activity, granite is one of the hardest natural stone countertop option available. This is a huge benefit to buyers because it means that granite is extremely durable. It doesn't scratch, hardly stains, and does not need to be resealed very often. Like marble countertops, there are special cleaners you can use once in a while, but for the most part, a cloth and water will work here as well. Invest in granite, and you'll reap the benefit for years to come.
Quartzite Countertops in Bathrooms
Quartzite countertops are actually a bit harder than granite, but a bit less resistant to scuffs and scratches. You might have to consider this if putting quartzite in a kitchen, but not as much for a bathroom. Plus, once quartzite is properly sealed, it is much more resistant to scratches and stains.
Quartzite has a beautiful appearance – it naturally sparkles in both artificial and natural light, because quartz crystals are embedded in the stone. Many people use quartzite outside because of its UV resistance, but it is a great option for bathrooms as well. It does require special cleaners from time to time, but can generally be wiped down with water and a wet cloth. Just be sure to wipe up spills immediately!
Quartz Countertops in Bathrooms

Quartz is a wonderful option for countertops in either the bathroom or the kitchen. As durable as granite is, quartz is actually more. But there's a catch – quartz is not a solid stone. Instead, it is made up of tiny bits of stone, pigments and binders. Though it is extremely durable and very easy to clean (no special cleaners involved here), if you have your heart set on natural stone, quartz might not be the best option for you.
Quartz countertops come in a variety of colors, with the most popular being white and gray for their marble-like appearance. Another thing to keep in mind is that quartz requires no-maintenance at all!
When it comes to choosing a stone for your bathroom countertops, there is no one size fits all. All three are great options, but it truly depends on your lifestyle and what you think you can handle when it comes to cleaning, maintenance, and durability.
Keep in mind that the type of stone you choose for your vanity, does not have to be the same stone you choose to use in other parts of your bathroom, such as the floors and shower. Your vanity is susceptible to more grime than other places in your bathroom, as it will likely get the most use and possibility of staining from makeup products and toothpaste.
If you're looking for a marble or granite supplier in New York or Connecticut, Academy Marble has a huge selection of natural and engineered stone.  Stop in today to discuss your needs or contact us with your project dimensions.
Not ready to shop?  Find more inspiration here.
Good luck on your search!