Get Inspired by These 5 Kitchen Countertop Ideas for Your Next Renovation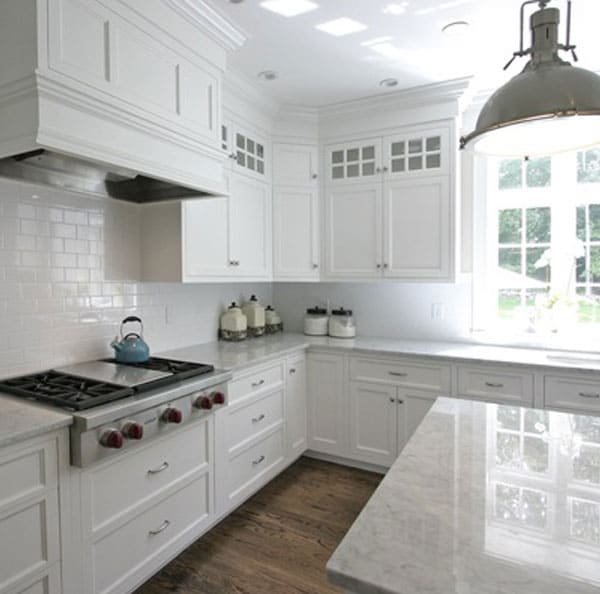 Are you getting ready for your next kitchen renovation project and searching for fresh ideas? Home renovation can seem like a daunting process, but doing your research beforehand and knowing the design aesthetic you prefer can make it less stressful.
Modern kitchen countertop ideas can come from adding a new twist on traditional design. One of the best-kept designer secrets is to "Build Off the Classics." There are many ways to do this through the use of color, natural countertop material and finish. Understanding classic countertop elements can inspire you to create something amazing, even with limited design skills.
Here are a few important questions to answer when replacing your current countertops:
Are you going to be adding to the kitchen (i.e. building an island, expanding the countertop or adding a wet bar?)

Will you be installing new cabinets? How will they work with a natural stone counter?

What's your color scheme?

Are you adding new appliances?

What finish are you using on your

natural stone countertops

?

If you're painting or adding new lighting, be aware these additions can dramatically change the color shades of certain stones. This is why Use Natural Stones says homeowners should consider how the color of the stone they use for their countertop will affect other color choices in their kitchen down the road.
Kitchen Countertop Idea #1: Two-Tone Kitchen Countertops
Two-tone kitchen countertops are a hot design trend right now. If you have a kitchen with more than one countertop, this could be a design aesthetic that will work for you. Often referred to as a "mix-and-match" approach, the secret to success is to find two different colors of stone i.e.,  a black granite and a white marble, in a way that showcases one color, while allowing the other to accent your kitchen.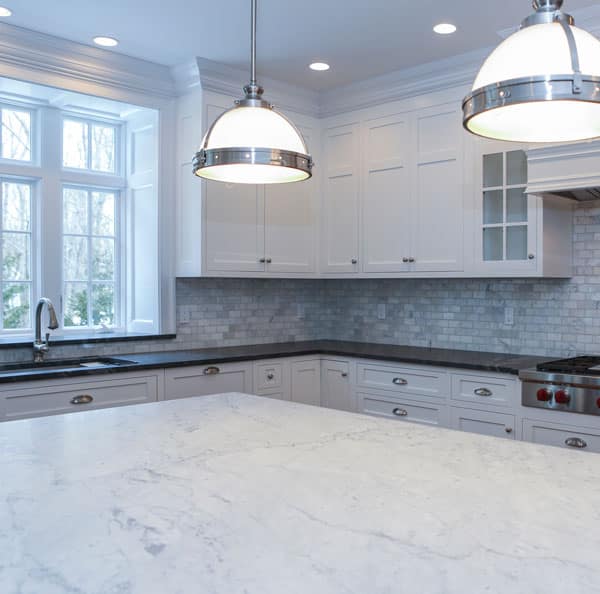 A two-tone approach works best in kitchens with a large island rather than one long run of counter space. Both Pinterest and DecorPad have excellent examples of two-tone kitchens.
Kitchen Countertop Idea #2: Combination Countertops
Who doesn't love the combination of natural stone with natural wood? Think about how you can use butcher block, or exotic woods like zebrawood, birdseye maple, or other wood with Black Galaxy granite or Silestone to create a one-of-a-kind kitchen counter.
If wood doesn't work for you, consider combining zinc, copper, or other metals with natural stone. Metals can interact with oils, acids, and normal everyday use to create unique patinas on the metal that only enhance the look of natural stone.
Kitchen Countertop Idea #3: Curved and Organic Shaped Countertops
While the clean, straight, rectangular lines of the average kitchen are classic and comfortable, you may want to consider organic shapes in your next remodeling project.
The calm, sweeping curves of circles, swooshes, and oblong shapes can add needed charm to any kitchen. Housetrends says organically shaped kitchen islands add more than visual appeal, they also add a contemporary feel, especially to larger kitchens. For entertaining, this works exceptionally well because you can get more people around a half round or curved countertop than a straight, rectangular countertop. Plus, it helps if you have small children and need to "child-proof" by eliminating sharp corners and edges.
Kitchen Countertop Idea #4: Waterfall Countertops
Unlike traditional countertops where the surface stops at the end of the island, cabinets, or peninsula, waterfall counters continue on, dropping vertically down the side of the cabinet or island. This "waterfall" effect creates a continuous flow of stone from the horizontal counter to the floor. "It's all about looks, a way to put a dramatic material—usually natural stone—on display," says Bob Villa.
Freshomes.com says the waterfall design not only creates an interesting look but also draws viewers' eyes from other parts of the kitchen. To get the most visual impact from this look, make sure your countertops are a contrasting color from other kitchen components such as cabinets and appliances.
DigsDigs has numerous examples of waterfall countertops, as does Pinterest. However, that breathtaking dramatic look comes at a higher cost. To create the dramatic waterfall-like effect, an additional natural stone fabrication process is needed.
Kitchen Countertop Idea #5: Slab Countertops
Stone slabs come in various thicknesses. Typically, the thicker the stone, the more expensive it will be. There are ways to simulate a thicker look, but then there is the actual slab itself. The look can range from rustic to farm kitchen chic. Thicker slabs work well with farmhouse sinks, and in larger kitchens, especially those with industrial or commercial sized appliances. Slab countertops have a more masculine feel, especially when paired with wooden cabinets, granite, and stainless steel.
Whatever your design aesthetic, don't forget to take into account your lifestyle and how you plan to use your new kitchen. Remodeling a kitchen in order to sell a house requires a different approach than remodeling a kitchen for your own pleasure and use. If you're considering remodeling your home for resale, adding natural stone countertops will increase the overall value of your home and is often a highlight featured in your home's description.
If you're designing for yourself, remember that natural stone lasts a lifetime, so take your time picking out the countertop idea for your next renovation. Contact us for more kitchen countertop ideas, photos, and advice on what countertop will work best for your home.