7 L-Shaped Outdoor Kitchen Design Ideas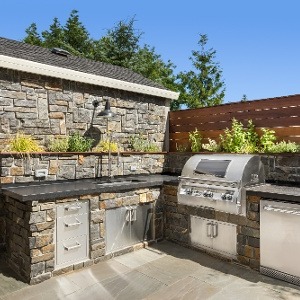 An L-shaped kitchen is ideal for outdoor areas, including patio, deck, or pavilion spaces, as it provides convenient, functional flow for cooks without creating a barrier between cooking and lounge/entertaining space (as a U-shaped layout might). Here are just a few L-shaped outdoor kitchen designs that provide ideas for how to make the most of your exterior living space.
#1: Classic Appeal
There are several considerations when planning an outdoor kitchen upgrade or addition, from placement on the property to square footage to included amenities. You'll also need to consider matching the upgrade to the existing architecture of your home (so the addition doesn't scream new construction) as well as utilize natural building materials that look like they belong in the landscape.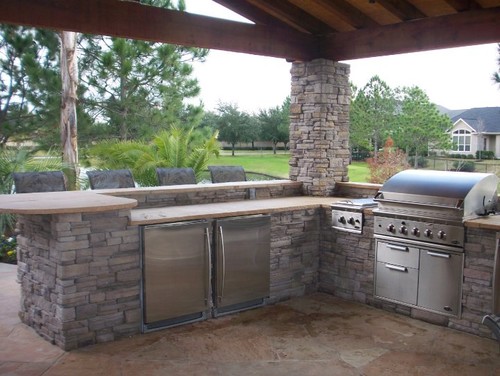 This traditional exterior kitchen draws on nature with timber beams for the pavilion roof, a stacked stone base and pillars, and mid-tone, natural stone countertops, perhaps in granite, quartzite, or another suitably hard stone that stands up to the elements. With built-in stainless-steel appliances and bar seating, this L-shaped outdoor kitchen is both stunning and understated so as not to compete with the beauty of natural surroundings.
#2: Modern Marvel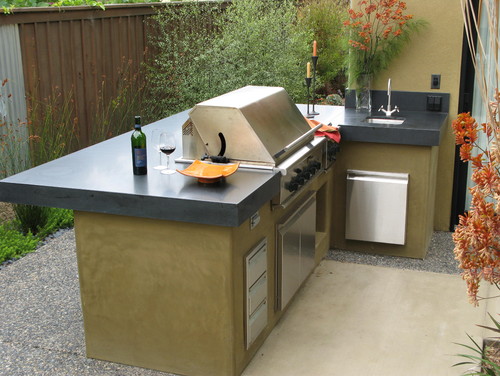 You may struggle to match your outdoor kitchen to modern architecture, but if you stick with clean lines, a simple design, and a neutral color palette, you can create a breathtaking exterior kitchen that perfectly complements your style. This small, contemporary patio space is a great example, thanks to a minimalist approach that includes a stucco base in a sandy shade that blends perfectly with the building exterior, topped by a honed black granite countertop that underscores, rather than competes with, the modern architecture and landscaping.
#3: Spacious Outdoor Living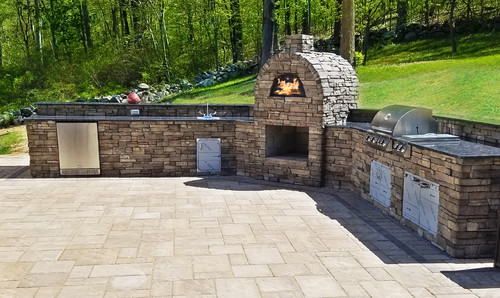 If you have a lot of space to work with, you might lean toward a U-shaped outdoor kitchen, but opting for an L-shape instead can maintain the open feeling of an expansive patio, as with this contemporary New York landscape. With so much space, you can easily entertain, and the perimeter placement and shape of the outdoor kitchen don't break up the entertaining space.
Stacked stone seamlessly incorporates the central fire pit and pizza oven into the extended base, leaving plenty of room for an under-countertop fridge and sink on the left and a grill on the right, along with ample prep space in contrasting stone countertops, likely a black granite variety. Bar seating along the back ensures the cook will never be lonely.
#4: Soak Up the Sun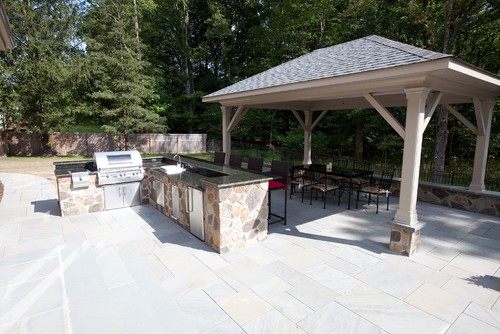 In the Northeast, homeowners love to take advantage of the temperate summer weather, and this traditional New York patio delivers with sun-soaked cooking space adjacent to a covered eating area. The warm, natural stone of the kitchen base is mirrored in the nearby retaining wall and pavilion footers, while the dark stone countertop and bar top, which looks to be Black Galaxy or another dark granite, offers subtle contrast.
#5: Hidden Fortress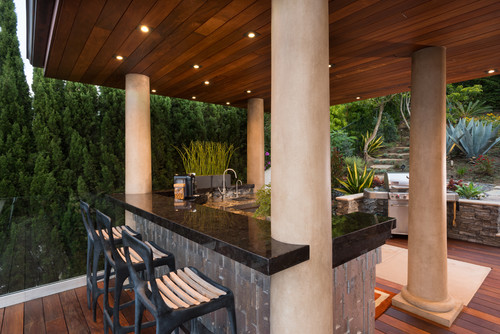 Some homeowners want the outdoor kitchen to be the star of the show, while others prefer an intimate, secluded retreat, as with this transitional outdoor kitchen. Dark wood planks for the floor and the ceiling of the pavilion create warm bookends spanned by neutral columns. Metallic glazed natural stone pavers form an eye-catching base, tempered by thick, black granite countertops.
#6: Lowercase L
An L-shaped outdoor kitchen will work great with any square or rectangular layout, but what if you're dealing with a circular patio space? In this case, you may want a curvier outdoor fixture rather than a straight-edged L-shaped one. It's not technically an L, but it serves the same basic function and better suits a rounded patio edge.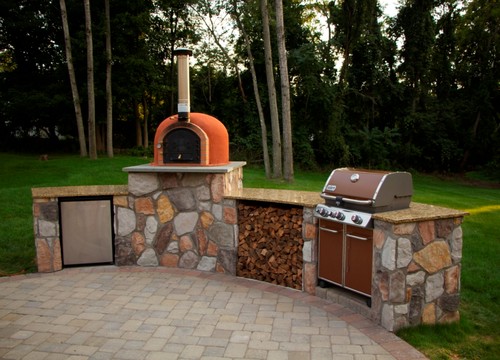 Just look at this traditional New York outdoor kitchen. The base, built from cinder blocks faced with rough, natural stone, holds up well to both summer and winter weather, as does the natural stone counter surface, which looks to be a warm, brown granite such as Giallo Ornamental or Giallo Veneziano.
The grill and under-counter fridge are located at opposite ends of the arced base, leaving plenty of prep space in between, as well as an elevated pizza oven with an adjacent, built-in nook for a firewood stack. The grill is paneled in brown to blend with the base and counter, while the pizza oven stands out in a rich, pumpkin hue.
#7: Indoor/Outdoor Transition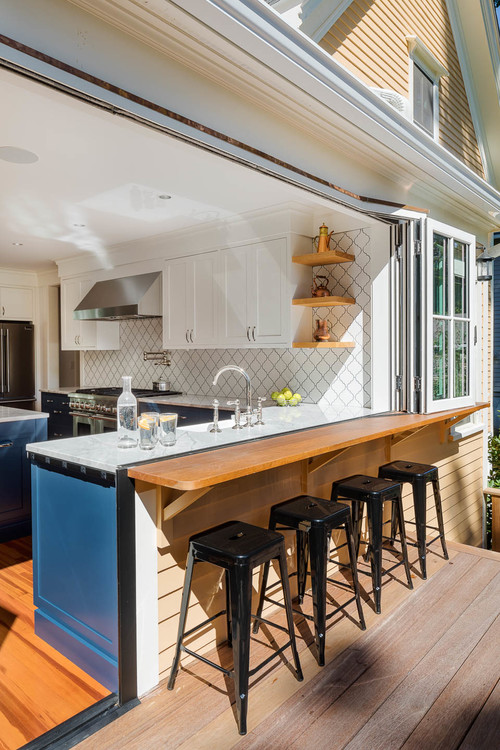 If you don't have a lot of outdoor space to work with, you might be interested in ways to extend your interior kitchen to your exterior space. This contemporary, L-shaped kitchen offers a brilliant way to blur the lines between inside and out, weather permitting.
Technically, the kitchen is indoors, but the addition of accordion windows and walls allows the peninsula to flow seamlessly into exterior bar seating. When windows are fully opened, the kitchen space serves indoor and outdoor areas alike. The bold, blue lower cabinetry is the perfect support for bright white upper cabinets, diamond pattern white tile backsplash, and Wicked White quartzite countertops that resist UV fading.
Whether you prefer traditional or modern design, the L-shaped outdoor kitchen layout keeps your exterior floor plan open and airy without giving up the functional advantages of a perpendicular workspace. Sunny or shaded, expansive or cozy, this shape for your exterior kitchen is versatile enough to serve any outdoor cooking needs.
We're here to help
Choosing the right vanity for your bath can be overwhelming without the right assistance. Academy Marble & Granite's team is ready to help. Visit one of our locations, or contact us today to set up a consultation.