Can You Put Hot Pans on Quartz Countertop Surfaces?
There are plenty of reasons to choose engineered stone countertops, starting with the beauty, value, and personalization they bring to your interior spaces. However, engineered stone options, such as quartz, are also prized for their resilience and durability. One question we often receive from our customers is: Can you put hot pans on quartz countertop surfaces?
Here's what you need to know about quartz countertops' resilience to heat.
Placing Hot Pans on Quartz: What's the Verdict?
Engineered stone is naturally resistant to scorching, cracking, discoloration, and other heat-related issues. With that said, your engineered quartz countertops aren't 100% quartz. Engineered quartz surfaces are largely comprised of natural stone, consisting of about 90% or more ground quartz. However, these particles are held together with small amounts of binding agents like resin and polymer. In addition, the material may contain added pigments to create specific colors or mimic other types of natural stone.  And it's the material's binding agents that are susceptible to heat damage.
Although quartz is generally heat-resistant, it can be damaged by high temperatures, as when you take a hot pot or pan off the stove and set it directly on the surface.  Exposure to extreme heat, or temperatures over 300 degrees Fahrenheit, could lead to scorch marks or discoloration that mars your countertop surface. Your average cup of coffee or microwaved plate probably won't do any harm, but a sizzling frying pan, a boiling pot, or a baking dish straight from the oven certainly has the potential to cause damage.
It's also important to know that thermal shock is also a possibility, and this could result in cracks in your countertop surface. There are options to repair the damage, such as using mild abrasive cleansers like a baking soda solution on scorch marks or filling cracks with epoxy and then tinting with colored resin that matches your quartz surface. However, these repairs aren't guaranteed to work, so your best bet is to simply avoid heat damage in the first place.
The simple solution for preventing damage is to keep plenty of trivets or hot pads on hand to place under pots, pans, and other hot dishes.  This will help to protect your quartz and keep it shiny and beautiful for years to come.
Quartz is Still Strong
Quartz surfaces are more resistant to chipping and cracking than natural stone alternatives. This is because the base material is extraordinarily strong.
Quartz is among the hardest countertop surfaces on the market, ranking at about 7 on the Moh's hardness scale.  It is only possibly surpassed by quartzite, while granite comes in at 6-7 and marble registers at 3 and above. Granted, all of these stone surfaces are strong enough to stand up to in-home use, but quartz does have a slight advantage.
Although the resins and polymers that bind this stone surface into a slab are not heat-proof, this incredibly resilient countertop material will resist everything from stains, to scratches, to chips, cracks, and breakage, making it a great option for busy households.
Quartz is Non-Porous and Easy to Maintain
In addition to delivering outstanding strength and durability, engineered quartz offers several advantages over other stone surfaces. For example, the non-porous surface is easy to clean and maintain and it will never require sealing because it is a solid surface.  This material is also food safe, and resistant to contaminants like bacteria, viruses, mold, and more.
There are many practical advantages to enjoy when you choose quartz. Whether you install quartz countertops in your kitchen, bathrooms, laundry room, craft room, or other rooms in the home, you'll have no trouble keeping it clean and sanitary and preserving the health and safety of your family and guests. 
As a bonus, engineered quartz surfaces can deliver the look of natural stone you love, with options to mimic marble and granite. Quartz can also appear unlike other stones, with coloring both natural and decidedly unnatural.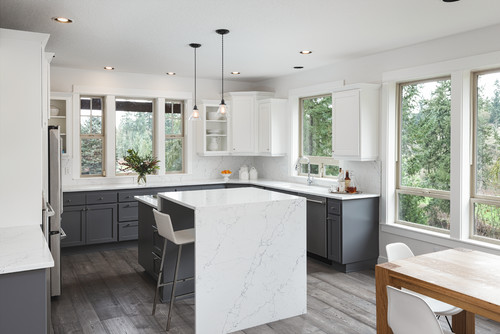 When it comes to quartz, there are many diverse options to choose from. For example, check out the marble-like appeal of the waterfall island in this farmhouse kitchen featuring quartz stone.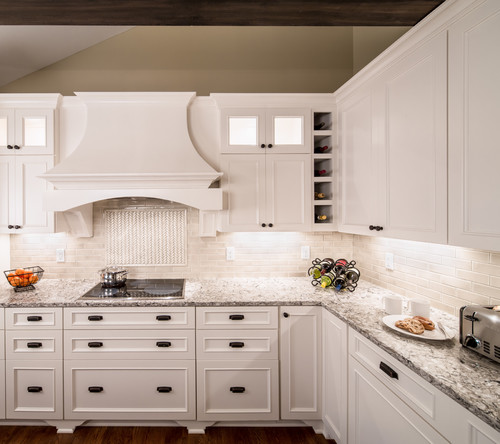 Or, the look of gray granite in this transitional kitchen that also features quartz.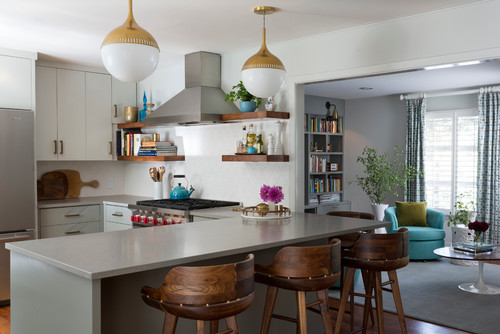 Another alternative is the calming, neutral quartz countertop surface featured in this contemporary kitchen space.