Do Quartz Countertops Stain? and More Answers to Your Top Quartz Maintenance Questions
When it's time to upgrading your home's interior, a single change can lead to a big improvement. For many homeowners, the process begins with picking just the right stone countertops to match your aesthetic goals and lifestyle.
Having beautiful countertops installed is a good way to enhance the elegance factor in the kitchen or bathroom while still putting a firm focus on durability and functionality. This is one reason why many homeowners and professionals turn to quartz; not only does it deliver a desirable aesthetic, but it is also highly durable and able to stand the test of time without sealing.
If you've chosen to install quartz countertops, you may have some questions. Given our years of industry expertise and experience, we've gathered the top maintenance questions about quartz so you can be informed before making your countertop selection.
Choosing Quartz Countertops
It's not uncommon to hear homeowners go back and forth on whether granite or quartz will make for the ideal countertop in their home. While granite comes with a long list of benefits, quartz countertops are often selected thanks to their unique look and durability.
Quartz is fantastic in that it resembles 100% authentic stone, but it's produced with partially synthetic materials. This engineered stone creates a more versatile lineup of options to choose from for those homeowners who value customized design elements. Unlike granite, a natural stone, quartz can come in some not so natural colors, such as bold reds, deep greens and bright blues.
Versatility and durability make quartz an appealing option for both kitchen and bathroom countertops. In general, quartz tends to be a bit harder than granite which can be useful when a kitchen or bathroom countertop will be exposed to significant usage over time.
When cost is a priority for homeowners looking to upgrade countertops, quartz generally comes in slightly below its granite counterpart as far as price point. Another benefit to quartz is that it never has to be resealed, making for efficient maintenance standards.  
The Aesthetic Appeal of Quartz
For all of the value that quartz countertops bring to a home in terms of durability and functionality, at the end of the day, many homeowners just want their countertops to look great. Quartz is an amazing option for those that enjoy mixing and matching patterns, color palettes, and design specifics.
From speckled quartz to solid hues and those that come with a touch of swirl, quartz countertops can easily integrate into any design standard.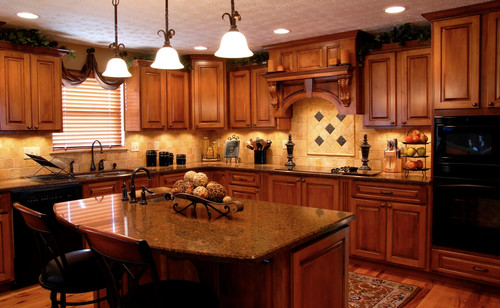 Quartz countertops with darker undertones can create a warm ambiance in a kitchen while those that lean towards lighter color pairings work to freshen up the look of a kitchen or bathroom.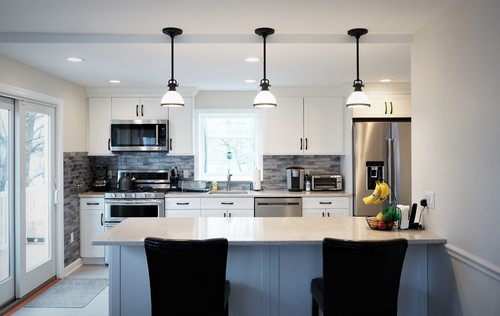 So, Do Quartz Countertops Stain?
Quartz countertops are considered non-porous in comparison to other natural countertop stone options such as marble or granite. Quartz countertops aren't as likely to absorb moisture when liquids are spilled, but that doesn't mean it's an untouchable surface. It's important to remember that just because quartz is stain resistant that doesn't make it a stain-free stone.
Why Does Quartz Stain?
The same synthetic features that make quartz countertops so durable can also make them slightly susceptible to staining. Anywhere from 90% to 95% of quartz countertops are fabricated from quartz crystals. The remaining percentage is made up of synthetic resin that works to bind particles together and create a non-porous surface.
While the resin in quartz countertops acts as a sealant against stains, it can react poorly when put in contact with liquids containing high pH levels or those that are extremely acidic. These might include things like detergents, alkaline cleaners, wine, vinegar, and even soda spills.
Similarly, food or other materials like ink or wax that are left on quartz countertops for an extended period can break down resin and create stains. Homeowners most commonly see stains show up in the form of discolored or bleach spots on the surface of the quartz.
How Do You Prevent Quartz from Staining?
Life happens and you'll likely have a spill on your quartz countertops every now and then after they're installed. Fortunately, it doesn't take much to prevent those spills from turning into stains if you're diligent.
Wiping up spills as soon as they happen is step one in the fight against quartz stains. Combat highly acidic spills with a pH-neutral cleaner to counteract the effects. Non-abrasive cleaning pads are always an effective option against dried on materials that could damage quartz countertops and won't leave unsightly scratches behind.
Be sure to swap out any bleach-containing surface cleaners with those that are gentle and even specific to quartz countertops.
Whether you're looking at new quartz countertops for your home or could use some assistance getting your existing countertops to shine like new, having professionals on hand to help can make all the difference. At Academy Marble, our expertise allows us to help customers not only pick the countertop that meets their aesthetic goals but keep those countertops in amazing shape over the long-term.
Our commitment to quality products, installation and follow up keeps us on the cutting edge of home design and a trusted partner for our customers. Contact us today to get started!