6 Black Bathroom Countertop Options to Consider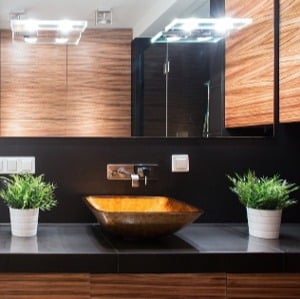 When it comes to remodeling the bathrooms in your home, you have a good opportunity to add value and see profitable returns on your investment. Because these rooms are smaller, you can also have some fun and experiment with your décor in a way that's just not as easy with larger, more prominent living spaces, such as the kitchen.
For bathroom countertops, you can certainly stick to traditional hues like whites, creams, and beiges, but you might want to consider something a little bolder. What if you turned tradition on its head by opting for black countertops instead? You might be surprised by how visually stunning your bathrooms can be when you throw in the contrast of black countertops, or opt for a darker, more masculine aesthetic overall. Here are just a few black bathroom countertop options to explore.
Countertop Option #1: Black Marble
Pure black marble isn't easy to find because one of the defining characteristics of this natural stone is its beautiful striations. Marquina marble from Spain is among the most popular black varieties. It's no surprise, considering the white calcite veining against the black background, which makes it the polar opposite of popular Calacatta marble, with a crisp, white background and gray to black patterning.
For something with more warmth, Port Saint Laurent marble from Morocco offers stunning gold and brown veining that practically leaps off the black slab, adding incredible visual interest. That said, if you're looking for pure black, you may not find exactly what you want with marble. Luckily, there are plenty of other options to explore.
Countertop Option #2: Absolute Black Granite
This even-toned granite, quarried in India, makes for a timeless addition to any bathroom space, as you can see in this transitional bathroom in black and white.  Set above white cabinetry and punctuated by white vessel sinks, gleaming black granite could prove too conspicuous, but because the black-and-white motif is picked up in the mosaic flooring, the contrast is less severe and the overall aesthetic is one of classic beauty.
Countertop Option #3: Black Galaxy Granite
Black Galaxy granite is also quarried in India and is similar to Absolute Black, except that it features white and gold specks that add dimension, sparkle, and visual interest, without upsetting the overall inky expanse the way heavy veining might.
You can see how well it works in this traditional bathroom, where the granite countertop is paired with a white and black tiled backsplash and dark cabinets.
Countertop Option #4: Jet Black Caesarstone Quartz
Marble and granite are always major contenders when it comes to natural stone countertops that add beauty, resilience, and value to your home. However, you should also consider non-porous quartz countertops that deliver antimicrobial properties and incredibly easy maintenance – both a major benefit in bathroom spaces.
There are many high-quality brands offering engineered quartz surfaces, including Caesarstone. While this renowned manufacturer offers several different options for black bathroom countertops, including patterned and textured materials, anyone interested in the sleek simplicity of a pure black surface is sure to love the ebony elegance of Jet Black quartz.
This contemporary bathroom gives you an idea of how a Jet Black quartz countertop can look when paired in a sleek bathroom.  Here, a black countertop is paired with a white undermount sink, simple Shaker cabinets in warm, medium tone wood, and cement tile, delivering a completely modern look that is both streamlined and inviting.
Countertop Option #5: Sparkling Black MSI Quartz
If you want to bring the night sky indoors, Sparkling Black quartz from MSI will give the illusion that a dusting of stars has landed on the backdrop of your bathroom countertop, thanks to flecks of silver dotting the surface.  Best of all, this material is ideal for not only countertops, but walls, surrounds, and even flooring.
While the countertops in this modern bathroom aren't visible, the quartz is on full display, covering not only the tub surround, with a mitered stair and tub deck to make the surface appear unbroken, but also expanding from floor to ceiling along the back wall. Paired with a black tub and porcelain "zebra" tile in blond and dark hues made to look like hardwood, the overall effect is dazzling, to say the least.
Countertop Option #6: Dekton Sirius Porcelain
There are certainly plenty of natural stone options to explore when choosing countertops. But, modern homeowners might also be interested in advances in porcelain surfaces, which are incredibly strong and durable. Made with kaolinite clay that has been baked at up to 2,500 degrees, this material is not only resilient, but it can be made to resemble natural stone, or feature a wide range of colors.
Among the options is Sirius from Dekton's Solid Collection. This surface is textured with black and green undertones that will make for a stunning bathroom countertop.
Consider the Dekton Ultracompact surface in this contemporary bathroom, where the floating concept carries over from the counter to the toilets. With a stark contrast of black and white, this bathroom is almost futuristic.
Regardless of the material or specific color you choose, you'll quickly discover that black bathroom countertops can add surprising visual appeal to that you'll enjoy, and which you'll benefit from through a return on investment when you sell.
Finding the right countertop for your project
With endless options in countertop surface selections, from natural stone to quartz and porcelain, we invite you to come by and view our inventory and discuss which options are best for your project. Click here to schedule a consultation or stop by our Bethel, CT or Rye, NY locations.